Formal Attire - City Hall
Nuptial Kiss at City Hall
One of the key moments at any SF city hall wedding ceremony is the bride and groom's first kiss. For a wedding photographer, it's one of those moments that you have to catch. There is no excuse for not being ready. fortunately, for this particular image the couple held on to their kiss for quite a while which made it much easier to not miss. I also like how the crowd is displayed in the background and they are applauding. It adds to the moment and make this particular kiss not look like any other kiss. The Rotunda is a great location for city hall nuptials. About 90% of SF City Hall weddings take place right here! Other locations include the Mayor's Balcony, Grand Staircase and the North Gallery on the 4th floor.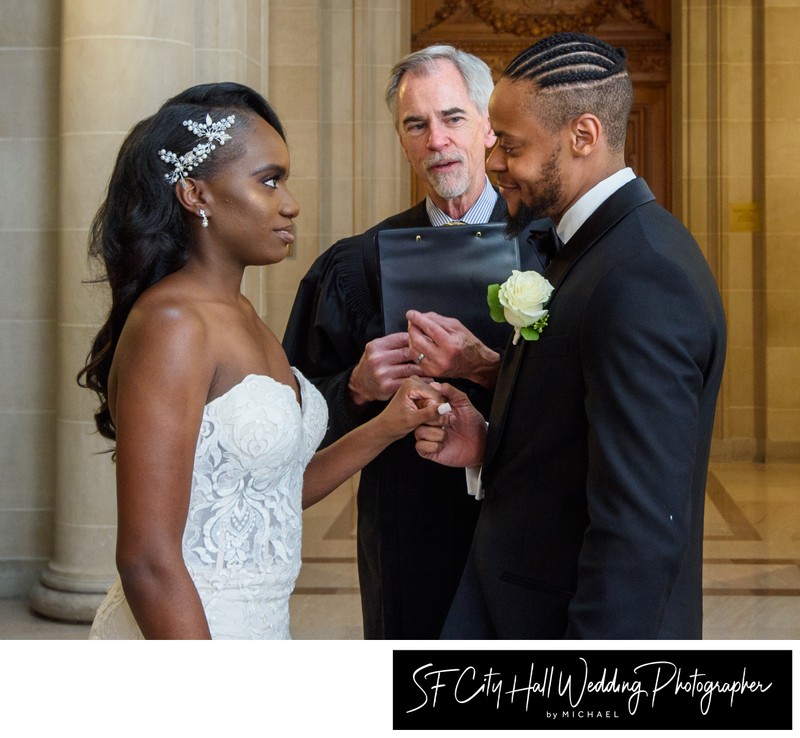 Wedding Photography Kisses
I thought this would be a good time to discuss kissing for wedding pictures. Believe it or not, we ask our San Francisco city hall wedding couples to kiss slightly different for pictures. This is because puckering your lips too much for a kiss can not look that great in a wedding photo. So we always tell out newlyweds that when we ask them to kiss for a photo to just touch lips and go overboard. This makes for a much more attractive photo, but still looks natural.