Formal Attire - City Hall
Documentary Wedding Photographer
Documentary wedding photography is a style of picture taking that includes telling the story of the day through images. In order to be successful as a photojournalist, a San Francisco city hall wedding photographer has to be ready for anything and everything that might occur during the event. In the photo above I waited for the couple to look at each other in a loving manner. Sometimes this is tough, but with certain couples it happens over and over again. This makes it easy! Showing the love between the bride and groom is what documentary wedding photography is all about. The other thing about this image that stands out to me is the people watching and taking photos. It shows what a special event this is. I truly believe that catching moments like this is really why you hire a professional wedding photographer. Your friends and relatives may capture a few good shots with their cell phones, but it is up to the pro to really show the love between the couple.
The Special Relationship Between Bride and Groom
That is really what wedding photography is all about. Showing that relationship between the couple that made them want to get married and spend the rest of their lives together. There is so much going on throughout the wedding day and as brides and grooms, you want all of those memories captures. In some cases, it is just a simple photo showing a mundane part of the event with not too much drama, but still important. In other cases and most importantly, catching magical moments that will make the couple remember how they felt on that special day. If viewing your own wedding album does not stir those types of feelings, then the photographer was not effective. We want our newlyweds to want to look at their photos time and time again and be able to relive the moments with each other. This is another reason we encourage our couples to have us make them a professional wedding album.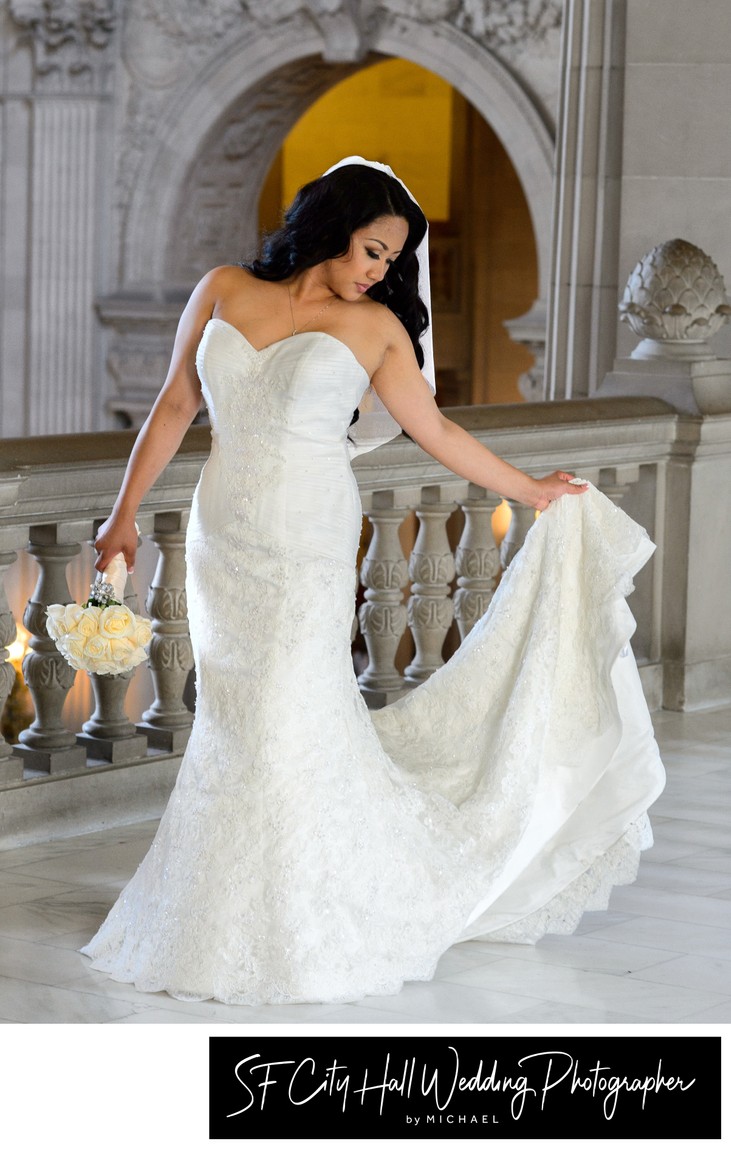 Nicely framed by the Rotunda, this city hall bride inspects her gown