LGBTQ Romantic Brides at City Hall
Here are 2 of the most beautiful brides you will ever see. How fun to have a double beauty at one single wedding. As many of you know by now, San Francisco City Hall became world famous as one of the first places to allow Gay Weddings. At the time, they were actually Illegal by state law, but the mayor of San Francisco decided to move forward with them anyway. There was huge rush for people in the LGBTQ community to obtain legal marriages and Gavin Newsome was happy to oblige. City Hall became a wild place in those days with lots of controversary and long lines to get in for gay weddings. Well now, here it is, a decade later and gay marriage is common place and socially accepted. This gorgeous couple was a delight to work with and could not have been more fun. Easily one of our favorite weddings ever! They were multi-cultural, fun to be around and same-sex. They were determined to have fun on their wedding day and they definitely achieved that goal. I wish I could display their wedding pictures from this entire shoot, because there was such a diversity in the poses we did and how they interacted. At one moment we would be getting some very romantic shots and the next they were playfully giving each other a hard time and joking around with us too. Its hard to imagine a more fun scenario for San Francisco city hall wedding photographers to be involved in. We always love the interaction with our couples and these brides in particular were a special treat.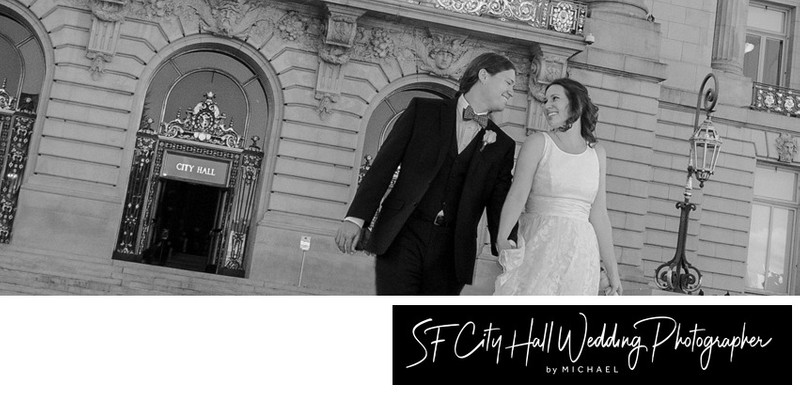 San Francisco City Hall Exit Sign Wedding Photo
After the city hall photo tour, we typically take our brides to the City Hall sign for a nice ending shot. However, in this case our brides had other ideas. Since they were both from different countries (United States and Venezuela), they wanted to hold the flags of their countries and pose for a nice picture in front of the building. It made a for a very nice shot and was a perfect ending to a great San Francisco city hall wedding photography shoot! We have been photographing Same-Sex weddings for over 9 years and have been involved with at least 150 celebrations. Recently, in 2021, there seemed to be far less same-sex marriages, at least from what we saw. Now it appears that LGBTQ weddings are on the upswing in 2022 and so we are enjoying some more of these weddings and hope for more to come.