Brides Kissing at SF City Hall Wedding
This SF City Hall wedding was in the evening during the Christmas season and featured 2 beautiful LGBTQ brides getting married. One of the amazing things to experience during the holiday season at City Hall is the giant Christmas tree. This tree is always put up this time of year in early December. It usually goes up on the first Monday of December. If you look at the image above you can see the designs on the walls behind the 2 beautiful brides. This is actually the projections of the origami ornaments on the tree from the lights. One advantage of booking a late afternoon wedding is the lack of tourists and other couples getting in the way of your wedding photography session. Also, as you can see, a nice mood is created whenever we take pictures this late in the winter. It really is a completely different look from photos taken at San Francisco city hall during mid-day. This Same-Sex couple was great to work with and really enjoyed their photo session.
San Francisco City Hall Christmas Tree is Back!
As an update to this post, I am happy to report that the City Hall Christmas tree is back up again after a 2 year absence. It was very nice to see because none of us San Francisco city hall wedding photographers were sure if they were going to bring it back this year. It seems like they are doing things to discourage tourists and visitors because of Covid so we were not sure what the plan was. I walked into the building on December 1, 2021 and the first thing I saw was the tree. Besides improving everyone's mood and making us think about the Holiday Season, this tree also provides us with another place to take pictures of our bride and groom. We quickly made plans to bring our couple to the tree right after their ceremony which took place in the North Gallery on the Fourth floor. For those of you who are not aware, the Christmas tree is place right in the Rotunda of San Francisco city hall. This is where most civil ceremonies are held, so during the Holiday season, ceremonies occur right in front of it. Note: Having your ceremony in front of the tree is optional, you can request a different location if you would prefer to not have the tree featured behind you in your wedding photos.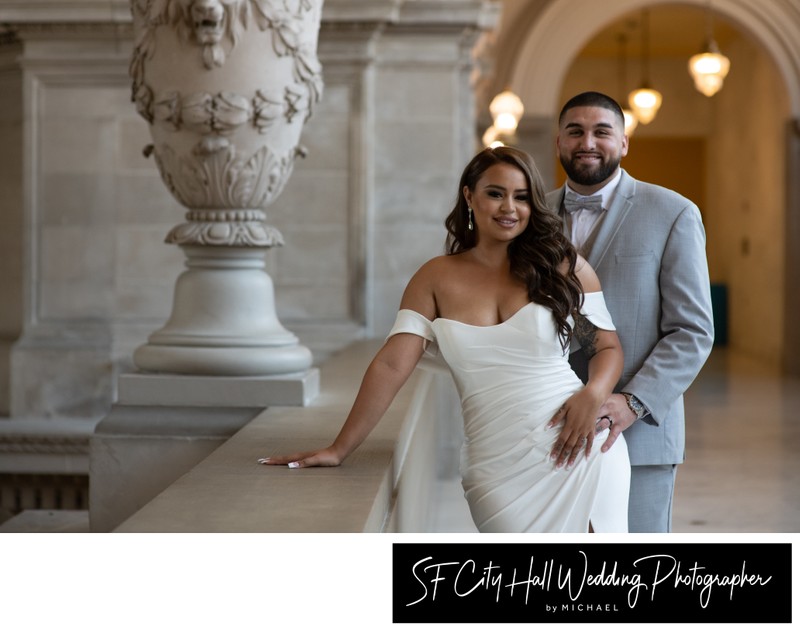 You can tell by the photo above that this pictures was also captured during late afternoon with soft lighting, the couple looks amazing and the light is perfect on the 4th floor. We always enjoy using the natural light to create great photos on this floor. The large picture window makes for a perfect light source with primary lighting coming in from the side in a photo like this one.
The beautiful Palace of Fine Arts in San Francisco, California