LGBTQ Walking Shot at SF City Hall
We enjoy taking our same-sex couples to the fourth floor at San Francisco City Hall and ask them to walk and talk for the camera. We call this a "walking shot". It is our way of making a natural type of image with little posing involved. The couple is simply asked to walk side by side, usually hand in hand through a pretty part of the building and interact just like they normally would. Obviously, the problem with that type of photo is trying to have the image look truly candid and not posed. Some photos like this one really show the relationship between the newlyweds the way we want to. It is usually a fairly easy task to get our couples to interact in a very natural way. We do have a few tricks up our sleeve if things don't go as planned. I particularly like this photo because the men both have their coats off and it looks like they are ready to relax after their ceremony. This was a LGBTQ wedding at San Francisco City Hall. We are one of the leading City Hall wedding photographers when it comes to Same-Sex weddings with over 150 photographed.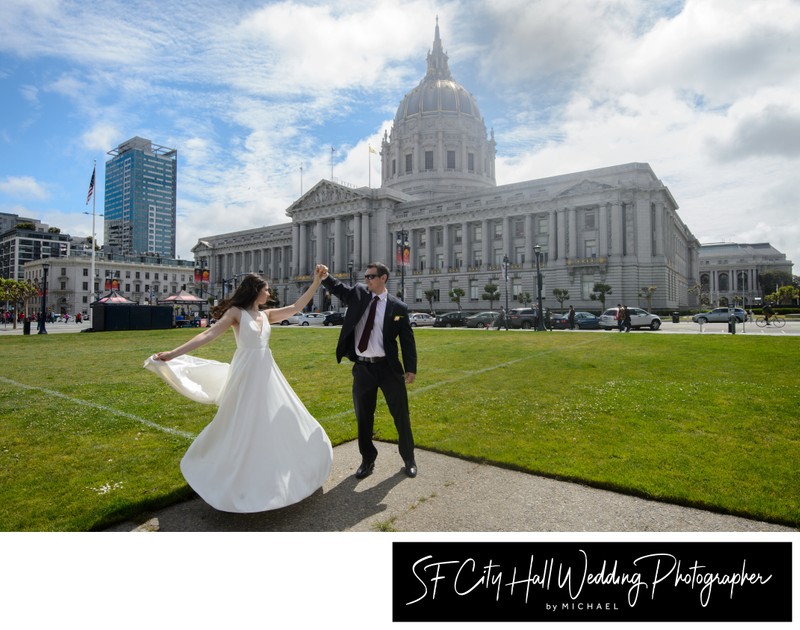 Capturing Moments at City Hall
Why do couples hire a wedding photographer for their City Hall Marriage? Certainly not to get cell phone type photos that uncle Bob could take. No, you hire a professional wedding photographer to capture special moments between the couple and also show the fun that occurred during their day. In the image above, we asked this LGBTQ couple to relax and interact. The resulting image became one of their favorites. Walking shot are the closest thing we can usually come to with candid images at city hall. I think this one really looks natural, but most importantly, so did the couple!