With March rolling around, the events start to pick up at San Francisco city hall. Not only reserved weddings, but also private events. At times, private events can interfere with your wedding plans especially with regard to photography. A large event can sometimes close the entire first floor which includes the Grand Staircase. Usually there is little or no warning and none of these private events are ever published on the SF City Hall website. So what do you do?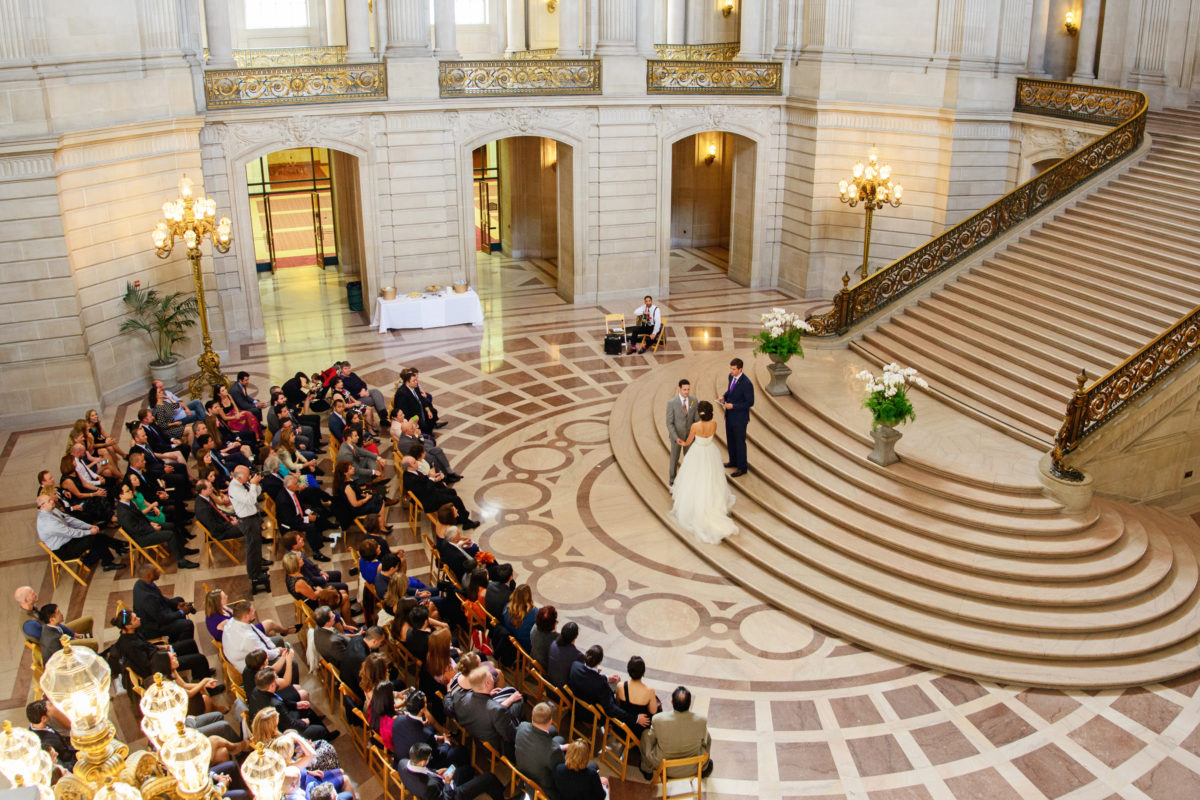 Another Advantage of Booking a Reserved Wedding
In past blog posts, we have discussed at length the advantages of opting to pay the additional money and have a reserved wedding at city hall. It's just over $900 more as compared to a civil ceremony. Without going into great detail again, it's nice because they rope off the area of your ceremony and you can have more than 6 guests. In addition, your guests can sit comfortably during the ceremony. But the really big advantage is the knowledge the Events department can provide you about upcoming private gatherings. This can make a huge difference in your planned start time and also your wedding photography. I recently has a bride email me telling that she wanted to do the wedding photography tour of city hall BEFORE her ceremony rather than after. This bride had booked a 2:00 pm reserved wedding on the Mayor's Balcony and was informed of a private event occurring at 3:30 pm that same day. So we scheduled the shoot to start at 12:30 instead of after the ceremony. Great idea because this was one of those private events that would close down the entire first floor and thus cut off access to the Staircase. For those of you wondering, the County Clerk will not provide you with the same information and they probably don't have know about scheduled events. Thus, the only way to know this type of information is to book a reserved wedding.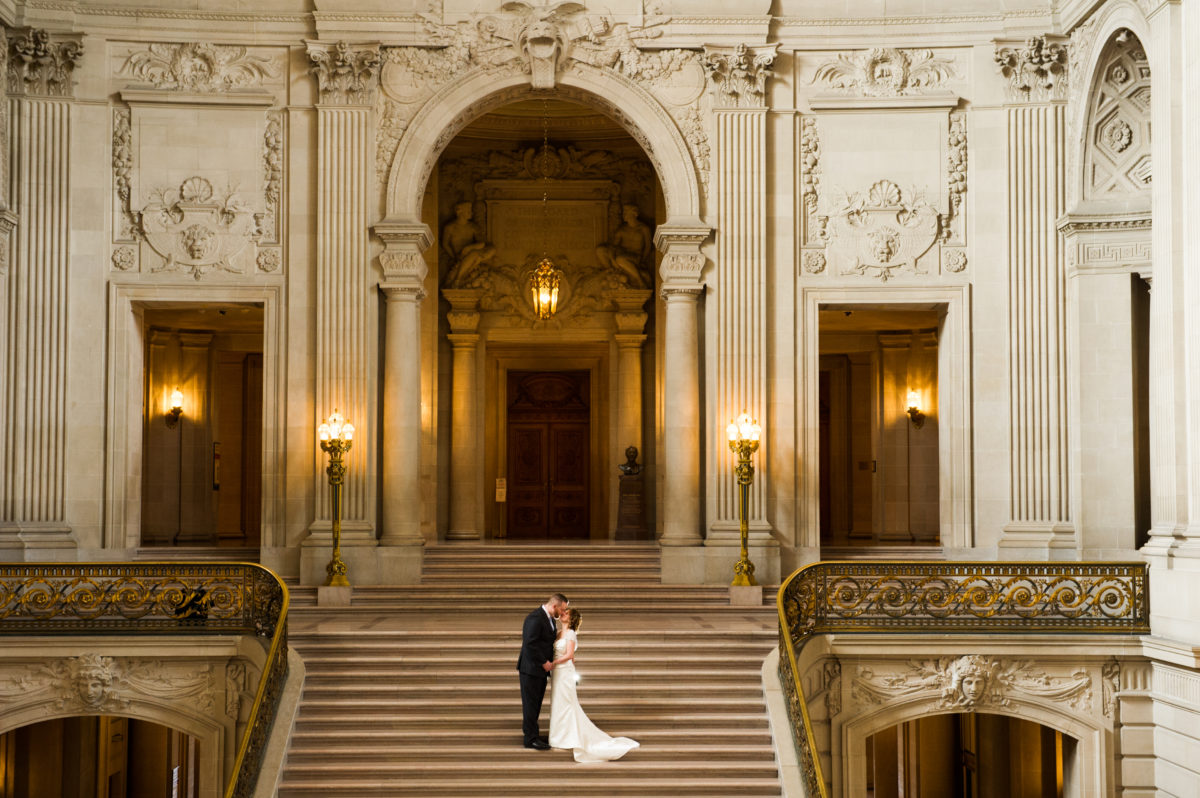 What if a Private Event is Scheduled During your Wedding?
You are excited about getting married and show up to city hall only to see a crowd of people or lots of roped off areas. You feel unhappy and cheated because this is supposed to be your day. As you look around, it appears like it is everyone else's day instead. You had been to San Francisco city hall many times to check it out or just look around. You probably even went there to get your marriage license, but never saw anything like this. What do you do? There is no reason to panic because SF City Hall is a very large building and there are many places you can go. If you booked a professional San Francisco city hall wedding photographer with experience, you will be in great hands. They will know where to take you to still obtain great wedding pictures and can guide you through the marriage process to make sure you have the best experience possible.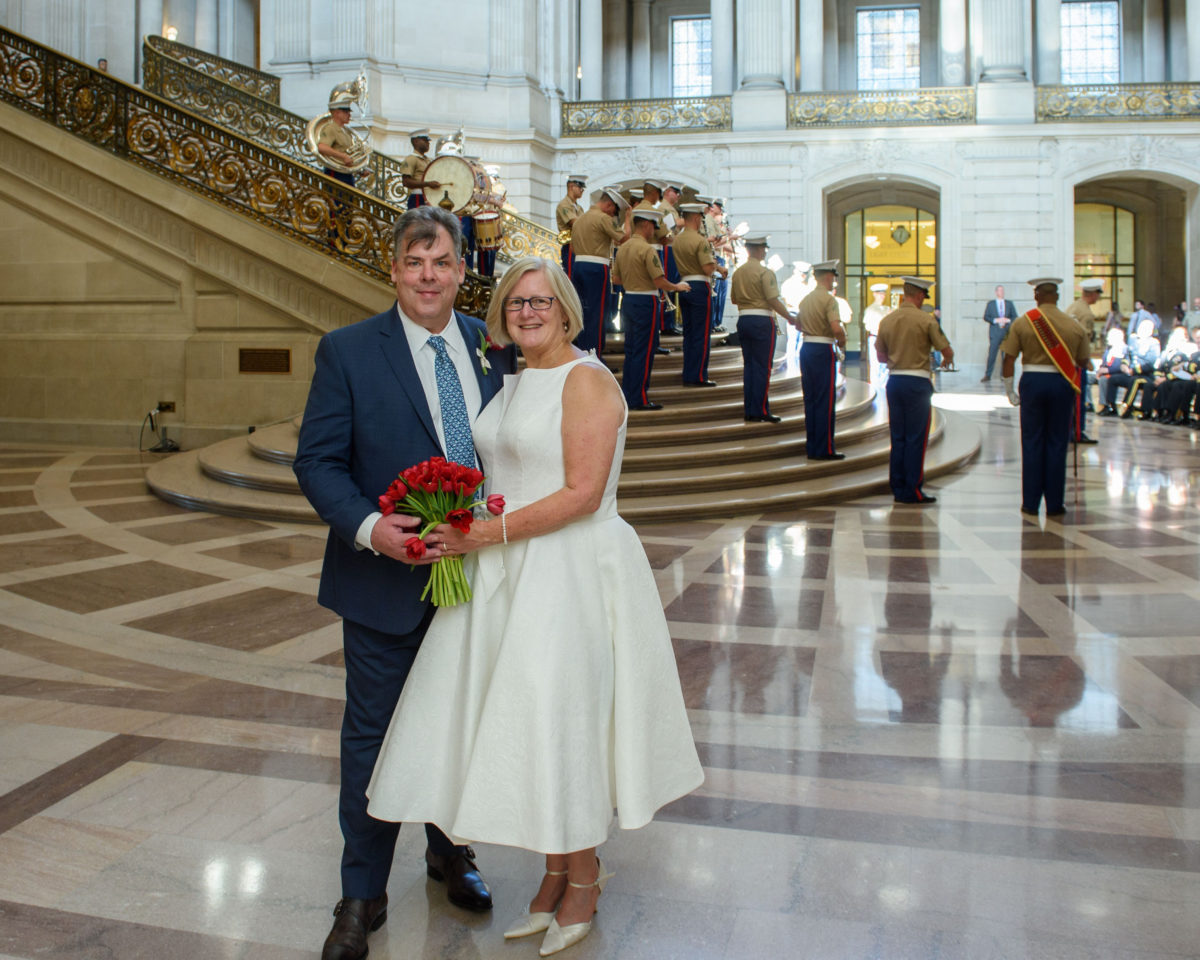 Have Some Fun with the Event at City Hall
Another way to turn a potential negative into a positive is to use the event as a back drop for a few pictures. We have placed our couples in front of marching bands, military gatherings and peaceful demonstrations. It can make for a memorable and lasting wedding image and bring smiles to anyone who views it. Sometimes, you can even convince an event participant to pose with the couple . One time the Ex-Mayor of San Francisco was present for a large event and we politely asked him if he would pose for one picture with the couple. He happily agreed and it was one of the highlights for our newly married couple and a great memory!