SF Downtown and Reception
Wedding Dog With Tux
They don't let dogs inside City Hall unless they are service animals, but you can certainly pose with them outside of the building. We posed this dog with the couple and took a number of shots with the bride and groom looking at us, but then settled on this shot! So much better with them focusing on their beloved dog.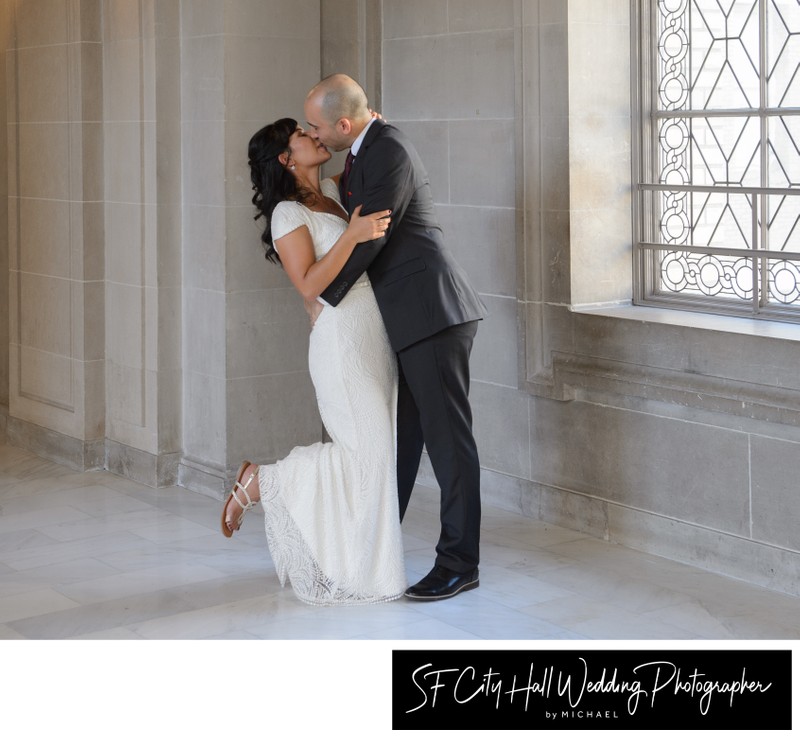 Animals in San Francisco City Hall
San Francisco City Hall does allow service animals to come inside the building. So if you want to include your pet and they qualify, just please let us know in advance and we will be happy to accommodate you. One thing, however, that is very important if you do bring a dog is that you have a designated animal handler. This can be a family member or close friend, preferably someone who is familiar with your pet. The main reason we bring this up is that there have been a few weddings where the couple spent so much time worrying about the pet that we didn't really get any good photos of the two of them. The ideal scenario is to bring the pet into the building, get those photos out of the way and then have the handler take the animal out of the building. Once that has been accomplished, we can finish our city hall photo tour with a couple. I would also suggest allowing a little more time when you choose your package if you're planning on bringing a pet for photos.