Romantic Mood Lighting at SF City Hall
We often talk about the beautiful lighting at San Francisco city hall so I think a detailed explanation is in order. What is it specifically about city hall lighting that makes it so compelling? It just a normal building with lots of windows right? Not even close! In actuality, City Hall is a natural light dream location. The fun aspect of this beautiful light is that it is so varied. The building is positioned from North to South with windows on each side. These windows exhibit extremely different effects depending upon the time of day. Typically, the south side windows allow some direct sun in with some very bright patterns on the walls. These same south windows become intense light sources late in the afternoon. They create subtle patterns in the summer and very bright ones in the winter. This is caused by the low angle of the sun streaming in the building through these many windows. Making things even more interesting is the fact that these city hall windows are not ordinary by any means. In fact, they have designs on them akin to stained glass windows without any of the color. If used correctly, these patterns can be reflected near or actually on the happy couple to make some very creative images. As City Hall wedding photographers, we need to use all of these artistic elements available to us and we do! For the image above, we just noticed the usually harsh sun that normally comes in through this south facing window as being muted by a light fog layer. This was a perfect opportunity to try something fun with the bride and groom. So we violated most of the rules of classic photography and actually placed our subjects right up against a wall. It worked in this situation because of the subtle pattern that was also reflecting on the wall. I think you will agree, it came out nice!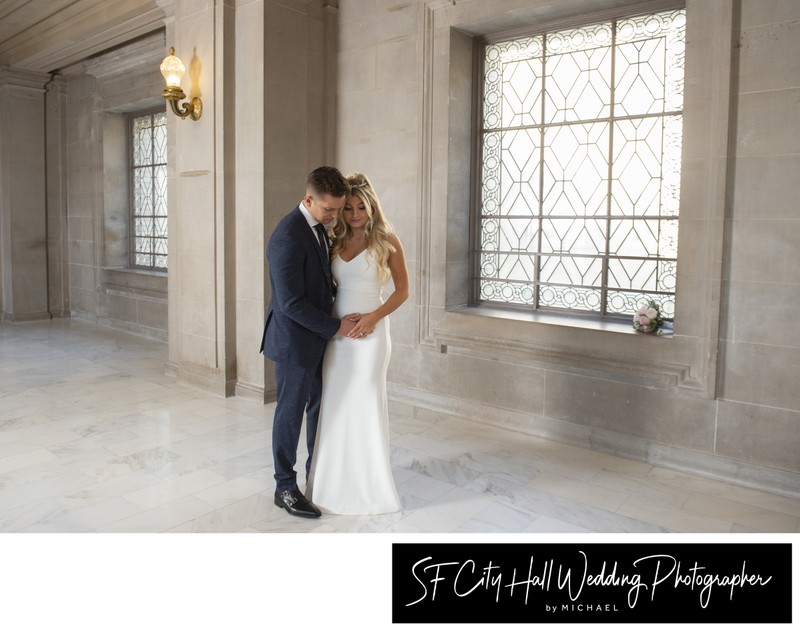 North vs. South Light for Wedding Photography
As mentioned above, San Francisco city hall possesses both north and south light coming through the windows. As a photographer this allows us to choose which side of the building we want to photograph the couple depending upon the weather conditions outside and also the time of the year. In general, north facing windows provide soft lighting for portrait photography. This is why you will see that many professional portrait studios like large north facing windows. They can actually use these windows in the same way we would use studio lighting. South facing windows generally bring in harsher light, but this can be useful too. For example, if we placed the newlyweds in front of a south window the light shining through can provide dazzling highlights in their hair and also the brides veil. Rim lighting is how this is commonly referred to as and it can create depth and dimension in any image.