Pretty Window Light - Breaking Photography Rules
Sometimes we violate the rules when we are doing San Francisco City Hall wedding photography. Normally I would not put the bride up against the wall like I did in the photo above, but in this case it works because of the way the light falls on her face and the background. As we walked around the building with the bride and groom you could see the light was coming in through this south-facing window. Normally at this time of the day the light would be harsh coming in and shine too brightly on the wall. However, as luck would have it there was a little bit of fog in the air, which was just enough to let some sun come through. This perfect filtered light gave me an idea to create this somewhat abstract image of the Bride, perhaps pondering her future while looking out the window. We took this photo in a number of different ways with some close up and some farther away. This particular image was by far my favorite because it seemed natural and not posed. As you can see, the texture of the gown and the subtle light on her face gives the image a tremendous amount of depth and some really nice contrast. That depth is what allowed us the break the rule and not worry about a wall behind her. It made everything work and turned this into one of the newlywed's favorite photos. I was tempted to make this into a black and white photo because I think it would have worked really well that way also. I am quite sure I will eventually print this as a black white image for myself. Below are a few more photos from the same wedding.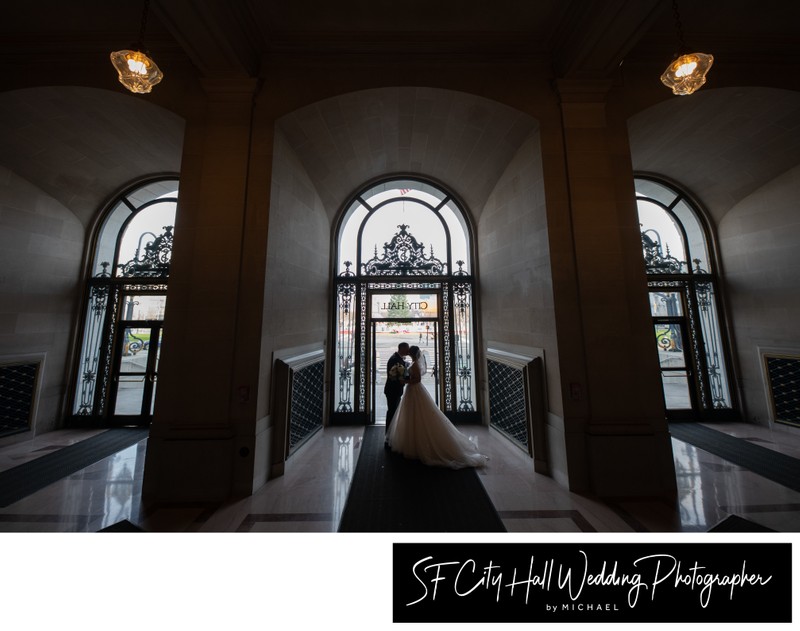 Bride and Groom Photography at SF City Hall
Yes, the featured photo on this page was only of the bride, but this IS a wedding so we needed to include the groom as well. As it turned out, we photographed a number of other images in this spot with the groom involved also. These images also were very nice but in some cases the shadow from one of them was cast on the face of the other. It works better as an individual portrait background and so of course we also did some groom individual shots as well. They came out fantastic. One of the things that make a good professional City Hall wedding photographer is the ability to walk through the building and see opportunities like this to obtain unique and creative photos. There is a temptation to just walk through the building and provide our couples with their favorite shots. This frequently works fine because our couples book us based upon what they see on the website, so it is safe to provide our typical shots. There is also an obligation to provide some unique to each couple in addition to the standards shot and that is what we did here. In the end, we provide the couple with minimum number of our own iconic City Hall photos coupled with some new ones.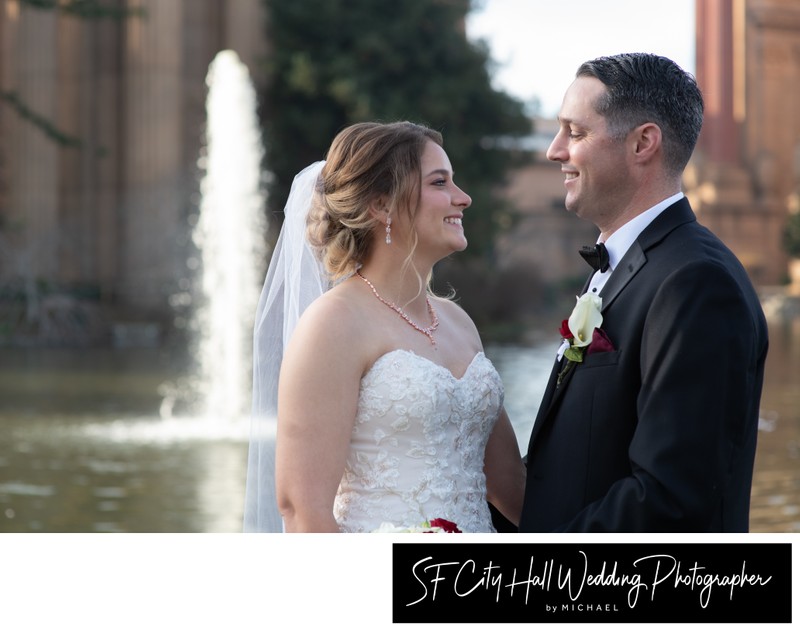 Bride and Groom smile at each other at The Palace of Fine Arts in San Francisco, CA