Hugging Pictures After the Ceremony
Just about every wedding ceremony at San Francisco city hall ends with hugging. Of course, it is our duty to record these special moments to help cement the couple's fondest memories of their special day. Easy right? Not exactly! Believe it or not, hugging pictures can be some of the hardest images to capture. Sure, it is easy to just point the camera as the hugs happen and there you go! Unfortunately, it is not nearly that easy. When it comes to successful hugging pictures, it is all about angles and timing. Yes, some of it is also luck. The professional wedding photographer that doesn't admit that some luck plays into their success is either lying or in serious denial.
How to Capture Wedding Celebration Hugging
Happily, there are a few ways to increase this luck. It all comes down to positioning, angles and timing. I try to move to a slightly perpendicular angle to the 2 people hugging. In this way, you can get both of the sides of their faces, but with one of them (usually the bride or groom) more prevalent in the image. if you click the shutter too late, you get what I call the "buried hug photo". What this means is that basically the 2 participants hugging are so close together you see nothing because they are buried in each other so to speak. So I try to click the shutter about half way through and realize that by the time the picture is taken, they will most likely be slightly closer together. As a city hall wedding photographer, you have to move fairly quickly as the hugs start to happen. Things can be a little tight around the guests immediately following the ceremony so you also have to be careful about where you stand and not get in people's way. This is where the benefits of having a second shooter really show up. I can focus on the bride and my assistant can focus on the groom during this part of the ceremony. In the photo above, I was lucky enough to have both the bride and groom in the same shot and both facing the camera. One of them is in mid hug and the other is about to hug. I like this photo in particular because it shows movement and emotion. One of our goals in all wedding photography is to have one of these factors or both of them in every image. In the image above, I feel like we captured both! This ceremony took place on the 4th floor at San Francisco city hall and was a reserved wedding with a pretty large guest count. The couple paid extra to have the entire floor to themselves with privacy. They also hired their own officiant that they were able to choose themselves. I actually was able to refer them to a very good San Francisco city hall wedding officiant who had substantial experience at this venue. With reserved ceremonies, you have a lot more control over the actual proceedings. You can choose you own officiant and you can even recite your own vows! We make sure to capture every minute of it.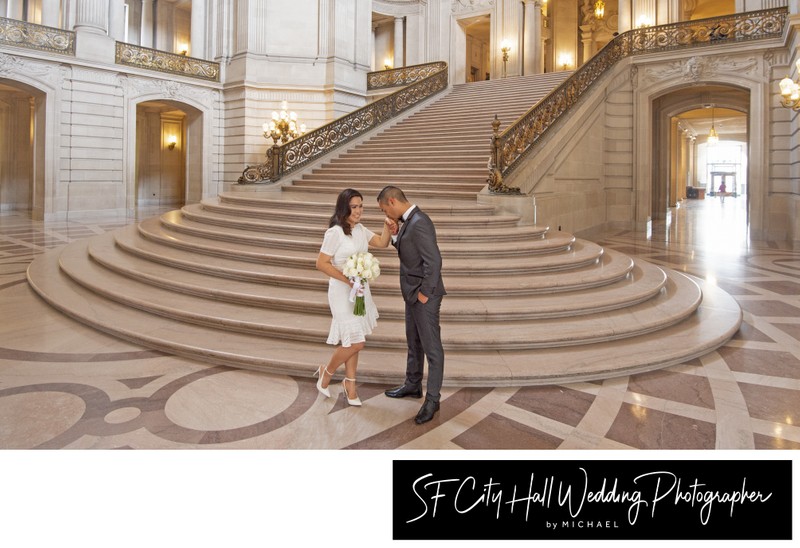 Groom romantically kisses the hand of the bride at the base of the Grand Staircase
Happy newlyweds celebrate their recent nuptials at SF city hall