Newlyweds Leaving City Hall
Everyone likes the City Hall entrance/exit image. It is definitely the iconic wedding photo that we have to take at each and every San Francisco City Hall wedding we photograph. The reason it is so important is because in one picture you see the whole story of the day. Not only are the bride and groom in the photo but it becomes obvious where they were because the sign is right behind them. Sometimes I think that our couples want that City Hall sign photo more than any other picture we take throughout the day. This, despite the fact that the building offers so much architecture and beauty. With the grand staircase, the rotunda, and the mayor's balcony, there are so many great backgrounds to take advantage of once we start our tour. Fortunately, there is always time for all of these important pictures. The best San Francisco City Hall wedding photographers will make sure that couples receive every type of photo they desire including a wide variety of backgrounds and poses. We always save this exit photo for last because it requires leaving the building and going back through security. As a wedding photographer we have to go through a different entry point to get through security so it makes sense to save this photo for last and then we say goodbye to our couple. I also see this picture as representing a new beginning for the newlyweds. They have just been married and are now embarking on their new journey in life. I feel like this photo says all of that and more.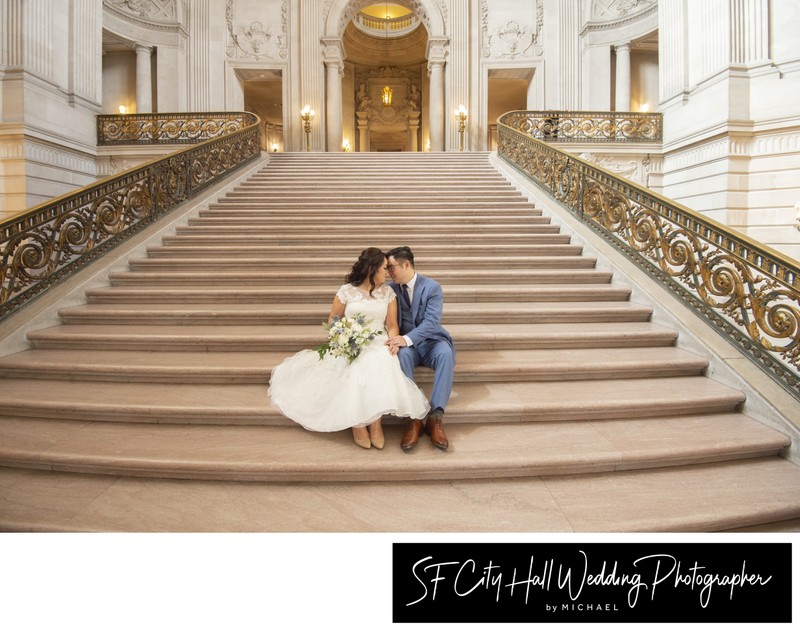 San Francisco Wedding Photography Experience
Of course in some cases, our photoshoot does not end with the image. If the couple opted for our very popular San Francisco photo tour or any of our city tour packages, the fun has just begun! We like to call this our "San Francisco Photography Experience". If you would like more information on how to take this tour please send us an email and we will be happy to get back to you right away. We have 3 popular options to choose from to fit your day's schedule and desires. We are temporarily no longer to drive the couple on this tour due to Covid-19, but are happy to meet you at the various locations throughout San Francisco.