SF Palace of Fine Arts Wedding Photography
This classic pose was created at the beautiful Palace of Fine Arts in San Francisco. The couple was first married at San Francisco City Hall in a medium sized ceremony on the fourth floor. They brought in their own officiant to perform the wedding and she did a wonderful job. In this particular case, we actually referred this Marriage Commissioner to the happy couple. We had worked with this Officiant at other San Francisco City Hall weddings in the past and really liked her. It is important when choosing your officiant to make sure they have some experience working in San Francisco City Hall. Not everyone realizes the challenges faced when trying to perform a ceremony in this building. There is quite a bit of background noise and to be heard you have to speak fairly loud. In addition, there can be occasional disruptions depending on where you do the ceremony. We were quite lucky to capture the photo above without other people in the background. Timing is everything.
Reserved Ceremonies Provide Advantages
Fortunately, this was a reserved ceremony at San Francisco City Hall so we had space available with no worry of other brides and grooms encroaching into our space. That is one of the nice things about paying for a reserved wedding. You do not have to worry about a lack of privacy or disruptions in your actual space. Most importantly, there are no people wandering though to get in your ceremony pictures. This may happen when you have your civil ceremony in the Rotunda. As your San Francisco city hall wedding photographer, we try hard to keep people out of the area, but it can still happen. There is no worry about this when it comes to Reserved Weddings. The worst thing that can happen is that you may see some people in the background way off in the distance. These types of strangers in your wedding pictures can usually be removed using Photo Shop or similar editing software. Of course the Palace of Fine Arts is another story, very beautiful but also touristy. There are almost always people roaming around in the background that we need to watch out for. The fortunate thing is that the Palace of Fine Arts is so huge that there is always somewhere to take the newlyweds for amazing San Francisco wedding photography.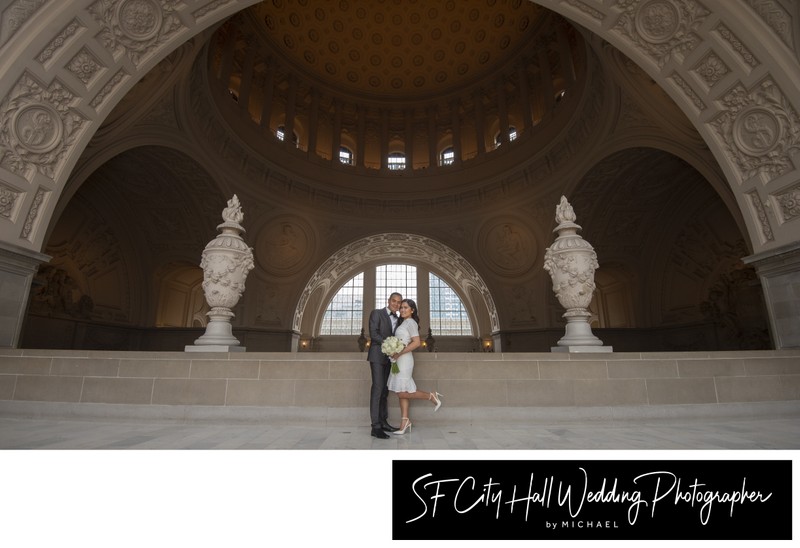 Natural Arches at San Francisco City Hall
One of the attributes of San Francisco city hall is the amazing architecture that us wedding photographers can use the enhance our images. This type of architecture is noted for its natural frames and arches. As you can see from the wedding photo above there are multiple arches that create a great background for the bride and groom. The resulting wedding photography images really stand out and make for a great wedding album for the newlyweds.