One-Hour Reserved Wedding at SF City Hall
The image above is what the San Francisco city hall Events Department calls a "One-Hour" reserved Wedding. This particular event took place on 4th floor North Gallery. As a wedding photographer who has worked in this building for 10 years I always try to show an overall picture of what is happening during the ceremony. I learned this the hard way when during one of my early weddings here I failed to show the guests who were watching. Instead, I focused more on the bride and groom and their emotions and love. The couple was very happy with the photos they received from us, but did mention that they would have liked a few more photos that showed everyone watching them get married. I completely agreed with them and vowed to always make sure I capture at least one wide-angle shot similar to this at every reserved ceremony I do. You might be asking yourself right now what is a One-Hour Reserved ceremony? There is quite a bit of detailed information about City Hall Reserved ceremonies on this website, but allow me to summarize.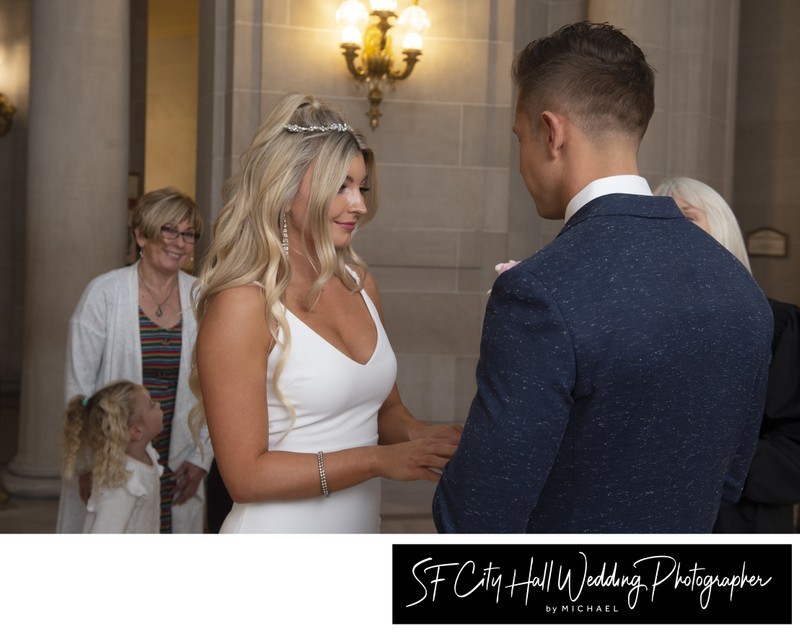 Example of a normal Civil Ceremony - not a Reserved One-Hour
Details about the One-Hour Wedding Option
The San Francisco City Hall event Department offers every couple who wants to get married here the option of paying $1,000 for a private ceremony. You are able to rent out either the Mayor's Balcony or in this case, the 4th floor North gallery and invite up to 60 guests. Your friends and family are all provided with comfortable chairs and can enjoy the space for one hour. If you have a large guest count I highly recommend paying the extra money and utilize this option. This is especially true now because City Hall has recently begun to enforce their Six Guest rule when it comes to civil ceremonies. They are enforcing it so strictly now that if you DO bring more than 6 people, the extras will be asked to not watch the ceremony. At the very least, they will be asked to step far away making it almost impossible to see. The beneficial attribute of booking a One-Hour reserved wedding is that you have privacy. The Event department puts up ropes and a sign telling others to not enter your area.
One last thing I wanted to mention about doing wider shots for these type of ceremonies is that it gives us a chance to display the beautiful architecture that is present throughout the building. In this particular photo, you can see the amazing arched window that has great texture and design. I wanted to make sure that I captured a photo that showed the whole event not just the bride and groom. I like this angle quite a bit because it shows the architecture, the guests, the officiant, and the bride and groom. In addition to the photo pictured above, we frequently take a wide-angle shot from both sides as well. If your wedding is on the Mayor's Balcony, we can even take a picture from across the way. This can be a very effective way to portray the ceremony and still show all the guests and wedding party.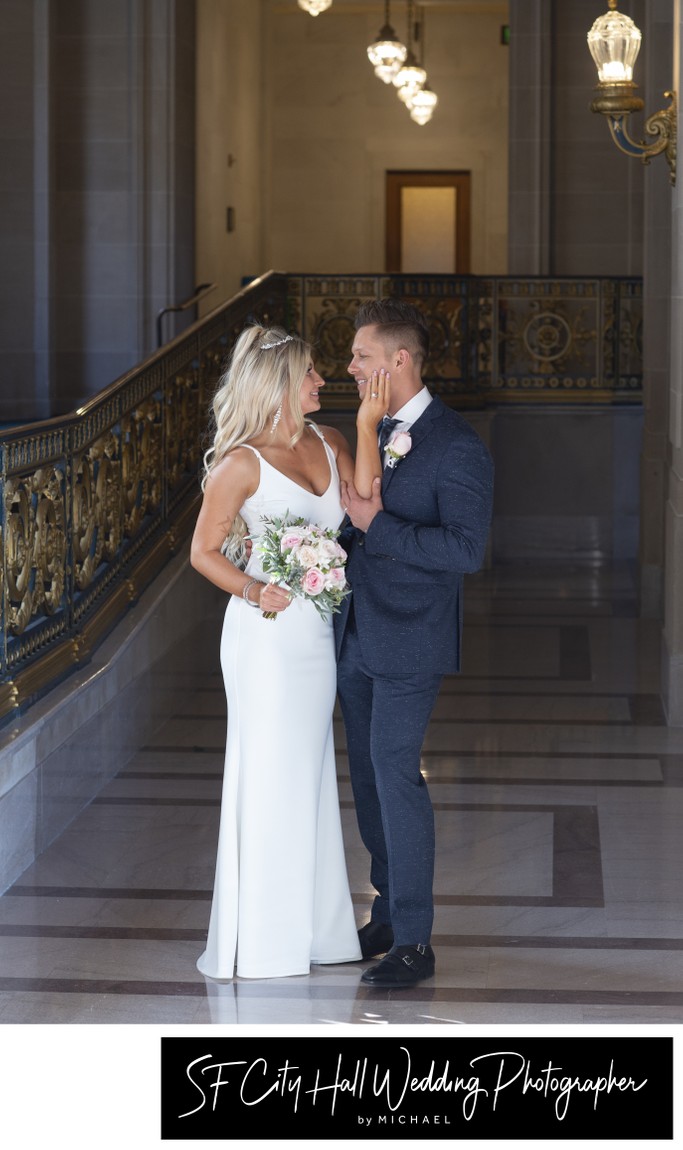 City Hall pictures around the building and after the Ceremony