Unique Silhouette City Hall Image
This is not an image you see very frequently from other San Francisco city hall wedding photographers. Most wedding photos in this area are taken from the outside of the building so you can read the city hall entrance sign. This image has a whole different look with a reversal of that iconic image you always see. In fact, when you try to look at the city hall sign it reads backwards because you're reading it through the back of the window. Sometimes I will adjust this in Photoshop just for fun, but it's not really necessary. It is quote possible using the app to reverse the image and make it read normal. The main idea of this shot is to show a silhouette of the couple looking out the window to their future, so to speak. With the couple in the above photo we took a whole series of images in various poses. Some were looking out the window while others were looking at the camera. This image shows them kissing. This can be a difficult photo to capture properly depending upon the light coming in from behind the subjects. The important thing is to show just enough detail to allow the viewer to know who the bride and groom are but still providing somewhat of a silhouette effect. I always feel like this image is even more dramatic when you have a bride wearing a veil. I love the way the light comes in and shines through the Veil making it glow. This particular image is also different in that it's a wide-angle shot. We managed to show all three entryway doors while still making sure the couple was prominent in the photo. I think you will agree it is a pleasing image. It certainly was one that the bride and groom loved.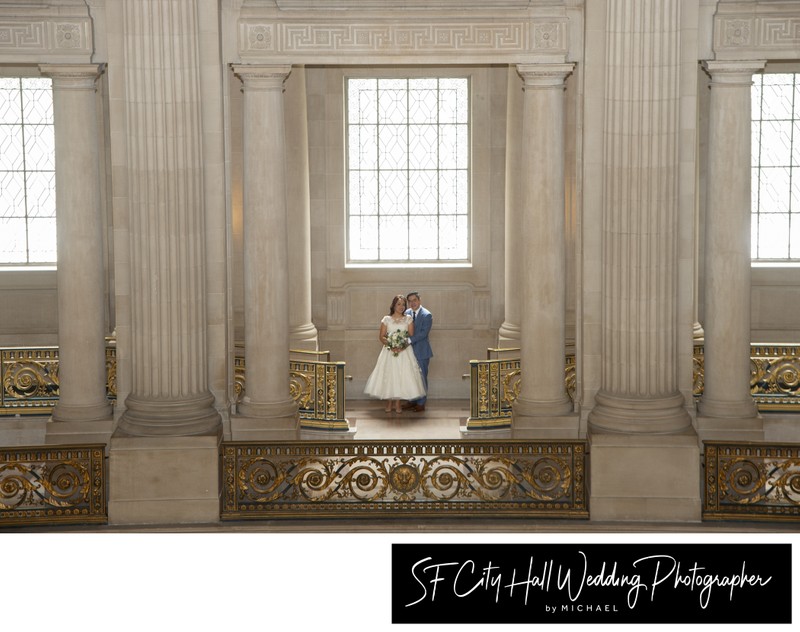 Thinking Differently in Wedding Photography
What do I mean when I say that? The point I am trying to get across and it was mentioned above is that its always good to think out of the box. Over the years we have come up with many standard wedding shots at city hall and it can sometimes be easy to fall into the trap of doing the same pictures over and over again. After all, people like what they see on our website, so why not just give them more of the same? Of course, we actually do that because we know that brides and grooms book us to see the same types of images on their own photos. However, we also feel like we owe it to our clients to give all of them unique and different pictures to personalize each wedding. The photo above is one example, but their are many. We really try hard to give each newlywed some unique pictures and poses. These are frequently are favorites.