SF City Hall Bride and Groom Kiss Photography
This photo was taken on the 4th floor North Gallery at City Hall. This area is a favorite of many San Francisco City Hall wedding photographers because of it's beautiful natural light and wide open feel. The challenge here is to try to take the photo when there's nobody on the other side distracting from the image. The building can be quite busy at times and so you have to pick your spots. To be honest, in this particular photo we removed a couple of tourists in the background using Photoshop. This of course, can be very time-consuming so it's preferable to capture this image when nobody is on the other side. In addition, we cannot promise our couples that we can remove every last person in the building through photo editing. This would be a monumental task to do on 200 plus image proofs. However, we have not problem doing it in on select images such as this one. We offer our clients limited Photoshop editing for this purpose. One thing that helped us with this photo is that the couple had rented out the entire fourth floor balcony for their reserved wedding. They paid the thousand dollars and reserved the north side for their family and friends. The SF City Hall Event Department will allow you to have the space for one hour. So for that time period, no other wedding photographers or tourists can invade your space. However, they will still sometimes try to come in, but with the ropes blocking their way, it is easier to enforce. We were able to take advantage of this privacy and obtain some great photos of the couple in various poses including this kissing shot. Since I brought up the subject of kissing photography let's talk about that for a moment in the section below.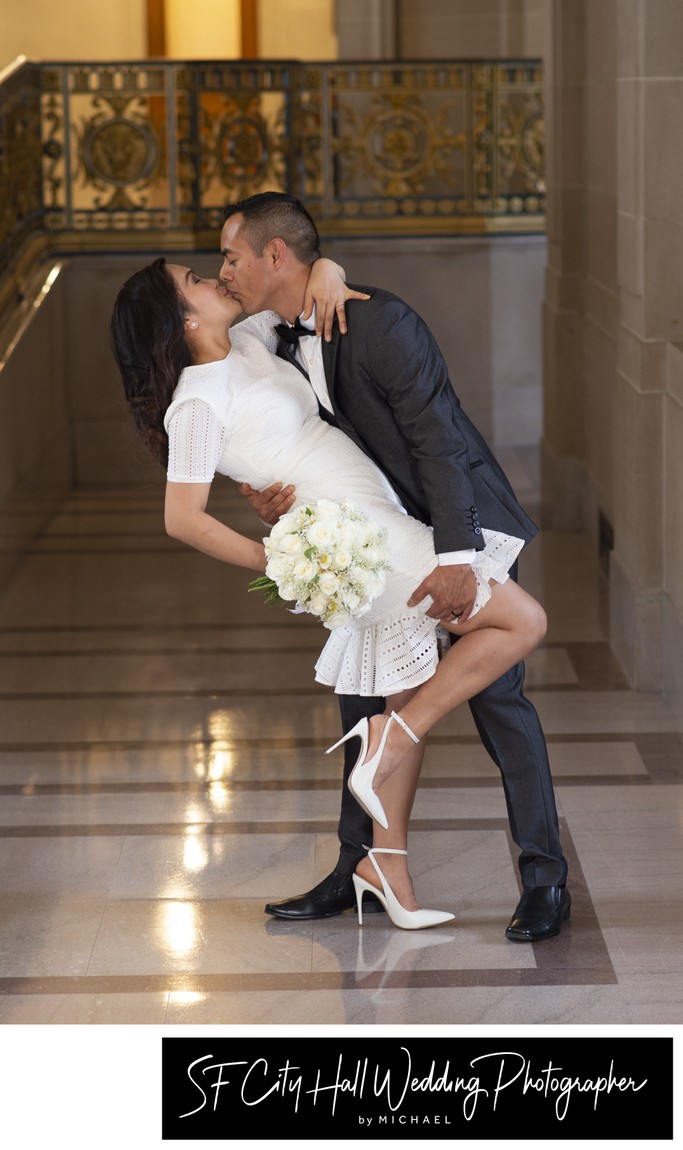 Kissing Images for Wedding Photography
Any photographer who has photographed multiple marriages understands that part of the process involves having their couple kissing each other for pictures. Despite the fact that this appears to be no big deal it sometimes can be. Not all couples want to kiss in front of the camera and certain others don't want to do it in front of their parents. This may sound surprising but there are cultures that find this practice to be inappropriate. You can include certain parts of Chinese culture or so we have been told. We once asked our Asian newlyweds to kiss for the camera and were quickly told by a relative that this was inappropriate to request in the presence of the parents. In the vast majority of situations it's perfectly fine to ask your newlywed couples to kiss during the formal photo shoot. I would caution any photographer to not overdo it by asking the couple to kiss over and over again. Occasionally, We will run into a couple who prefers not to kiss on command. That is perfectly fine and there are many other poses we can do that show the Romantic relationship between the two Newlyweds. We just need to be ready in case they tell us they don't want to do it. We have talked about this before, but another good reason for doing the engagement session before the wedding is that some of these types of things can be discovered and adjusted for. We had one couple that told us after the engagement session to please stop requesting they kiss. In their opinion, kissing is something for them to decide to do. They didn't want us to tell them to do it. This is completely valid in their situation and we complied happily. Keeping the couple happy is most important with any photography shoot.