Best First Kiss Wedding Photography
I particularly like this photo of the bride and groom's first kiss at San Francisco Hall after the ceremony is over. Why? It's because the photo shows all the people watching the kiss. Many are applauding and smiling. One of the main things you want to do when trying to get great wedding pictures is to capture special moments. We are always worried about getting a good photo of the first kiss after any City Hall ceremony, but that's only part of the challenge. It's also great to show everyone's reaction to the first kiss. So when we can do that we back off a little bit and try to show everyone watching and appreciating the love between the bride and groom. If needed we can always crop the photo in tighter, but you can never go wider once the image is captured.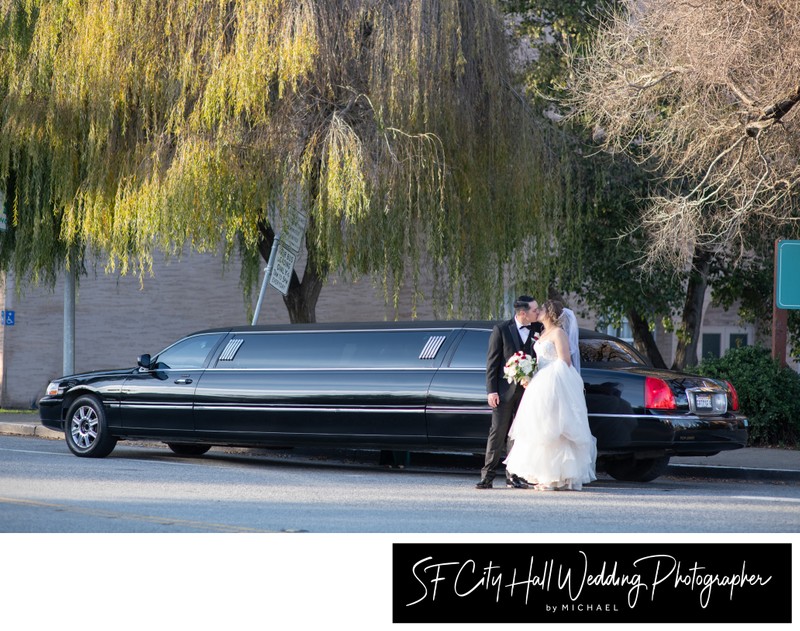 The Value of an Experienced San Francisco City Hall Officiant
The other thing I like about this kiss picture is that the officiant is moving out of the way. I am especially happy about this because I was the one who referred this particular Officiant to the couple and I love the way she avoids being a distraction. Especially when it comes to officiants because there are lots of things that can cause problems for an inexperienced person. One example is the noise level in the background. A good marriage commissioner will speak loud enough to be heard even with lots of background noise. As far as I'm concerned if you're unable to do this you really should not be officiating weddings at City Hall. They won't let you use any form of amplification and so it's really up to you to have a nice voice that projects well. The other attribute I enjoy about a good experienced officiant is their ability to keep the couple centered in the aisle so we all get to see the wedding dress and it's not behind a bunch of chairs. Like any professional they need to know how their actions or in this case inaction can cause issues with not only the wedding photography but also the guest's enjoyment of the ceremony. We have a number of City Hall vendors we recommend to our couples based upon our years of experience working in this great venue. I always try to choose experienced people who understand the nuances at working at San Francisco City Hall. Obviously, the other vendors that often help out at weddings are also important. However, because of City Hall's limited civil ceremony, we don't see too many of the other typical wedding vendors you will often see at large weddings. Occasionally, we see videographers and of course florists are very involved and important.