Back of the Wedding Dress at SF City Hall
This is not the first time I have taken this particular photo of the back of the wedding dress at San Francisco City Hall . However, it might be one of my favorites because of the lighting conditions being just the way I wanted them. Rather than using a flash I decided to shoot this photo in natural light. I purposely darkened the photo down a bit because I really wanted to highlight the wedding dress and nothing else. I love how just enough detail is shown to make the viewer understand why the bride chose this particular gown. As you can see, the gown has how several highlighted areas that really stand out when the picture is darkened as you see here. If this image had been fully lit, it would still be a great shot, but I think this way of doing it tends to bring your eye to the best parts.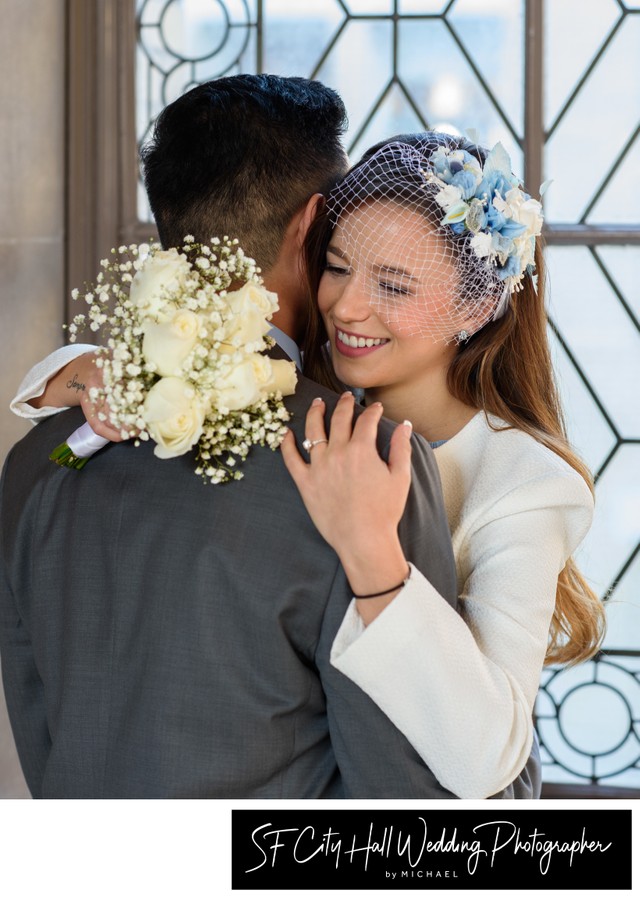 Wedding Silhouettes in Photography
One of the things you'll notice with any type of silhouette shot is that if you show a little bit of the detail it really comes through. Of course that's the whole idea of a back of the wedding dress photograph. You want to show as much detail as possible of the dress in a way it was designed to be shown. I think we were able to do that in this situation very well and the bride agreed because she loved this photo and ordered some prints of it. One other thing we did in this photo was turn the brides head slightly to the right so you could at least see who she was. The picture was not intended to show her face in any type of detail. We did that with plenty of other pictures taken of the bride at City Hall that day. This third floor window is always a favorite spot to do this type of photo. Many of our brides and grooms request this particular window shot because they like the design of the window itself. I personally like the fact that it brings in some natural light but not too much. This is one of the main advantages of photographing on the north side of the building. You get this nice indirect soft light coming through and it really adds to any photo you take on that side of the building. Another thing to consider about this image is that I am displaying it in Black and white. This gives the image almost a silver look to it with the dress glimmering in the reduced light. There are also certain type of black and white treatments that give a more silver look to a wedding photo. I like the various special effects that can be used to display black and white images using Silver FX.