Spy Photo (not really!)
This photo is kind of fun because it looks like a spy photo of the bride and groom having fun at San Francisco city hall. I accomplished this by shooting through a narrow opening in the banister to make it look like it was a candid photo taken in secret. It sort of adds to the drama of the photo and I love the colors that are blurred especially the blue. I wish I could take credit for making the couple laugh as they are doing here but it was just a moment they had together. Fortunately, I was able to capture it when it occurred through my blurred foreground. Photos like this really add to an overall wedding album of the bride and groom because it provides candid photos along with the formal posed images. In fact, this particular couple did order a wedding album and chose this photo to be part of it. It always gives me a good feeling when a bride and groom chooses the photos that I was particularly happy about because it lets me know that I'm on the right track. San Francisco City Hall wedding photography is all about capturing moments and showing the beautiful architecture in the background. However, it is also important to show some variety and a little intrigue. It is always great to be looking at a wedding album and then some random photo appears that is different than all of the rest. It always captures your eye and make you think about the couple.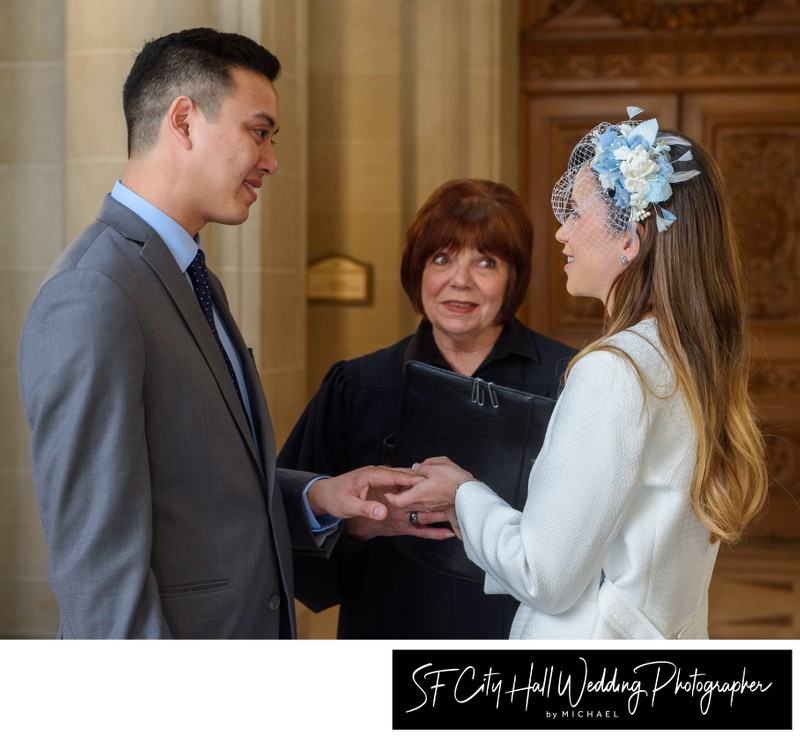 Optional City Hall Wedding Album
All of our clients have the option of purchasing an 8 by 11 wedding album of their time spent at City Hall. Our standard wedding album package includes 40 photos chosen by the couple and can we arrange the photos in a nice album for them. We put together a Creative Design and then we send a proof to the couple in PDF format. They are then able to make changes to the design if they want to. This whole process usually takes no more than about three weeks as long as the bride and groom are responsive to the proofs that I send them. Once the design is approved by the newlyweds, we send it out to print and it comes back in two to three weeks. Under normal circumstances we only charge the couple a set shipping fee of $25. This of course excludes International clients. Our couples and their friends always love our wedding albums and we get lots of thank you's from them. I have said this elsewhere on this website, but I am a great believer in couples doing wedding albums. I think it's the best way to display photos and ensures that your friends and relatives actually get to see the photos. If you have questions about the process of obtaining a wedding album feel free to email or call. We are happy to provide you all the information you need and can also offer you alternative sizes and quantities of pictures. Yes, I know that this is the digital age and the people do not print photos like they used to, but I still feel like a wedding album is important so I encourage it every step of the way. I can also promise that you will not be pressured to buy anything so dont worry about that. We just want to make sure you are aware of all of your album options before you decide. Another important factor to consider is that all of your album images receive another layer of editing including Photoshop work. We can fix or improve anything needed. Just ask!