Gay Weddings at the Palace of Fine Arts
Many of our City Hall weddings end up booking our San Francisco photo tour and we often end up at the Palace of Fine Arts. This great couple asked us to drive them around SF and we happily took them to the Palace on a beautiful day in the The City. For this image, I thought it would be nice to just have them sit in front of the Rotunda by the Palace Lagoon and interact. Nothing posed, just the happy married couple enjoying their wedding day and perfect weather. Note: Due to Covid-19 concerns, we are no longer able to personally drive our couples around to the various locations. However, we are still more than happy to meet you at any San Francisco destination you desire.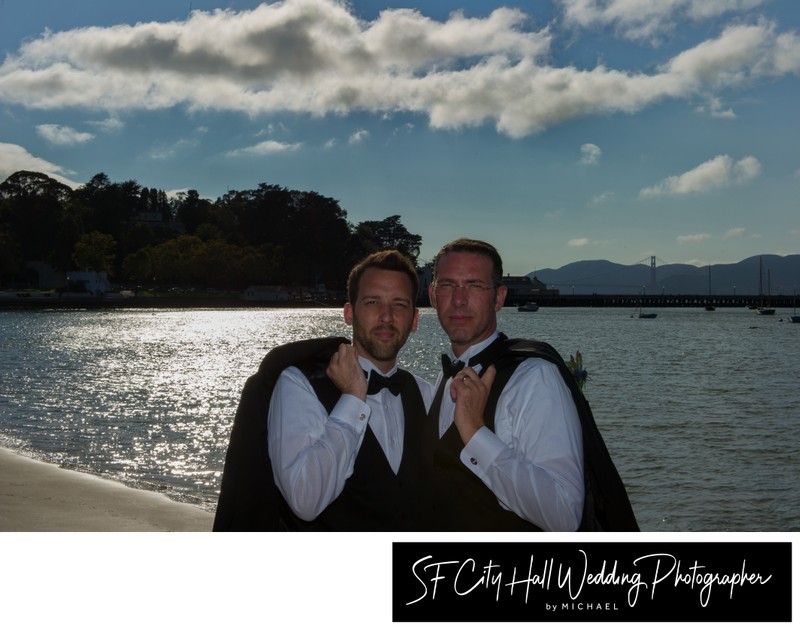 The Palace of Fine Arts as a SF Wedding Destination
Clearly our most requested 2nd San Francisco location to take our city hall wedding participants. It is certainly a favorite of ours as well! We really love the architecture and outdoorsy feel of the Palace of Fine Arts (POFA). It also has an amazing history that makes very unique when it comes to San Francisco Landmarks. Put up as a temporary building in 1915 and then rebuilt years later, it stands as one of the preeminent tourist destinations in San Francisco and the Bay Area. This can also be the only real negative of bringing our clients here.... It can be crowded. For us, it just means allowing more time to get the great shots that couples want. Patience is a virtue when shooting at POFA. Worst case scenario is that we will have to wait for a touring or other couple to walk by while we set up our photos. A minor inconvenience and still so worth it. I think we have probably been to POFA for wedding photography at least 500 times.