Gay Weddings at the Palace of Fine Arts
Many of our City Hall weddings end up booking our San Francisco photo tour and we often end up at the Palace of Fine Arts for at least one of the stops. This great LGBTQ couple asked us to drive them around SF and we happily took them to the Palace on a beautiful day in the The City. For this image, I thought it would be nice to just have them sit in front of the Rotunda by the Palace Lagoon and interact. Nothing posed, just the newlywed couple enjoying their wedding day and perfect weather. I often feel like these types of photos create the most amount of emotion among the viewers, especially the newlyweds themselves. Wedding photography is all about making memories and if a photo like this evokes feelings and emotion, so much the better.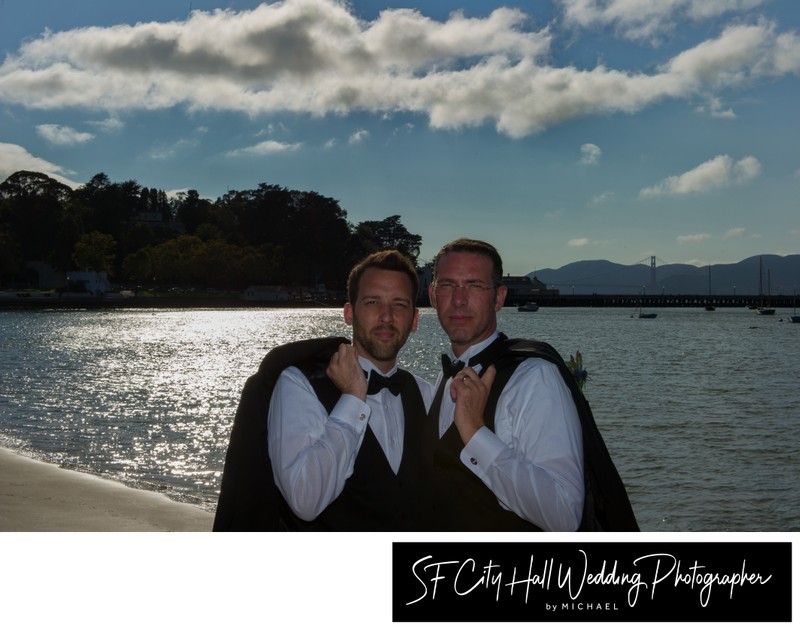 The Palace of Fine Arts as a SF Wedding Destination
Clearly our most requested 2nd San Francisco location to take our San Francisco city hall wedding participants. It is certainly a favorite of ours as well! We really love the architecture and outdoorsy feel of the Palace of Fine Arts (POFA). It also has an amazing history that makes it very unique when it comes to San Francisco Landmarks. POFA was put up as a temporary building in 1915 and then rebuilt years later, it stands as one of the preeminent tourist destinations in San Francisco and the Bay Area. This can also be the only real negative of bringing our clients here.... It can be crowded. For us, it just means allowing more time to get the great shots that our couples want. Patience is a virtue when shooting at POFA. Worst case scenario is that we will have to wait for tourists or another couple to walk by while we set up our photos. A minor inconvenience and still so worth it. I think we have probably been to Palace of Fine Arts for wedding photography at least 500 times. We know it like the back of our hands.
Ghirardelli Square for San Francisco Wedding Photography
The photo above is from another favorite photography destination of ours in San Francisco. The beach behind this couple is right next to Ghirardelli Square. It is actually just a few hundred feet away from the Powell Street cable car turnaround, which is probably the most popular place for tourists to board the trolley. We took these newlyweds on a grand photographic tour of this entire area and mostly avoided tourists as we did it. If you look real carefully in this photo you can see the Golden Gate Bridge off in the distance. Even though it was hard to see, our couple wanted to make sure we included it in one of the photos. We were more than happy to oblige. In our opinion, Ghirardelli Square is the best location to obtain Cable Car Photos. It is the one place where the cars stop before going in the turntable. This provides us with our chance to photograph our couple actually standing or sitting on the Cable Car.