You have done all of your homework and finally selected the best San Francisco City Hall wedding photographer you could find. As a city hall bride-to-be you wanted to make sure that you checked all the boxes. You interviewed a few wedding photographers and also checked their Yelp reviews. In addition, you asked various wedding vendors about their opinion. You even asked your top choices for recent references. Now that it is time to book your top choice, how should you proceed? Listed below are my top five ideas on how to successfully book a San Francisco City Hall wedding photographer.
READ the Contract – we have been conditioned over the years to not pay too much attention to the details of contracts we sign. Especially when it comes to long contracts that are multiple pages. We figure that it's just a bunch of legal stuff to protect the photographer, but will probably not affect us in any significant way. When it comes to wedding photography contracts I'm going to advise you to read it carefully. Check out this post to learn about the many things to look for on a wedding photography contract. The contract details will hopefully tell you what you are really getting for your money. Are you really getting the great deal you thought you were? There are a number of important aspects to look for in the contract. You will want to make sure that you are receiving all the images from your city hall wedding photography shoot. If your photographer is limiting the number of images you received, then you should at least know how many photos you can keep. We provide our city hall brides and grooms with all of the images that we capture at their wedding. However, it's not necessarily a bad thing if your photographer is only going to give you a set number of images as long as it's enough to meet your needs. The important thing is to know what that number is. If it's not in the contract you will need to ask the photographer. Another very important thing you'll want to look for on any wedding contract involves copyright issues. Is your city hall wedding photographer providing you full reproduction rights to all the images you download? Can you print the images on your own and can you share them on social media?
Who will be my SF city hall wedding photographer? – This is an important thing to know about your San Francisco City Hall wedding photography coverage. Many of the existing SF City Hall wedding photographers refer to themselves as a "team." This can be very misleading and confusing for a bride and groom who just booked their service. Is there a lead photographer that always is part of the coverage? Or do they just send whoever is available that day to photograph your wedding. Is it a small team or a large team? If it is a large team, which of these team members took the photos that are appearing on the company website? Hopefully, at the very least, it is a compilation portfolio that was contributed to by all the team members. The other question I would ask when booking this photographer team is this: Are the current team members the ones who photographed the weddings on the portfolio website? How much turnover has your team experienced in the last 5 years? If, on the other hand, you're dealing with a city hall wedding photography company operated by one person, just make sure that they are going to photograph your wedding personally. To simplify all of this, I would just ask them if the person assigned to shoot the wedding took the photos that were featured on the website. Don't be fooled by City Hall wedding photographers that tell you that all of the pictures on the website represent their particular style. Insist on knowing who's going to photograph the wedding and then ask to see some of the sample pictures from that wedding photographer.
Before booking a wedding photographer ask them about their image file backup system – This is a super important question to ask your city hall wedding photographer. Your wedding is a once in a lifetime occurrence and your photos are all that you have left once it is over. Most top notch San Francisco City Hall wedding photographers have a very thorough backup system to protect your images. However, this question should be asked of any City Hall winning photographer before you book them. I would avoid just simply asking the owner if they actually have a backup system. Inevitably, the answer is always going to be yes to this question. Instead, ask the owner of the photography company to describe their image file backup system in detail. A thorough backup system involves at least two hard drives on-site and one off-site location. The off-site back up or "Cloud" storage system guarantees that your images will be safe even if the photography company experiences theft or fire at their Studio. I would also ask the owner of the photography company how long they will keep the images in storage. Even though it is the bride and groom's responsibility to safeguard their image files once they are received, it's nice to know that the photography company keeps them for a while as well. I have personally experienced some past clients coming back to me to send their images to them again due to loss or corruption.
Payment methods and discounts – in order to book your chosen SF City Hall wedding photographer, you will most likely need to make a deposit. Before deciding to book, make sure that the company offers the type of payment methods that you are comfortable with. Common ways to accept online payment include Venmo, Zelle, and PayPal. Your city hall photographer may also accept checks or cash. In fact, some photography companies might even offer a cash discount. These are the types of things you need to find out before you sign the contract. If a photography company only accepts cash, this may be a red flag that requires further investigation. Most credible companies will accept multiple types of payment options. As a wedding photography client, you should not be forced to pay with the only option offered. This is also the time to ask about potential discounts. I mentioned that some City Hall photography companies will offer a cash discount, others may offer military discounts. Although not too common with City Hall weddings, some studios may offer seasonal discounts.
Wedding albums and prints are they offered? – a full-service SF City Hall wedding photography studio should offer the option to provide prints to the client or to make them a wedding album. Many brides and grooms will not want or need either one of these services. However, it's nice to know that the company offers this service. It also tells you something about the credibility of the wedding photography company. How willing are they to continue to offer you service after you have completed the initial booking and the photos have been delivered. I personally also think that it's nice to have a convenient way to order Prints or get a wedding album from the same company that took the pictures. As long as the costs are affordable, it might be something worth looking into. I strongly recommend that all my clients purchase a optional wedding album that we create in our studio. Oftentimes photos end up getting lost on some forgotten hard drive never to be seen again. A nice wedding album keeps that from happening.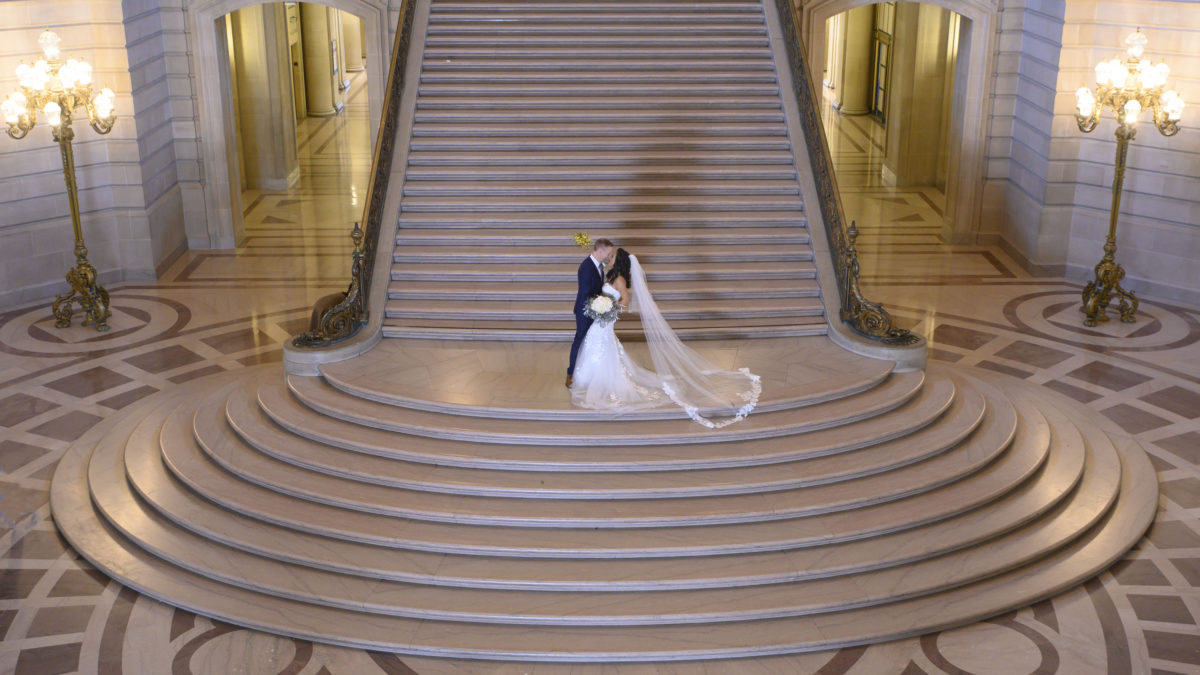 Booking a SF City Hall Wedding Photographer Should be Easy
After spending so much time searching for the best San Francisco City Hall wedding photographer possible the next part should be easy. Contracts should be easy to understand and not to linksy and full of legal ease. The process to book should be simple and straightforward and not require that much work for the bride and groom. The photography studio should offer multiple options for payment and provide clear and easy instructions on how to complete the whole booking process