What about summer weddings in San Francisco? Especially at City Hall. It is definitely the place to be during the hot summer months. No worries about the groom getting too hot in his full tux. Bride wearing a big heavy gown? Not a problem, summer is great in San Francisco. Of course there is the world famous fog, which everyone loves to talk about when it comes to San Francisco. Read more to begin to understand what makes San Francisco an amazing place to have your wedding during hot summer months.
Why San Francisco?
Some people might question the sanity of planning a wedding during the months of June, July and August. Why? Because everyone knows about our famous fog which is at it's very worst during these months. Especially July, which can sometimes greet us with 5 or 6 foggy days in a row. My feeling is, who cares? Yes, your San Francisco wedding may not be marked by clear skies typically found in the summer in other parts of the Bay Area, but San Francisco offers so much that it makes the fog irrelevant. As a native of this great city, I pretty much ignore the fog and appreciate all that SF has to offer. As you will see below, the fog can actually enhance a wedding image if done the proper way. Let's talk about why you should have your Wedding in San Francisco in the Summer.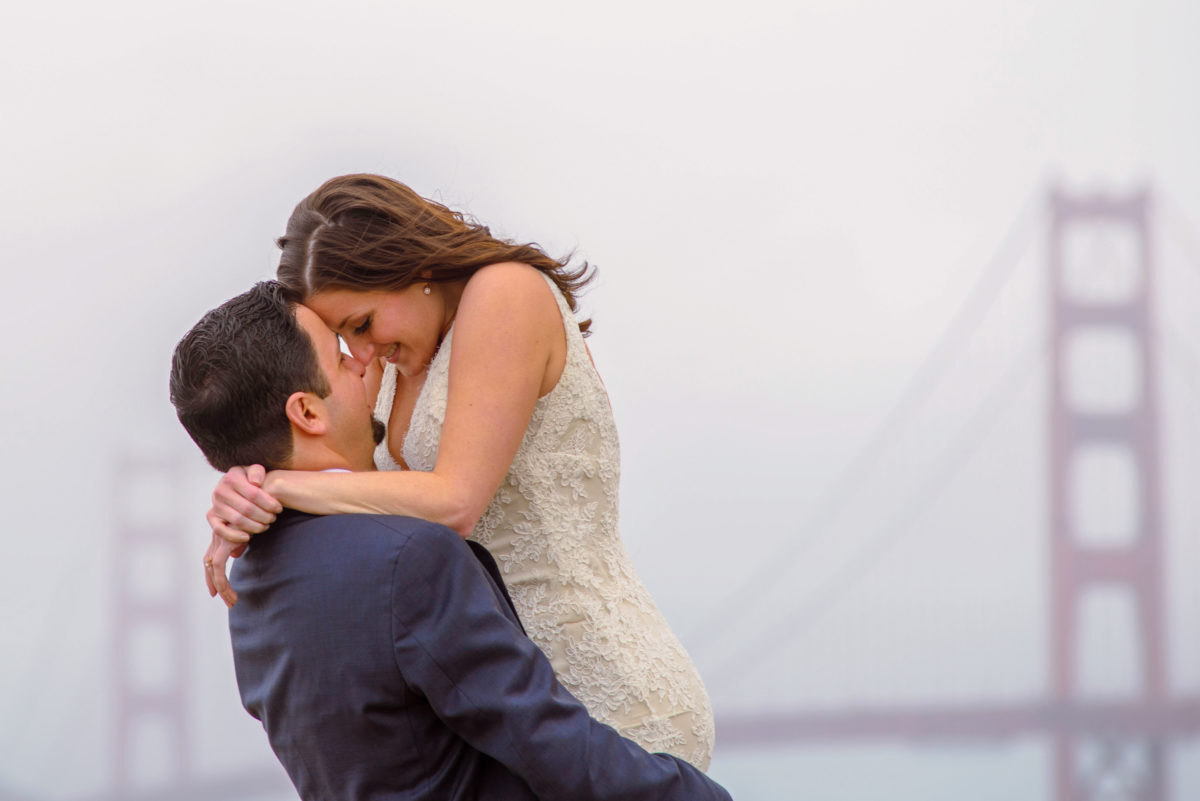 Outdoor Wedding Photography
Want to have an outdoor wedding in the summer? It sounds romantic and fun, but if you are almost anywhere in California in the summer you could be in for a very hot time. We have photographed outdoor weddings in the Bay Area that were absolutely miserable for everyone involved due to the heat. The East Bay and South Bay can get particularly hot during the summer months. We always pity the poor groom with his heavy full coverage tux on being made to stand in full sun waiting for his bride to walk up the aisle. The guests can't wait for the ceremony to be over and will frequently hide under the trees until the ceremony starts. But have your wedding in San Francisco and you would enjoy the natural air conditioning that the fog brings in. While it is true that sometimes San Francisco can experience hot weather, it is more the exception than the rule. Once the wedding is over, take advantage of all that the city offers. Some of the best restaurants in the world are in San Francisco. This provides a typical newly married couple with dozens of venue options with some great food! Of course wedding photography is so much better when the couple is comfortable and not sweating profusely. Start out with a beautiful San Francisco city hall wedding and then move on to many other places in the city for your reception. First, take a photo tour of the city with your wedding photographer.
North Beach Wedding in the Summer
Locals know that some of the best weather in the summer is in downtown San Francisco and the North Beach area. I particularly love North Beach because of all the excellent Italian restaurants throughout the district. Check out Tony's Pizza for some of the best in town and also Sotto Mare if you love fish done Italian style. Get married at the Italian club or some of the other venues in the area. We also love Original Joes right across the street from Tony's as a nice wedding reception venue. If you want more specific information, please contact me and I am happy to help you out. Whether or not you choose San Francisco city hall, there are so many options to choose from to have your Summer wedding.
San Francisco Wedding Photography Locations
As mentioned above, once the wedding is complete, there are many fantastic San Francisco destinations for your wedding pictures. Everyone knows about the Palace of Fine Arts and The Legion of Honor, but what about Sutro Baths? Gorgeous! I have also recently discovered another great photography place out by the Sutro Baths, its called Sutro Park and it has everything you could want as backgrounds for your summer wedding pictures. This includes ocean views and plenty of flowers. Here is an example of a recent Sutro Park Wedding pictures (see below)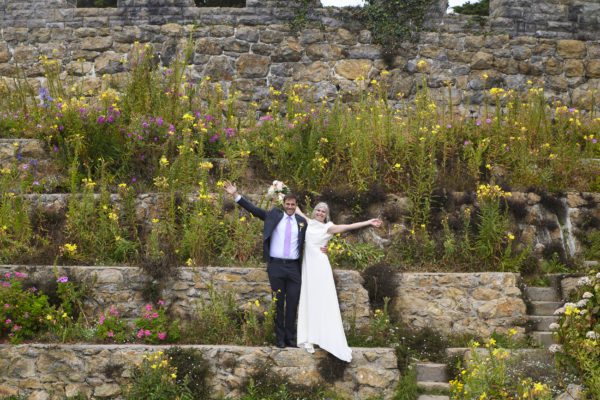 Crissy Fields with the Golden Gate Bridge in the background? Amazing! To top of it all off, you can go to San Francisco City Hall and get some spectacular wedding photos! Even with the fog, great photos are possible of The Golden Gate Bridge. You just have to get close to it. It actually makes for an amazing and appropriate effect to have the fog spilling over the bridge in the background. When the fog is particularly thick, we just take our brides and grooms to Fort Point and take photos of them almost under the bridge. It is usually at least partially visible when you are that close.