San Francisco City Hall Wedding Photography
Virtually every bride and groom that has their wedding at San Francisco City Hall wants a photo on the Grand Staircase. On busy days, the staircase can be loaded with tourists and other newly married couples hoping for a great photo. When we take our brides and grooms on their city hall photo tour throughout the building, we try to keep an eye on the staircase hoping that it will clear for just a moment. This will allow us to get a shot like the one above. You can't tell from this photo, but moments after this shot was taken, the stairs were full again with people It's all about timing and perhaps a little bit of luck. The important thing to improve our chances is to stay aware of crowd patterns.
To make this photo, we used 2 lights, one on the camera that was bounced against the back side wall and then an off-camera flash aimed right at the bride's veil. This is one of the ways we get a nice glow on the veil. We shot this photograph with a 16-35 Nikon F4.0 zoom lens with vibration reduction. I hand held the camera at 1/10 of a second. Pretty easy to do with the technology built into modern equipment. As you can see, the bride's veil reflected the light back to the camera created a nice glow. In addition to the glow created, it also makes the veil stand out better. We had the groom move forward a little to make the brides veil flow downward and create some separation from her dress.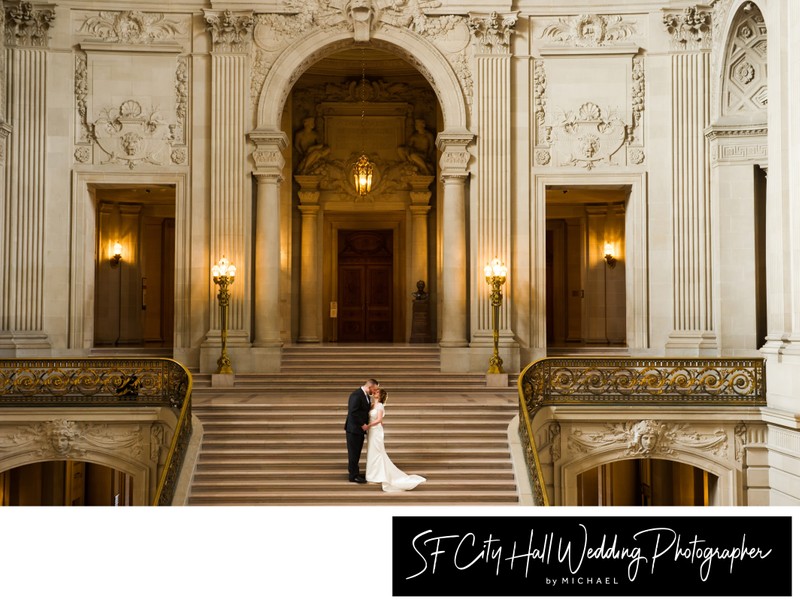 This image (above) shows the San Francisco City Hall Rotunda during the Golden hour. Note the warm tones at this time. This type of color becomes more prevalent later in the afternoon.
Panoramic City Hall Wedding Pictures
The other thing that makes the main image stand out from a typical Grand Staircase wedding photo is the use of Panoramic cropping. Rather than using a standard crop of 4X6, we changed this to a 16X9 ratio. This causes the subjects to be larger on your viewing screen, but still shows the entire Staircase. The only drawback to this type of viewing ratio is that if you print the photo, it is harder to frame. However, for online viewing it is ideal. We always provide our clients with a number of panoramic styled images when we deliver their photos. Each set of photos will also include some black and white and Sepia tone image files. If you like our wide angle shots, we can provide more for you at your request. We always try to provide our clients with whatever they desire. We know that most other San Francisco city hall wedding photographers do this as well, we owe it our clients! Your Downloaded Image files will always include a wide variety of different ways to vies you wedding photos. Sepia tone, selective color, black and white, and panoramic images will all be included.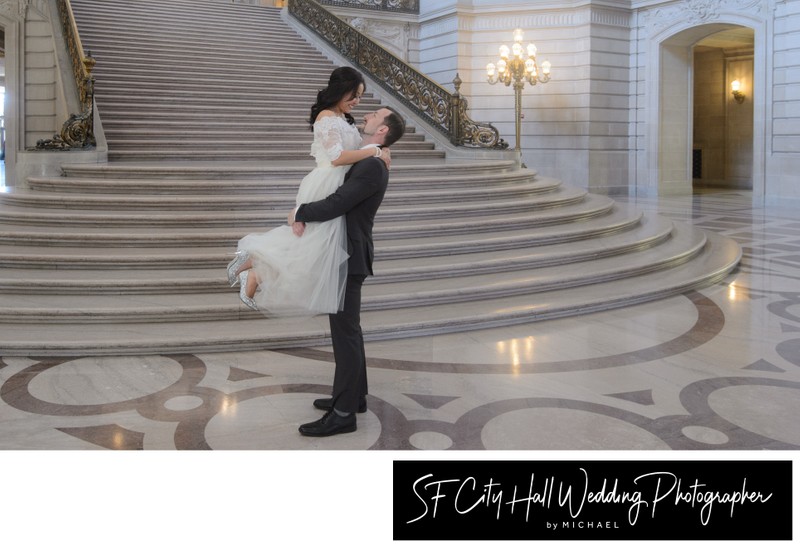 Another example (above) of a Panoramic image shot in 16X9 ratio.
Summary of Main Image Attributes:
Highlighted veil
Groom bending the bride back slightly
Reflection of the lights on floor
Symmetry of image which matches architecture
Panorama image utilizing 16X9 image ratio
Warm colors and feel