Photojournalistic Wedding Photography
We make sure our clients receive many different styles of wedding photography when they book our service. We cover every wedding in a Photojournalistic way, including many candid photos added to your final images. In addition to this documentary style, we also provide you with some traditional posed wedding photos. Whether your style of wedding photography is photojournalism or traditional, the important thing is that your final images reflect great memories of your wedding day. It is also good to point out that we are very involved in making all of your photos look amazing. We suggest great poses and encourage interaction for the candid shots. We never just leave you hanging during a San Francisco city hall wedding photography shoot, we are actively involved and will make sure you are comfortable in front of the camera. Many of our clients open our city hall wedding shoots by telling us that they don't know what to do. They want us to take control and make sure they pose correctly and in the appropriate places. Obviously, this is something we are happy to do. However, there are other wedding photography options that allow the newlyweds more input. Some like to make suggestions and ask about various San Francisco city hall building locations. We are happy to help with this in any way we can.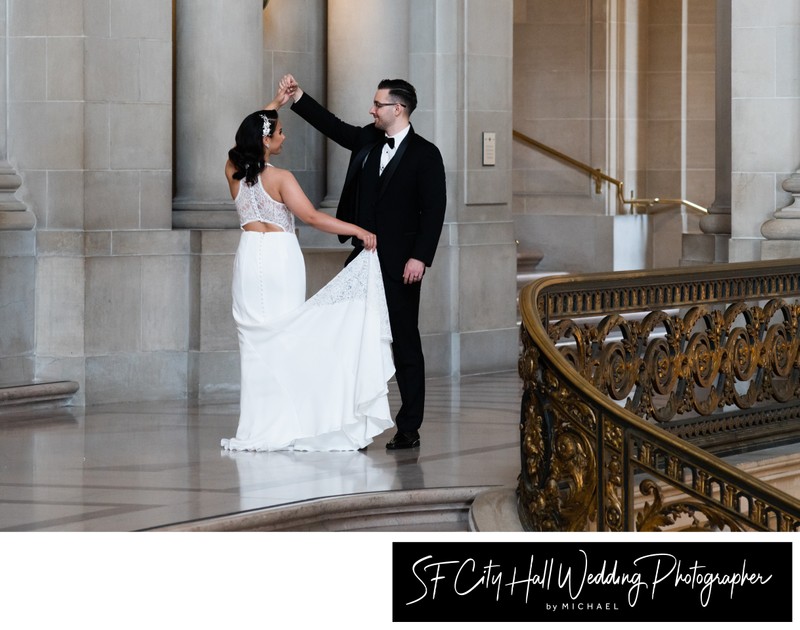 The Painted Ladies for San Francisco Wedding Photography
This particular couple really liked the Painted Ladies in San Francisco, so we drove them to the park across the street and took lots of photos nearby. Walking shots can be difficult to master. I only say this because every couple walks differently and you never know what the results will look like. These newlyweds did it perfectly and I happened to catch the moment at the optimum time. There is definitely some luck involved in this process, but if you try enough times it comes out. You want their steps to appear brisk and moving forward. What I like about this wedding image is that it appears that they are walking briskly but still enjoying one another. To be honest, I don't remember if they were walking fast or slow, but I know they were super excited to be newlyweds and were enjoying their special day. There are so many optional locations to choose from after we complete your San Francisco city hall wedding photography session. The Painted Ladies is a great close-by option and not a common one. Remember this is the place where they filmed the Introduction to the relatively famous "Full House" TV series. These Victorian homes have been seen my millions of people over the years in person and on Television. We do get a fair amount of requests to come here for wedding pictures. Helpful Hint: The park can fill up on a nice San Francisco day, so it is best to get there before noon. We can work with this when helping you choose the timing of your wedding ceremony and city hall photo tour.