Pro Lighting for Drama at City Hall
There are many approaches to successful San Francisco city hall wedding photography, but the key factor is almost always the lighting. Professional lighting can turn an ordinary wedding photo into a dramatic one with impact. We think that our professional lighting equipment is a major factor in the success of our business. We are one of the few professional San Francisco city hall wedding photographers that bring in a full array of lighting equipment. We don't just use a simple flash on our camera, we utilize remote controlled off-camera lighting and some on-camera bounce flash. This provides something called dimensional lighting on the main subjects depending upon how you position the light source.
Special San Francisco City Hall Lighting Effects
In the photo above, we placed the light behind the bride and groom, which created a silhouette. This effect can be achieved if you set your camera with the appropriate adjustments. Having a remote controlled off-camera light gives us many options. We can place the light up high and pointing down for a certain effect or we can hide it behind the couple for back light. We can also bounce it off of the neutral walls of city hall for soft but directional lighting. This creates the dimension often seen in professional studio pictures. Nothing like bringing a studio set up with you to San Francisco city hall! Another example can be seen below. Notice the dramatic lighting this bride's face. This was actually accomplished with natural light, but we filled in the shadow detail with fill flash.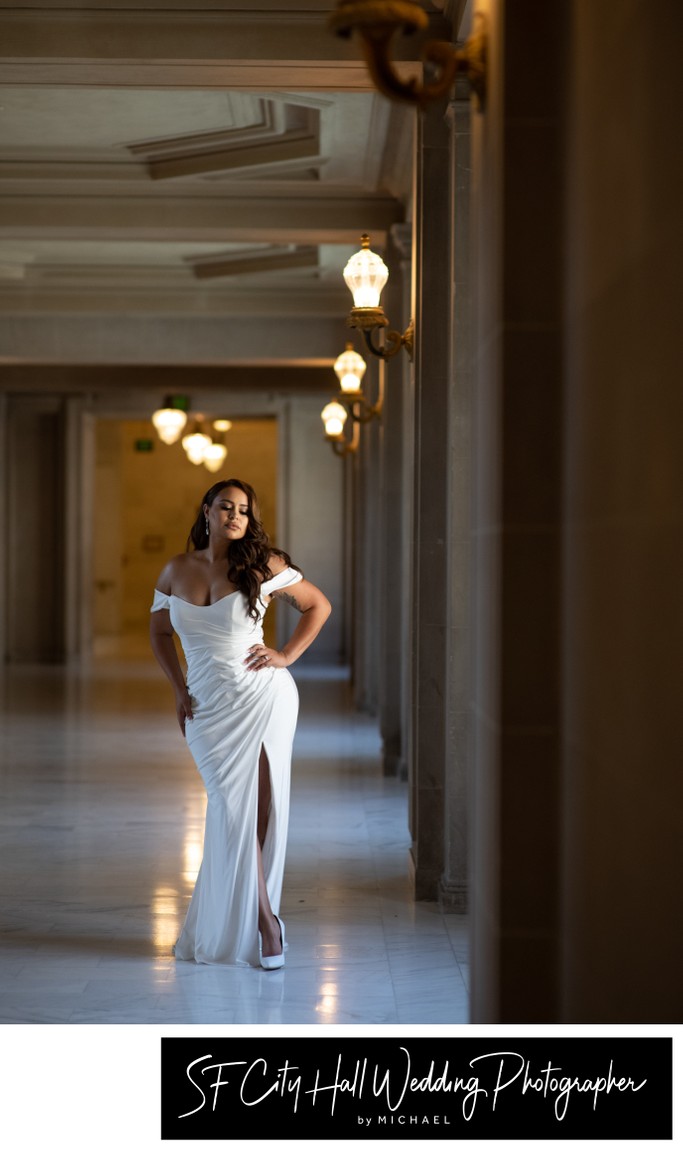 Town Hall Weddings in San Francisco
We spend a lot of time speaking about the advantages of celebrating your nuptials with a Civil Ceremony at the San Francisco town hall as opposed to large weddings. Couples spend so much money and planning time to put on a big wedding that many times there is sort of an empty feeling when it is all done. The other issue is that the day goes by so fast and the schedule can be very tight. Often times, you barely even have enough time for wedding photography. Not so with San Francisco city hall weddings. Ample time for photography is built right into our packages. It is not unusual to find yourself obtaining 4 times the amount of photography time with a San Francisco city hall wedding as compared to weekend celebrations. This is because you eliminate all of the events that happen on a wedding day and just focus on getting married. No Cake Cutting or Bouquet tossing or any of the other traditional activities associated with large scale weddings. What if you still want these fun traditions? No problem, have your reception on a different day and invite all your family and friends. Who says that the wedding reception has to be on the same day as the SF City Hall ceremony? Another option that we see frequently with Town Hall weddings is delaying the reception until the evening. Why not separate the 2 events? We do charge slightly more for events with a gap in between, but we can work this out with you ahead of time.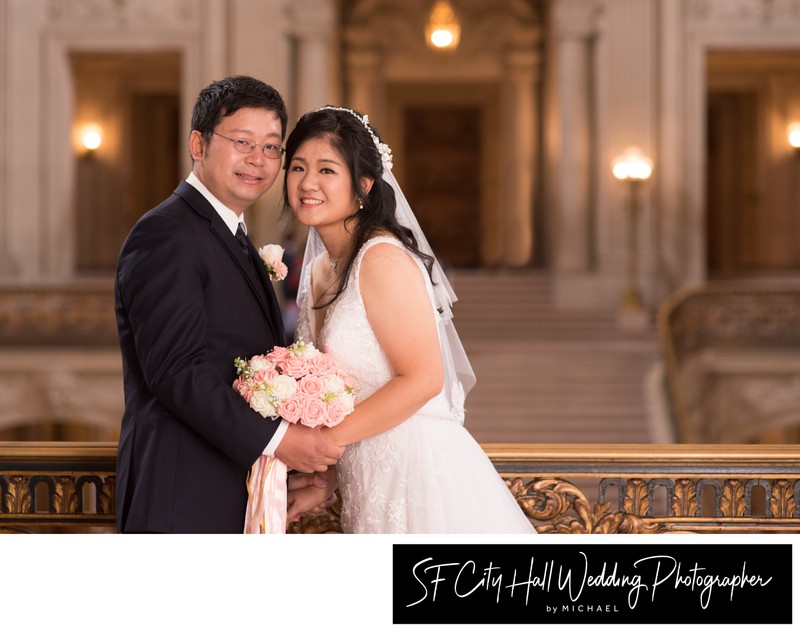 Beautiful lighting on the Mayor's Balcony using our remote flash