Window Images at San Francisco City Hall
We always take our city hall brides and grooms to the 3rd floor North Gallery area. We love the windows there because they face North and provide perfect soft lighting. We can either use the light just for normal natural lighting or include the window in the image as you see in the photo above. As you can also see, the window light provides a nice glow in the bride's veil if positioned properly. It is important to place the couple close enough to the window to allow the light to shine on the bride's gown. So much depends upon what time of the day it is and also how reflective the wedding dress is. A reflective dress will require much less light on it, in fact, if you provide too much flash power the details could wash out and not be visible in the picture. This is especially an important consideration when showing the back of the wedding dress. We take this into consideration when we set our lighting for the picture. This pose can sometimes be difficult for the groom to pull of to make it a convincing romantic image. San Francisco city hall provides many great backgrounds for these type of photos.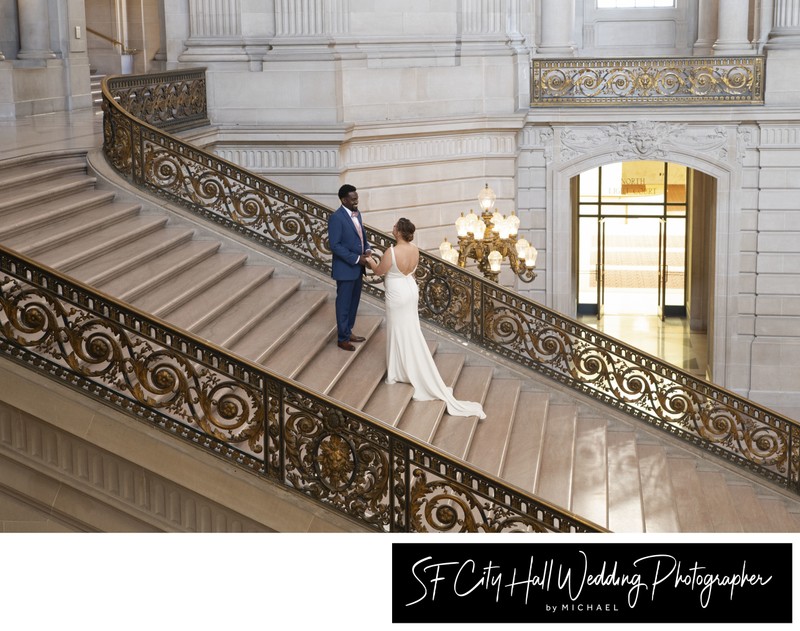 How to Use Off-Camera Professional Lighting
For this particular picture, I used a very light touch of flash to just fill in the shadows and even out the light slightly. I did not want to lose the subtle feeling of natural light. Over the years as a San Francisco city hall wedding photographer I have figured out that this particular location works best if you balance the light without overdoing it. Many or our couples ask us when the best time to photograph weddings to obtain the optimum lighting. The answer really isn't a simple one because it depends upon where you are in the building and time of day. In general, I feel like city hall offers great light in some part of the building throughout the day. We have experience finding it after 12 years of San Francisco city hall wedding photography here. We use this type of studio lighting wherever possible throughout the building, but only if we are not being intrusive or are in the way.