San Francisco City Hall Main Entrance
This fun couple really wanted to celebrate their nuptials and so the groom spontaneously picked up his bride and did a cheer in front of the City Hall sign. We feel like we take a lot of beautiful wedding photos throughout the San Francisco city hall building for every couple we work with. We painstakingly make sure that we take our newlyweds to all of the best spots in the venue and create lasting memories. The funny thing to us is that with all that effort and attention to detail it still seems that the most important photo for each of our brides and grooms is the shot at the main entrance in front of the city hall sign. We know that we ALWAYS have to get this shot. In the image above, we took some of our standard poses, but then the groom decided to do this! There are many ways obtain this image, but having the bride picked up is always a fun one!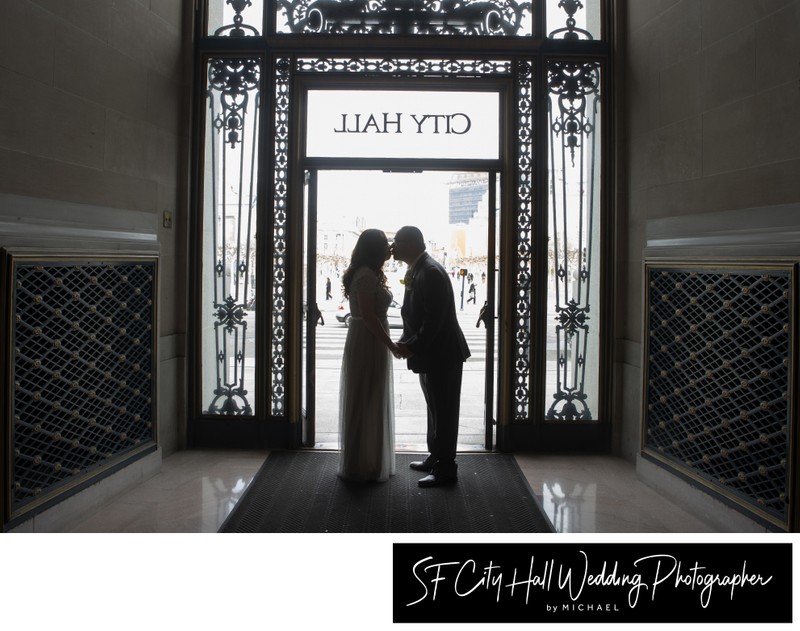 We will get the SF City Hall Entrance Shot!
We frequently find that our couples begin our city hall photo tour with a little bit of trepidation and concern. Often times we know why... They are concerned that we forgot to do the San Francisco city hall entrance photo. I think many of our Civil Ceremony couples assume that this shot is done early on in the photo tour because it looks like a opening image. However, the truth is, we save it for last. Why? Because our goal when it comes to providing city hall wedding photography services to our newlyweds is get as many shots as possible in the time provided without rushing. One of the problems involved in obtaining this image is that we have to go back out through building security. So it makes sense to save this for last to not waste time. In fact, city hall wedding photographers actually have to go through a different security entrance and it takes even longer. For this and all the other stated reasons, we do this shot last. So don't worry, we will get it! The example above is wedding photo done from inside the building before going outside. Also a nice angle and fun shot even if the words appear backwards.