Grand Staircase at SF City Hall
On any given week day at San Francisco City Hall you will see dozens of people taking photos of people on the Grand Staircase. About 90% of these photos are either straight on or looking up the stairs. After many years of professional wedding photography at city hall, I was determined to find a new angle or approach to the center piece of the building. The Grand Staircase is the one shot everyone wants, but it can also be the toughest one to pull off due to the crowds and tricky lighting at certain times of the day. The tricky lighting is mostly the overhead light coming straight down from the large pictures windows on the 4th floor. In general, this type of light is unflattering. After careful contemplation and looking at the staircase from many different angles, it occurred to me that one of the truly beautiful aspects of these staircase is the floor pattern below it. To get this shot, we go to the very top of the stairs and shoot down the railing. We often have to wait for people to clear out of the way, but I think you will agree the results are worth it! It is really the only angle that shows the patterned floor in such a dramatic way. I have not seen many other San Francisco city hall wedding photographers utilizing this angle to the Staircase. The other benefit to this photo is that it eliminated the overhead lighting issue since the couple are facing UP the staircase.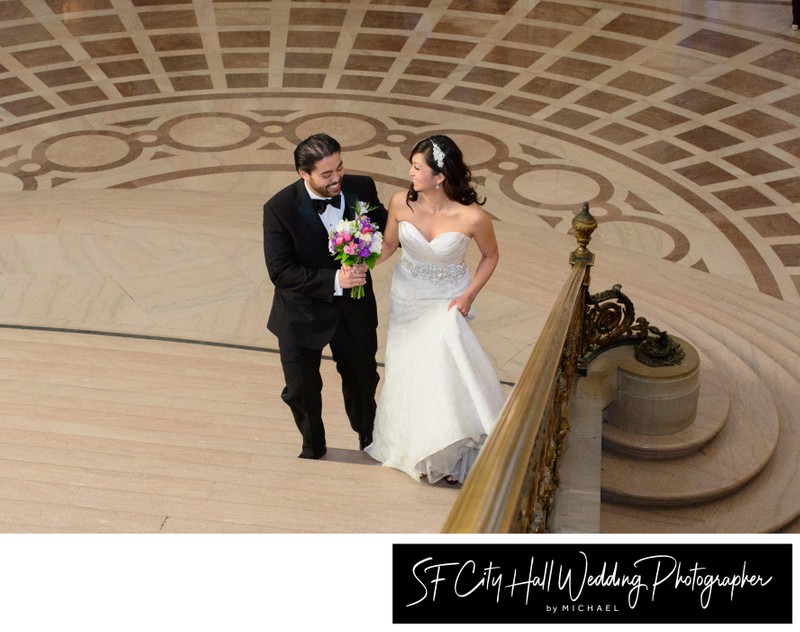 Decisions on San Francisco City Hall Backgrounds
This has always been a bit of a controversial decision I have to make with each passing wedding. On one hand, I want every city hall wedding shoot I do to be unique and individualized for the couple. So of course, this involves choosing different areas to take our pictures in the building with varying architecture. However, at the same time, this has to be balanced with the desires of clients who want some of the more prominent locations at city hall. We fully realize that our perspective wedding photography clients often choose us because of particular images they see on our website. This of course, means that we better also make sure to give them the images that came for, so to speak. There is only so much time with each shoot, so we we definitely can sometimes be forced to make decisions about where to go to balance both of their desires out. It usually comes down to good communication with our newlyweds as the photo tour progresses. The important thing is that our clients receive the images they booked us for, but also include some unique pictures as well.