Military Wedding at City Hall
Yes, even military weddings can happen at San Francisco City Hall. We absolutely loved this couple, they were very much in love and couldn't wait to get married. They were probably one of the most pose-able couples we have ever worked with up to that time. They booked our City Hall PLUS package which provided them with 1.5 hours of city hall wedding photography coverage including the ceremony and check-in. We loved his dress whites and the bride's white bouquet. It was a dark day in the building so the background went a little dark in this picture, but it seems to add something to the photo. During the winter, when we did this wedding, the light tends to come in through the windows sideways. This creates the type of lighting effect you see in the above picture. I call them slashes of light. They enhance the photo and add more interest in the background. We offer discounts to all service members in the military. This discount also extends to veterans as well!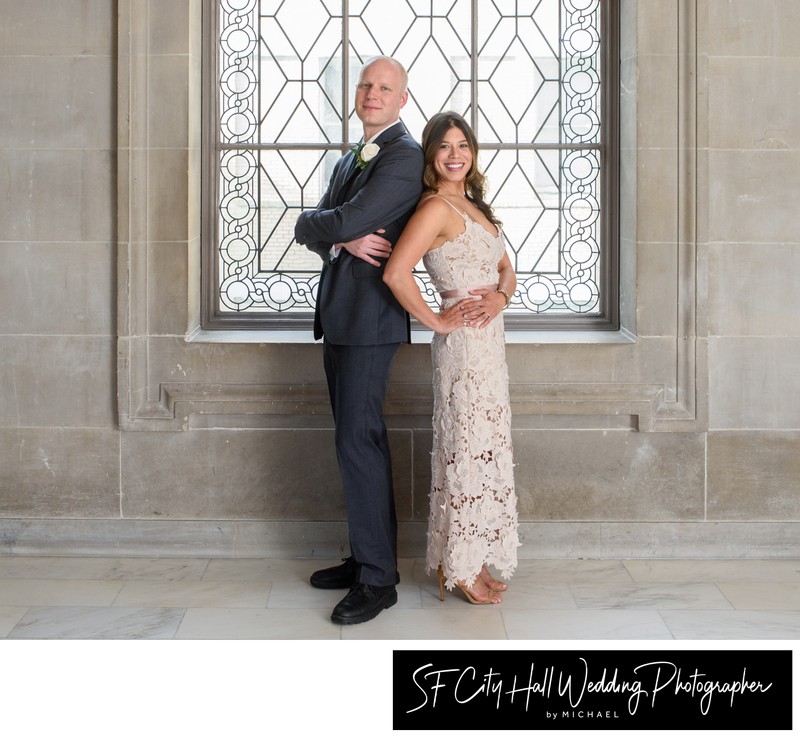 This couple also were able to do some pretty physically taxing poses and we took advantage of this and asked them to do lots of dipping and lifting. They were more than up to the task and it made for a fun San Francisco city hall photo session. In the photo just above, we posed the couple in front of 3rd floor North side window to show off it's interesting design. It looks like a stain glassed window, but without the color. I really like the way the bride's patterned wedding dress looks in front of the window. We did this pose without flowers to not have any distractions in the final composition. The idea was to feature the newlyweds and the uniquely styled window. I love this City Hall brides wedding dress, very unique and it fit her very well.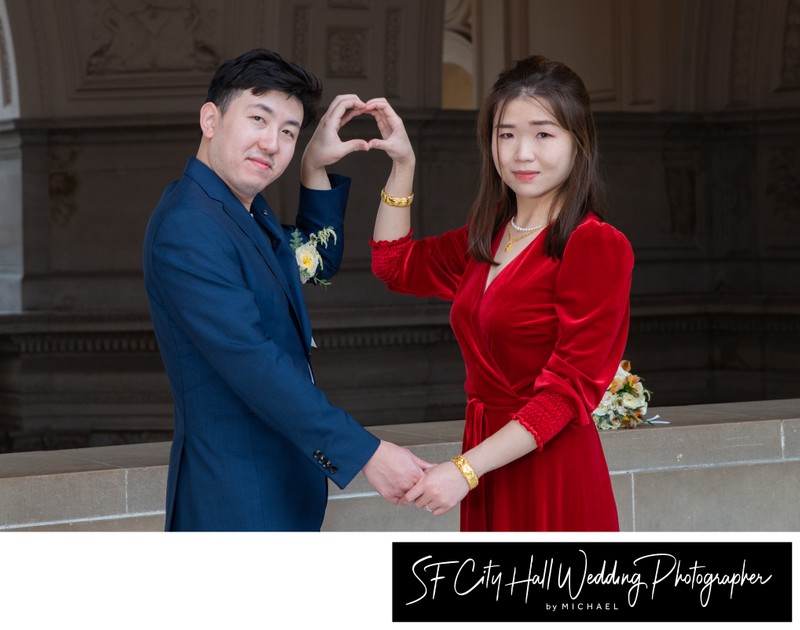 This fun Asian Couple wanted to make a heart shape for the camera after the bride donned her beautiful Chinese wedding dress. They booked us to be their San Francisco city hall wedding photographer with a full plan of events and changes in outfits. I was amazed at how her red dress popped against the gray colors of SF City Hall. Truly a great choice by this Asian Bride