Before I get into the details of this blog post, let me start by saying that this post is not about me. I definitely possess some of these attributes, but that is really a matter of opinion. With my 12 years of experience as a San Francisco city hall wedding photographer, I have definitely learned most of the answers to this question. I have observed dozens of other photographers and I have formulated some educated opinions on what works and what doesn't work. For the purposes of clarity, I am going to divide this post into 2 sections. Let's call them Personal Attributes and Technical Attributes.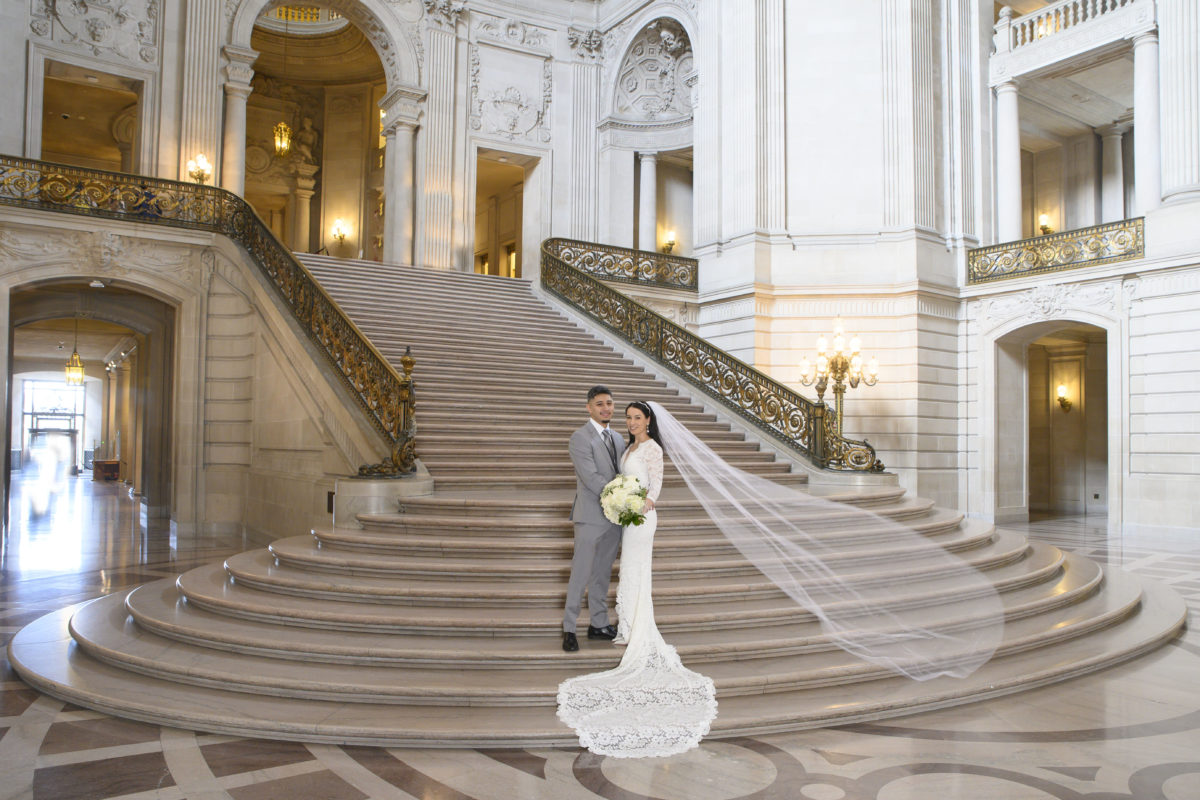 Personal Attributes of Great SF City Hall Photographers
Any great wedding photographer needs many if not all of the attributes listed below, but I think that San Francisco city hall can place additional pressure on the whole process. This tends to magnify the need for the proper personal skills.
Patience – I listed this one first because it is the most important in my view. So many things can get in the way of a wedding photographer doing their job at San Francisco city hall. How the photographer deals with these barriers can make or break the wedding photo session. Dealing with the crowds, other photographers, and tourists can all impact the shoot. Unexpected events also come up from time to time and can shut down portions of the building. City Hall wedding photographers that deal with these issues in a calm and patient manner will be much more successful.
Ability to Improvise – Any of my fellow San Francisco city hall wedding photographers will agree with this. The very nature of wedding photographer demands a person who can think quickly on his/her feet and know how to make adjustments. San Francisco city hall tends to throw more of these challenges your way based upon the things mentioned above.
Fast Moving – A city hall wedding photographer has to cover a lot of ground and sometimes in a quick way. For example, if we are in the middle of taking pictures of the bride and groom on a busy day and we suddenly notice that the Grand Staircase is free, it's important to move quickly and get into position. Sometimes this can even mean running up or down the Grand Staircase. City Hall is no place for wedding photographers with mobility issues.
Technical Attributes of Great SF City Hall Wedding Photographers
It is also very important for a Top San Francisco city hall wedding photographer to have technical talent and experience. Yes, you can point and shot and trust to luck, but this will not result in professional photos.
Understanding the Camera – This may seem like an obvious attribute, but you would be surprised how many San Francisco city hall wedding photographers just set their camera on "Auto" and hope for the best. In my opinion, the lighting and backgrounds are too tricky to rely solely on Auto settings. I shoot manual and make adjustments as needed.
Good Lighting Technique – San Francisco city hall has some tricky lighting challenges depending upon where you are in the building. The natural light is great in quite a few places, but other locations like the Mayor's Balcony and the Grand Staircase can sometimes present unattractive lighting. A photographer's advanced knowledge of professional lighting techniques are key in these situations.
Understanding of Creative Poses – Posing is somewhat of a lost art these days. The advent of so-called Documentary wedding photography or Photojournalism has made it OK to just let your bride and groom roam around and take candid pictures of them. In some cases this is warranted, but in others it doesn't do this beautiful and elegant building justice. A well rounded San Francisco city hall wedding photographer should be able to provide the client both candid and posed pictures.