San Francisco Wedding Photography - Ocean Bride
We brought our bride and groom to the famous Sutro Baths in San Francisco and did a series of images out on the rocks. This particular image is of the bride only and we asked her to put her arms in her veil and spread it out in the wind. We had to wait for just the right moment as the wind blew in the best direction. We particularly liked this image in Black and White because it added to the drama and emphasized the veil. Honestly, this is one of my favorite pictures I have ever taken at the baths. We have photographed a few San Francisco city hall wedding couples in that location because it is such an iconic representation of the City by The Bay. It was just a small part of our San Francisco Photo tour. We also took this couple to other locations in San Francisco including The Palace of Fine Arts. Beach pictures can be difficult to get perfect due to the winds and harsh sun, but can often result in amazing wedding photos when we can pull it off.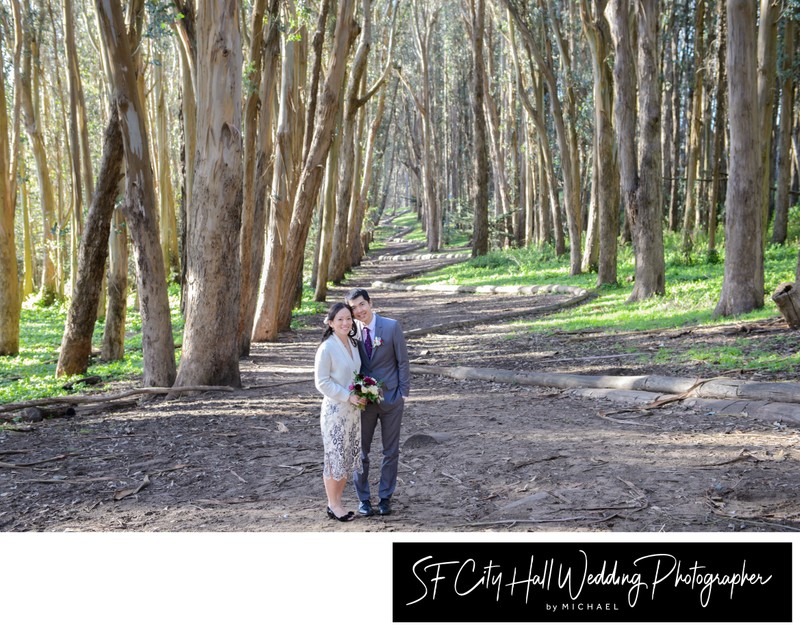 Photos at Sutro Baths in San Francisco
Sutro Baths is an uncommon spot for us when we do our San Francisco Photo tour for our newlyweds. This is only because it is so out of the way and the hike down there is pretty substantial. If it wasn't for those 2 things, we would be here all of the time because it is an amazing place for wedding photos. We are always very excited when our bride and groom suggests that we go there for the pictures after their San Francisco city hall wedding photography session. Not only do you have all of the beautiful ocean views to work with, but the ruins themselves are fun to explore and take pictures around. The only negative issue with Sutro Baths is that it could be scary place for people who are afraid of heights. There are a few places down by the ruins where you are walking on fairly narrow cement strips. They are not so narrow that you have to balance carefully, but there is a pretty substantial drop if you happen to walk off the edge. In reality, there is not much danger here as long as everyone is careful. We will never put you in a pose that might jeopardize your safety (no dip shots on the concrete strips!)
Helpful Hints for Wedding Photography at Sutro Baths
The main suggestion I would make is that if you plan on making Sutro Baths part of your wedding photography package, you should allow extra time because of the distance and the hike involved. It is better not to be rushed when we are taking you throughout the city and so this type of planning is helpful. The walk up the path from the Baths can take up to 20 minutes depending upon your speed and determination. Here is summary of our best suggestions for a successful wedding photography photo session at Sutro Baths.
Allow plenty of time due to the hike and drive out to Sutro.
Wear comfortable walking shoes to help with the hike down to the Ocean and also to negotiate the ruins.
Avoid Sutro Baths if you have balance problems or are afraid of heights
Bring a warm jacket or sweater because it can be quite cold down by the ocean.