Unique Angle of Grand Staircase
This is not an angle you often see of a bride and groom on the Grand Staircase at city hall from other wedding photographers. We took this photo from the 4th floor of the building and asked the newly married couple to look up at us. Even though the couple ends up being pretty small in the photo, you definitely get a unique view of the staircase showing the amazing architecture at this building. I especially like how this type of photos displays the unusual patterned floor at San Francisco city hall. To make this image even more unique, we put our couple further away from the camera on the platform of the staircase. A unique angle in every way possible, with the goal of creating something new and different for our couple. Frequently, we have to wait a bit until we can take this photo because it requires a lot people to clear out of the way. The other issue is that from way up on the top floor we have a harder time communicating with the couple to be able to instruct them how we want the pose to look. This is one of the reasons I like to do San Francisco city hall wedding photography with a second shooter. I can use her to help position the couple and make sure the pose looks right. This can be be very helpful and not so disruptive. Who likes yelling across the room?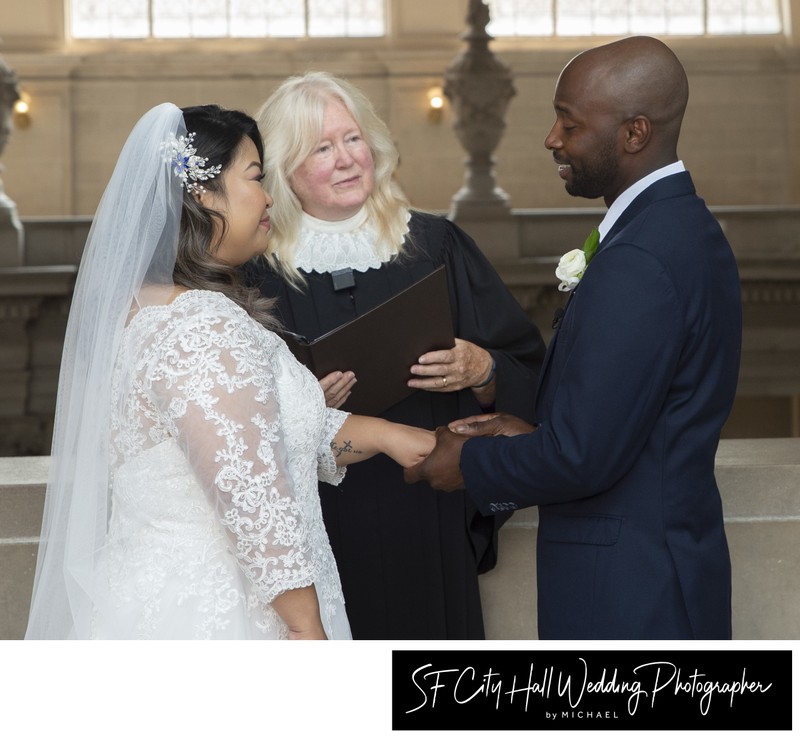 The Same Website Images or Something Different?
This is something we struggle with at every wedding we photograph. On the one hand, we want to give each city hall couple something new and different. We don't want everyone of our San Francisco city hall wedding collections looking the same. So we are always trying out new angles and different backgrounds for each couple. Sometimes, we spend time walking around the Town Hall and look for unique shots that we have never seen before on our website or others. However, this is where it gets tricky. Our clients book us because of SF City Hall pictures they have seen on our webpage. They expect us to provide them with some of our Signature images. If we don't, they will often question us..... "When are you going to do the Hallway shot?". This reaction is perfectly understandable because they booked us for a reason. Most likely that reason has more to do with the images they saw on our SF city hall website and not because they liked all of the stuff we wrote. So obviously, we try to give each client a little of both to keep everyone happy. The fun thing is that San Francisco city hall is so full of amazing architecture, that it always seems like there is something new to photograph. We can change the foreground or the background and still make fantastic images for long lasting memories. We also love to involve our newlyweds in the process of picture taking. We are happy to listen to your advice and incorporate our own shots too! There is time and room for both.