Early Evening at a SF City Hall Window
We brought Sarah up close to the window to use the beautiful Natural Northern light that comes in late at San Francisco City Hall. We posed her to give her wedding gown lots of movement and to accentuate her figure. The background is dark due to the time of evening. Most of the San Francisco city hall wedding photographers that I know love this time of the evening for pictures. We thought that the evening light it would make her gold dress look even more stunning. This is one of the reasons we knew that bringing her to a window with natural light flowing in would be and advantage. The color of this type of light tends to be more gold in color so with our bride's reflective dress it worked out well.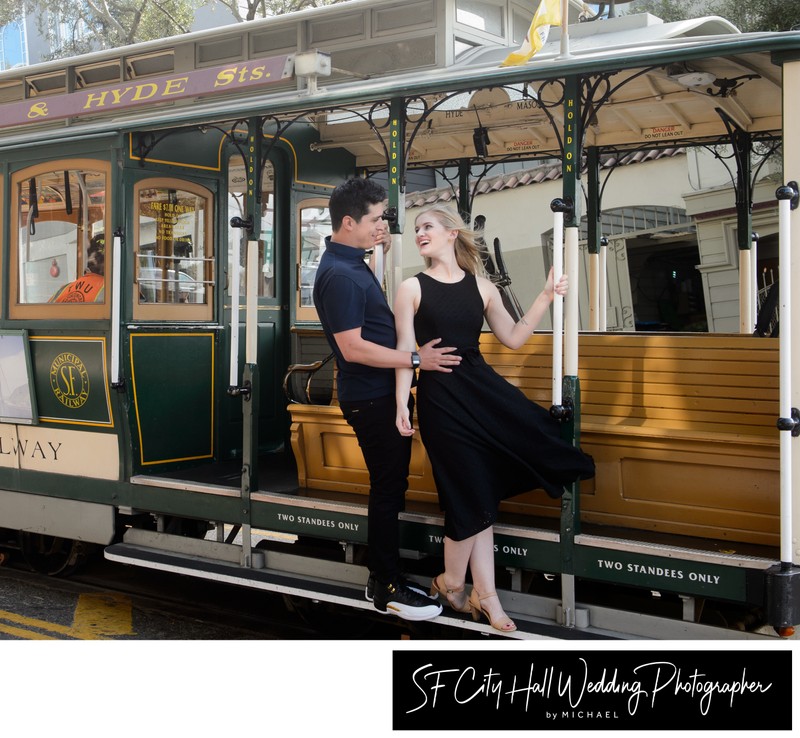 Personalizing your SF City Hall Photoshoot
We do so many weddings at San Francisco city hall, it would be easy to just go to each location we prefer and do the same poses and the same lighting. However, this does not serve the client well. In fact, as mentioned above Sarah's evening style gown worked differently with the backgrounds at San Francisco city hall then a typical white wedding dress. We would have been doing her a disservice if we treated her the same as a white dress bride. So we altered our entire city hall photo tour and looked primarily for natural light to add some beautiful colors to their wedding pictures. In addition, we did our posing slightly differently by doing more with the brides legs in terms of bending them and shaping them. Not as important with a long wedding gown, but vital with a slinky dress like Sarah's.
Engagement Shoot of Same Couple
We thought it would be fun to show you some of the engagement portraits we did of this same couple. We did this portrait session in San Francisco about a week before their City Hall Wedding. We visited Crissy Field and the took them to Cable Cars by Ghirardelli Square.