San Francisco City Hall Window Posing
We have to adjust our San Francisco city hall wedding photography to some extent due to recent changes in the rules there. I added this caption because the city of San Francisco no longer allows brides or grooms to sit in the window as shown above. We decided to still leave this photo in our portfolio because it is a good representation of some of the type of detail wedding photography we do. Yes, it is true that the bride's head is cut off, but this photo is not about the bride, it's more about what she is wearing and her accessories. We obviously provided our client with plenty of city hall images with heads attached! We frequently like to provide our clients with detail shots such as these. They add to the overall photo session and allows the couple to have a record of some of the many details they painstakingly put together for the special day. We often want to take close up pictures of the bride's floral bouquet, but in this case we enhanced the picture by showing some of the her too! You also get a nice sense of the texture of the wedding dress.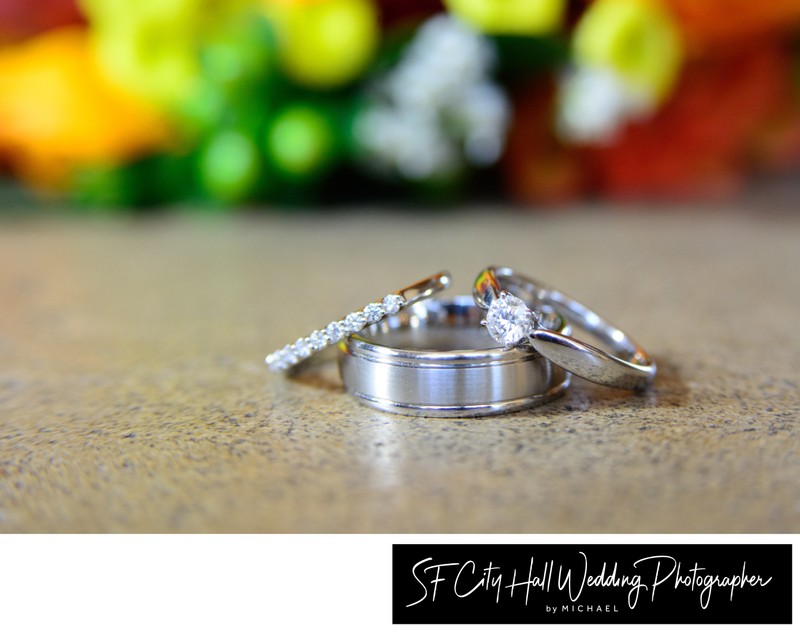 Photography Techniques for Detail Shots
There are a number of different ways to approach details shots for a San Francisco city hall wedding. We generally like to save these shots for the end of the newlywed's photo session. We do this because as we move forward in their building photo tour, we learn more from the couple about their wedding planning and also some of the important things they obtained for the event. Little by little, the bride will tell us the types of items she has brought with her for us to record. For the wedding rings, we like to place them on the City Hall marble floor and use our macro lens to get a nice tight shot. We will open up the lens to a f-stop to purposely narrow the depth of field. This has the effect of blurring the background which places more emphasis on the rings. The marble floor as a background is appropriate because it will remind the couple that their wedding took place at San Francisco city hall. When it comes to taking photos of the bride's bouquet, the important thing is how you light it. We will always avoid direct flash or even direct natural light. We want the light source to come in from the side to help show the texture and detail of the flowers. One idea is to place the bouquet in one of the windowsills in the building. If none are available, we can bounce our flash off of nearby wall to create directional light coming in from the side. We will photograph even more details if the bride and groom have specific requests. This happens quite often and we always listen.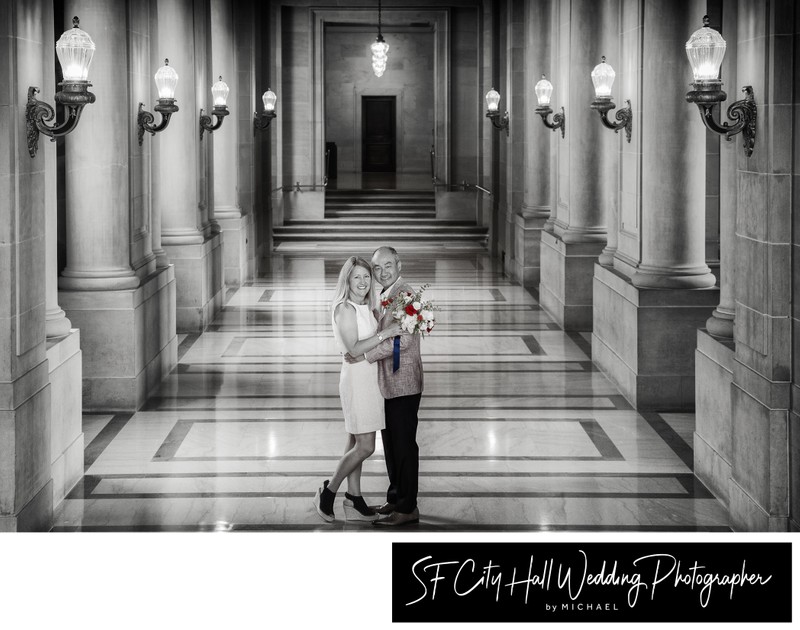 Selective color image at San Francisco city hall