SF City Hall Wedding Photography on 2nd Floor
One of our favorite San Francisco city hall images from last year (2021), this photo was created by using a hidden flash behind the couple that was triggered by an on-camera radio transmitter. By aiming the flash at the white part of the wedding dress it created light in the background and also gave the bride's veil a nice glow. I thought it would work well as a black and white photo, but we have also printed it in color. One of our best San Francisco City Hall couples that year! They chose us to be their San Francisco city hall wedding photographer to obtain pictures just like these. We use these techniques to enhance all of our couples wedding photography experience. Yes, many of your photos will be more standard shots but will still possess amazing composition, lighting, etc. However, we always want to throw in some of these truly amazing special lighting techniques to give your city hall wedding pictures impact. Other times, we use natural light as in the photo below. This image was created on the south side of SF city hall using only available light with no flash or artificial lighting. Fortunately, there was some haziness outside which helped keep their faces soft with no harsh shadows. As we walk around San Francisco city hall, we see these opportunities and always try to take quick advantage before they are gone. The lighting changes quickly in the building we do not want to miss great opportunities. One of the skills you develop after shooting multiple wedding at city hall is to recognize the changing lighting conditions and then take advantage of them for your couple.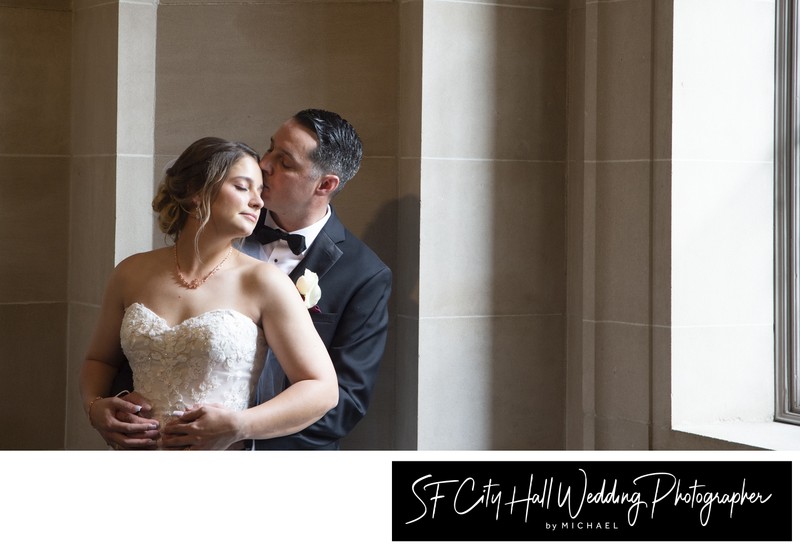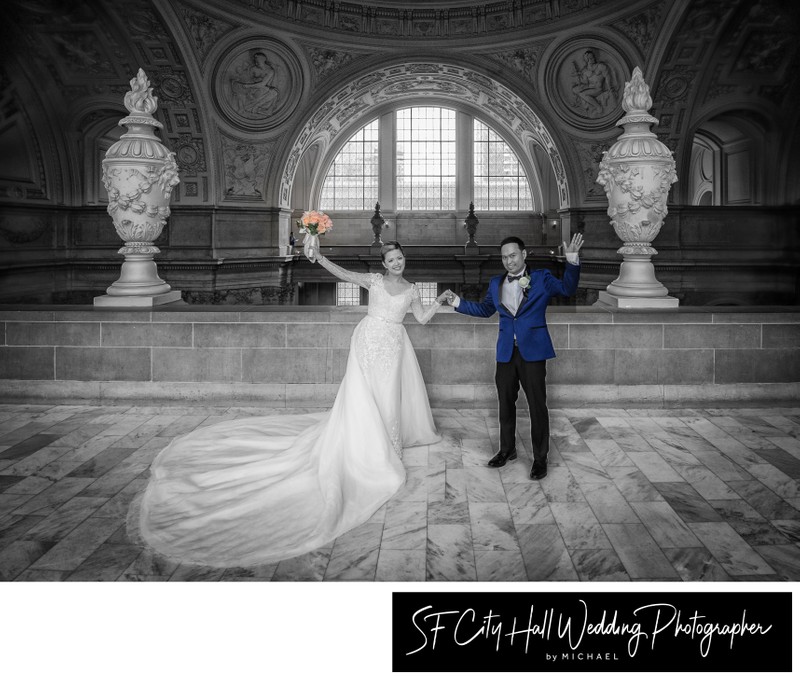 Special Photoshop Techniques
The photo above is an example of another one of our special techniques that some of our couples love. We convert the picture to Black and White, but keep selective color parts in the photo. This highlights any unusual or standout colors present. In this particular image, we felt that the groom's blue coat and the bride's bouquet both made a color statement! This type of technique can be overdone if you use it on too many images. We want our brides and grooms to have a few shots like this to choose from and we always receive such positive feedback from our special effects. It also makes a great wedding album addition if you decide to choose that option. We are one of the leading San Francisco city hall wedding photographers and have been doing it for over 12 years. We love what we do and it shows in our images and the expressions on our couples faces.