Newlyweds Walking out of City Hall
This was one of our first San Francisco city hall couples that we photographed many years ago. This shot is a fun way to take pictures of the bride and groom with the City Hall sign. Rather than have them pose under the sign we ask them to come walking out and then making some kind of gesture. It is a more natural type of image and appears more candid in nature. Photos like this can often be better when they are not posed because they look so natural. We set the couple up inside city hall and asked them to walk out of the building and do something fun! The results are great as you can see! We will, of course, throw in a couple of posed images as well to make sure the bride and groom receive everything they want. We even ask if they want a cell phone picture with their own phone so they will have something instantly to show their friends. If any friends or family remain, they can also take some shots by the City Hall sign with them.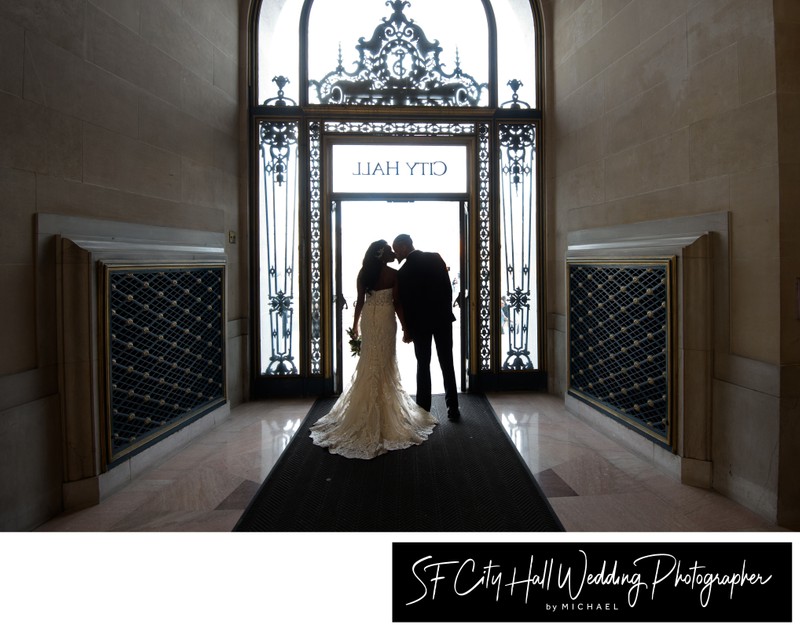 Our History of San Francisco City Hall Wedding Photography
We have mentioned elsewhere in this website that we have photographed many weddings at City Hall and certainly know the lay of the land. It has been a great experience and we have learned much along the way. Seeing this couple reminded me that our first few city hall weddings we really didn't know all of the options available to us for wedding photography. In fact, we didn't even take our first couple to the 4th floor which is one of the most beautiful picture locations in the entire building. Why didn't we take them there on our city hall photo tour? Because we didn't know it existed! Despite the fact that these first few couples didn't receive the full benefit of the experience we would gain a couple months later, they still enjoyed their pictures very much. Why? Because even though we lacked San Francisco city hall wedding photography experience, we still came into the shoot with over 20 years of marriages under our belt. Of course we eventually did learn things and some of best places to go for great photos. We also made some great friends of many of the employees and officiants working at city hall. These relationships have benefited us not only personally but professionally over the years. The obvious benefit of meeting new people is that long lasting friendships developed in some cases, even with other San Francisco city hall wedding photographers. On the professional side, some of the contacts we made helped us to learn things occurring at the venue in advance. Some examples of the types of things we have been tipped off about include fire drills and plumbing problems. Both of these issues forced the evacuation of the entire building, but because we know it was coming, we were able to prepare the couple and set things up for the photos needed. We cannot guarantee this type of service, but we will certainly try to stay informed as much as possible. It pays to know people and stay open to any information coming our way.