LGBTQ SF City Hall Wedding Photography
The Sepia tone image above was the result of a fun candid moment that these 2 women shared at San Francisco City Hall. We had asked this LGBTQ couple to dance at the 4th Floor North Gallery and they started cracking up since there was no music. Even though it wasn't the photo I was expecting or trying for, I think you will agree it came out better than anything I could have planned. We always try to catch candid moments to go along with our posed wedding photography at every city hall wedding we cover. This was one of our favorite same-sex weddings of that year. Both women were really interested in receiving some great wedding photography and wanted to invest the time into it. This makes a huge difference in the final result. We understand that this level of time commitment is not for everyone, but for those who are willing there is a great payoff. It can be pretty tough to get great wedding pictures if the newlyweds are not that interested in the photography portion of the day. Fortunately, that rarely happens because most of our couples give it enough effort to make it work. In this particular case, the couple was up for anything and so we set out to give it to them. We took them all over the building and didn't finish our shoot until it was almost getting dark outside. This actually helped us because we were able to create a dramatic image on the Grand Staircase as early evening set in.
Helpful Hint: When planning San Francisco city hall weddings in the winter, be aware that the building gets dark well before sunset. This will definitely affect your photos so our advice is to book your ceremony a little bit earlier or let us do some of the photography before.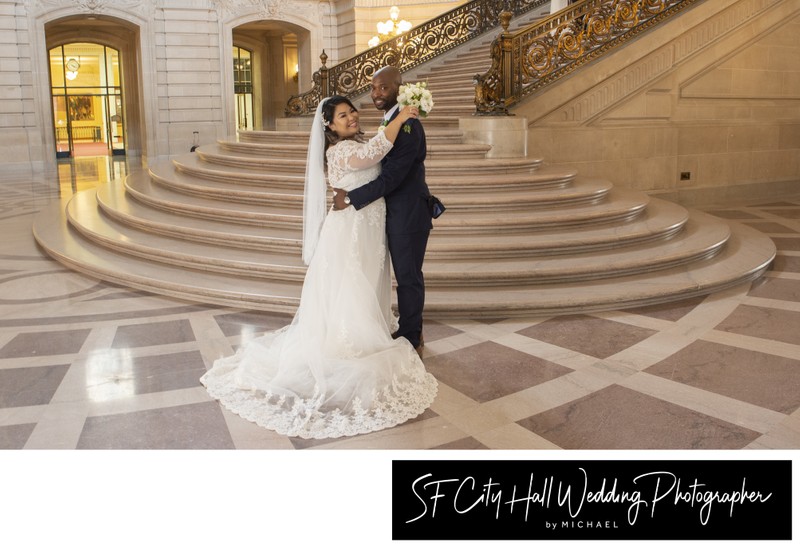 Sepia Tone Wedding Pictures
If you followed the above link to the Grand Staircase image, you will note that the picture is presented in Sepia Tone. Why Sepia Tone you might ask? Why not? My mission is to provide our newlyweds with the best pictures possible with the most variety. Our clients love the fact that we include not only Sepia tone images, but also some black and white pictures. We think that certain backgrounds and places look great in Sepia tone. Since this Brown and White effect evokes memories of years past, we especially like to use it for Cable Car pictures and of course the old time architecture of San Francisco city hall. In the main photo above, I was only looking to simplify the background by eliminating the color. I reasoned that this would focus more on the joy that was captured in the photo. This can be an effective technique with distracting backgrounds also.
Another Recent SF City Hall Wedding
We have a recent wedding displayed on this page, the very attractive couple just above enjoyed this moment in front of the Grand Staircase with no people around. You can't tell from the photo, but this moment lasted all of the 20 seconds and then tourists descended and were everywhere. That is kind of how it works when photographing weddings at this historic building. One moment there will be crowds everywhere and then everyone leaves the vicinity for a second and you can capture a photo like this one. This very handsome groom below was looking at his bride during this portrait shoot and I captured his happiness at seeing how beautiful she looked. If we cannot get our groom to smile big enough for the photos, we just have him look at his bride. It works every time!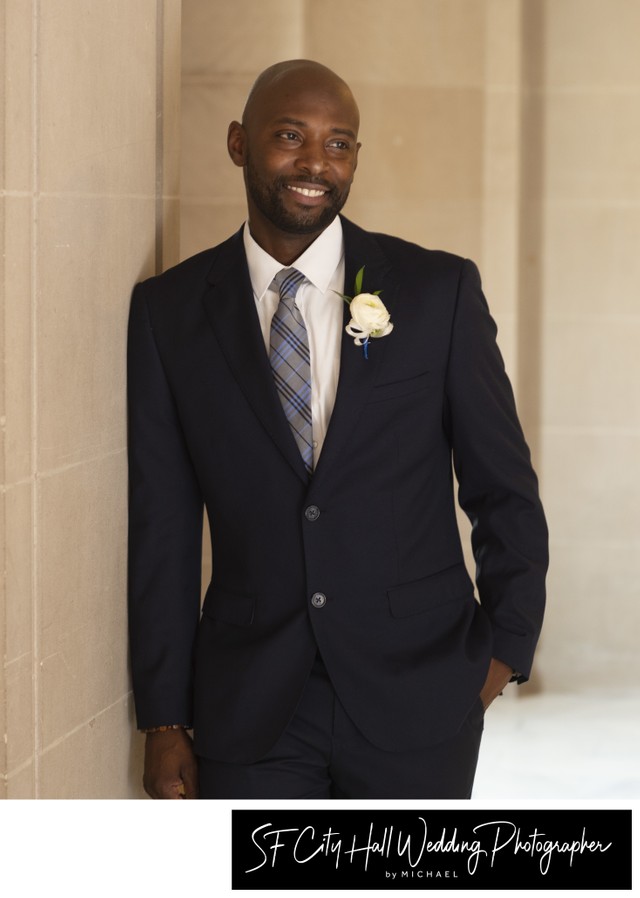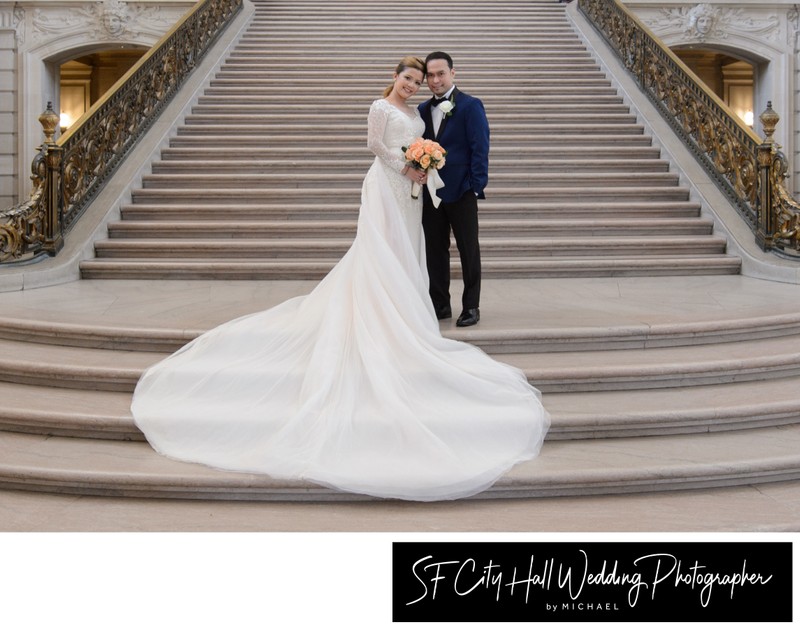 Above is another technique for taking a photo on the Staircase with no people in the background. We just crop it tight and that usually eliminates everyone. We are always asked by potential clients how we are able to display so many Grand Staircase pictures without large groups of people all around. Many think we do it with Photoshop, but we don't. We have learned these techniques over the years as well as patience with the process! I also will stand on my portable stool and this also eliminates people wandering around at the top of the Grand Staircase. The reason this works is that the angle from the stool is higher and so I am looking down at the subject.