Select Color Wedding Photography
There are many reasons to display a city hall wedding photography image in Black and White. In the photo above, we used black and white as a way to make sure the viewer could see the bouquet. The background on the outside of San Francisco City Hall is pretty detailed and small things tend to get lost. So to make sure that that bouquet was noticed, I made the entire photo black and white except for the flowers. I feel like this effect works very well in this situation. The bride specifically asked me for this picture and when I saw it, I knew I had to make sure the flowers were more visible. Even if her flowers would have been larger, they would have been lost in the background. The image below is another example of a black and white image with a splash of color. I don't try to overdo images like this, but like to give each bride and groom a couple to choose from. They are very popular and we are happy to provide our couples with some of these options. The best San Francisco city hall wedding photographers will offer their clients various special edits and effects such as these. We are friends with a very large number of regulars at city hall and we know they all agree that providing these options sets us apart. We have received positive comments and so we continue to offer this type of special effect. Today's editing software makes these types of effects possible and more easily done.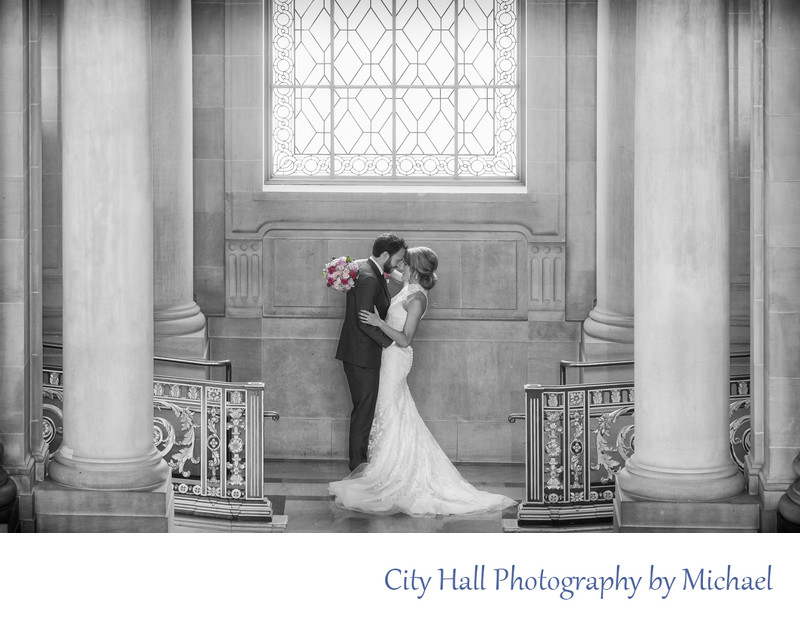 Special Wedding Photography Options
Other options we will often provide our clients is the removal of tourists and other people wandering around the city hall building. The other thing we do for our clients is to remove the exit signs that appear on the 2nd floor. This is about the only place in San Francisco city hall where the signs are an issue and they are quite easy to remove in Photoshop. We offer our clients this type of editing at no charge and feel like it truly enhances their final wedding images. As mentioned previously, we also provide our clients with a certain amount of Sepia Tone and Monotone images (black and white). You will always receive the color version of each photo in addition to the converted ones. In most cases, your city hall photography images will not contain strangers in the background.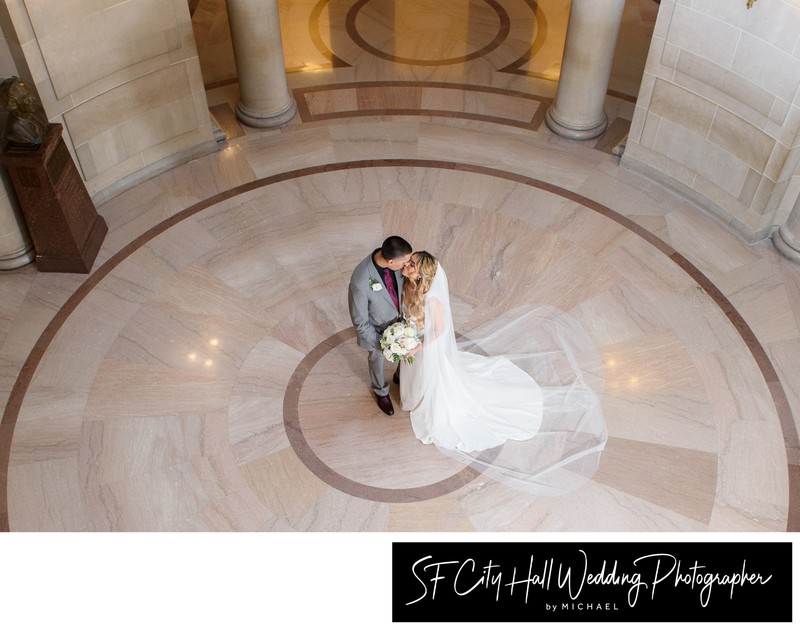 This unusual view was taken from the 2nd floor down to the Rotunda area