We had a wonderful time photographing this LGBTQ couple at San Francisco City Hall. They brought a small group of friends with them to help in their celebration during the Christmas Season. Diana and Jessica decided that it would work better for their wedding day schedule to start right into there photography session. The plan was to meet them at the Grand Staircase and start taking pictures right there. We worked extensively with Diana and Jessica to plan their day and save the ceremony for last. We even did the family pictures before their civil ceremony. As luck would have it, the grand staircase was available for pictures and so we were able to put this beautiful same-sex couple right in the middle without any other people in the way. This doesn't always happen at San Francisco City Hall, so sometimes we have to take our couples to other places in the building and come back when the Grand Staircase is less crowded. Since it wasn't crowded at this time, we were able to spend a good 15 minutes with Diana and Jessica on the staircase using various angles and unique views. They were great to work with and more than willing to try fun pictures as well as romantic poses. To explore some of the history of Same-Sex weddings at SF City Hall click the highlighted link. For more information about our San Francisco city hall wedding photography coverage please contact us.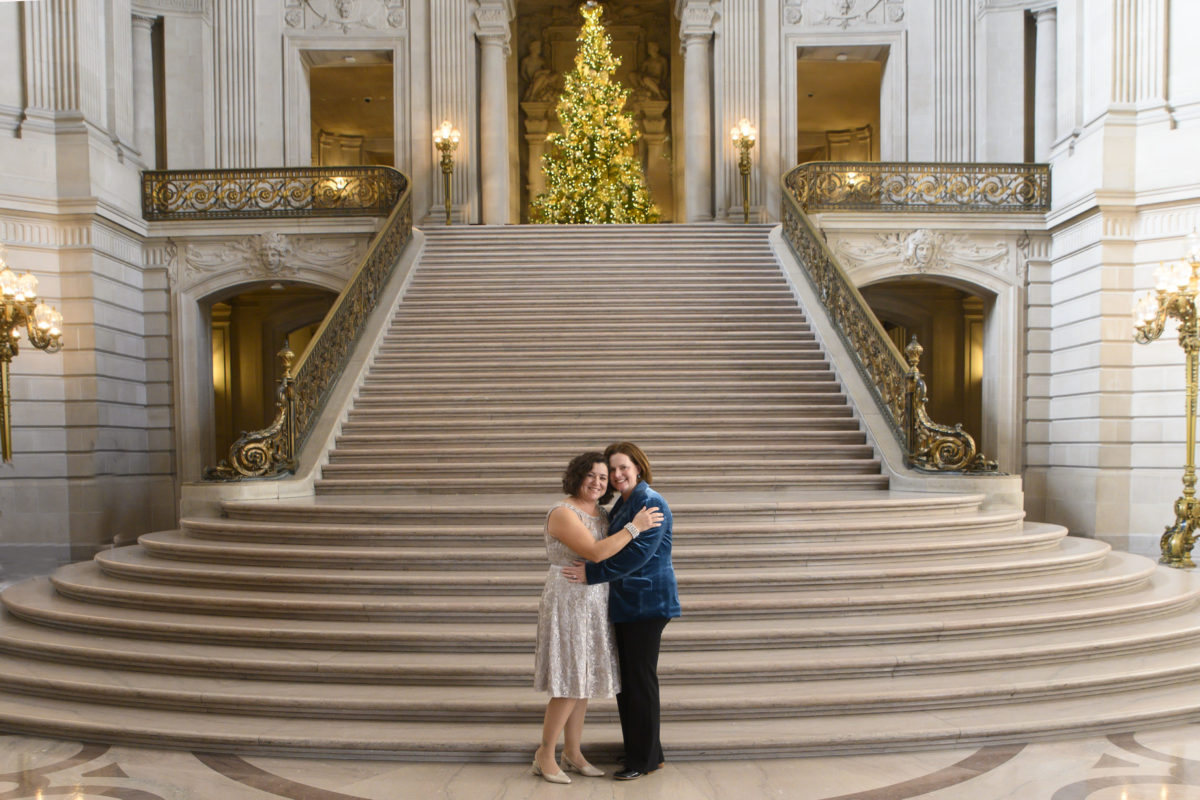 SF City Hall Wedding Photography Tour – LGBTQ Couple
Once we completed the grand staircase wedding pictures, Diana and Jessica joined us on a tour of the SF City Hall Interior while taking pictures at various stops. Since this couple booked our 1.5 hour City Hall Plus package, we had plenty of time to take them on all four floors of this building. We escorted these LGBTQ brides to the Mayor's Balcony in order to capture some photos that showed the whole building including the Rotunda area. As the couple walked hand in hand from one location to another we also made sure to take pictures of that as well. These photos help display their love for each other and also the fun they were having on their San Francisco City Hall photo tour. After the Mayor's Balcony photos were completed, we took them to one of our favorite places on the third floor. This location has a beautiful window to use as background for some memorable wedding pictures. Depending on the time of the day, the light coming in from the window can sometimes be tricky to handle. That particular day the light was perfect and we got some great photos in front of this beautiful window. We always like to capture individual pictures of each bride and the third floor is one of the best places to accomplish this. It gives us some privacy and some nice backgrounds to use for their individual pictures. Lily and I like to split off and take pictures of each of them by themselves and then we switch back and trade. I like doing this because I never know if Lily is going to see something different than I do in one of our Brides. We do the same thing with non same-sex couples and I always like the results and the differences each of us sees.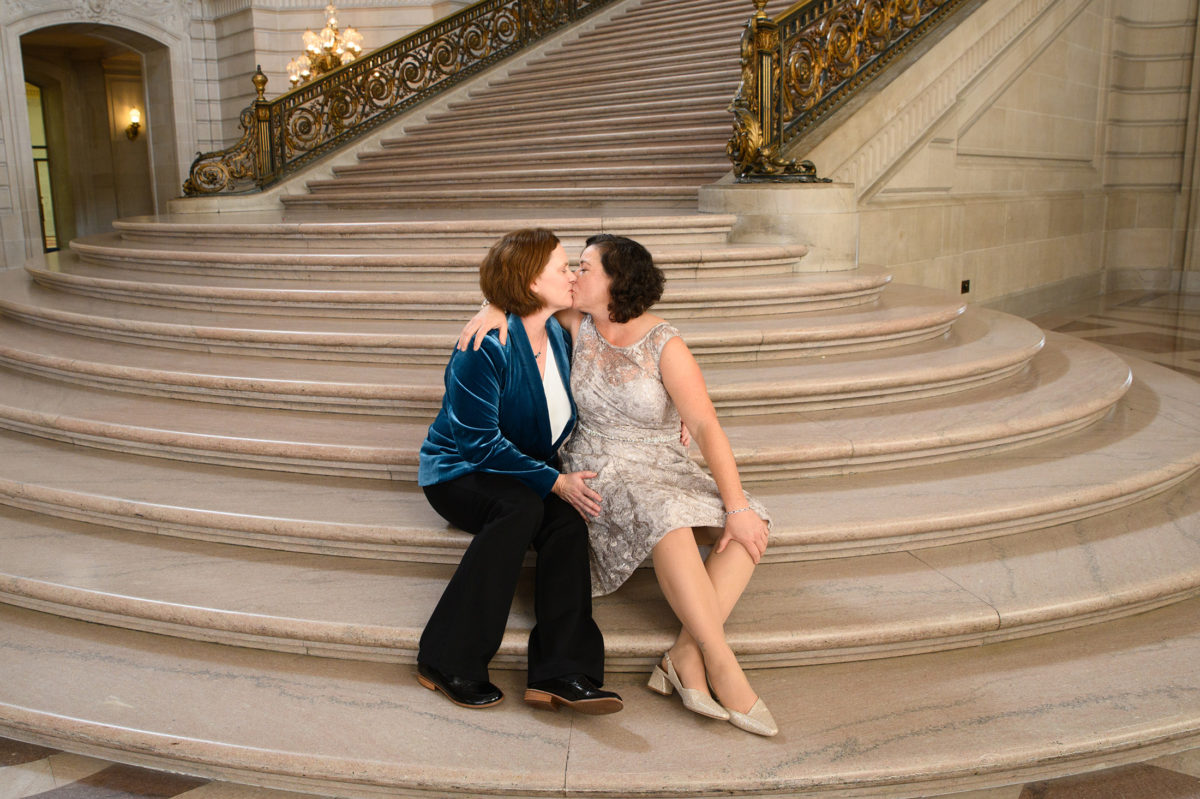 Keeping Track of Time to Not Miss the Ceremony
We understand that the wedding day can be quite hectic for our couples and so we try to help them with the whole process of getting married at San Francisco City Hall. So whenever we have a wedding where the couple prefers to do the ceremony last instead of first, we make sure that they make it to the ceremony on time. Throughout the city hall photo tour we are constantly monitoring the time and keeping track so they don't miss their check-in for the ceremony. We always make sure to allow a little extra time in case the couple needs to freshen up or talk to their guests. Check-in time at the County Clerk's office occurs 5 minutes before the scheduled ceremony time. For that reason, we usually try to complete our photo shoot about 15 minutes before the reserved ceremony time. This guarantees that we will have plenty of time to walk to the County Clerk's office and for the couple to take care of any last minute issues that may arise. We are well aware that oftentimes City Hall couples are also managing the day for friends and relatives and so we want to make that easier for them.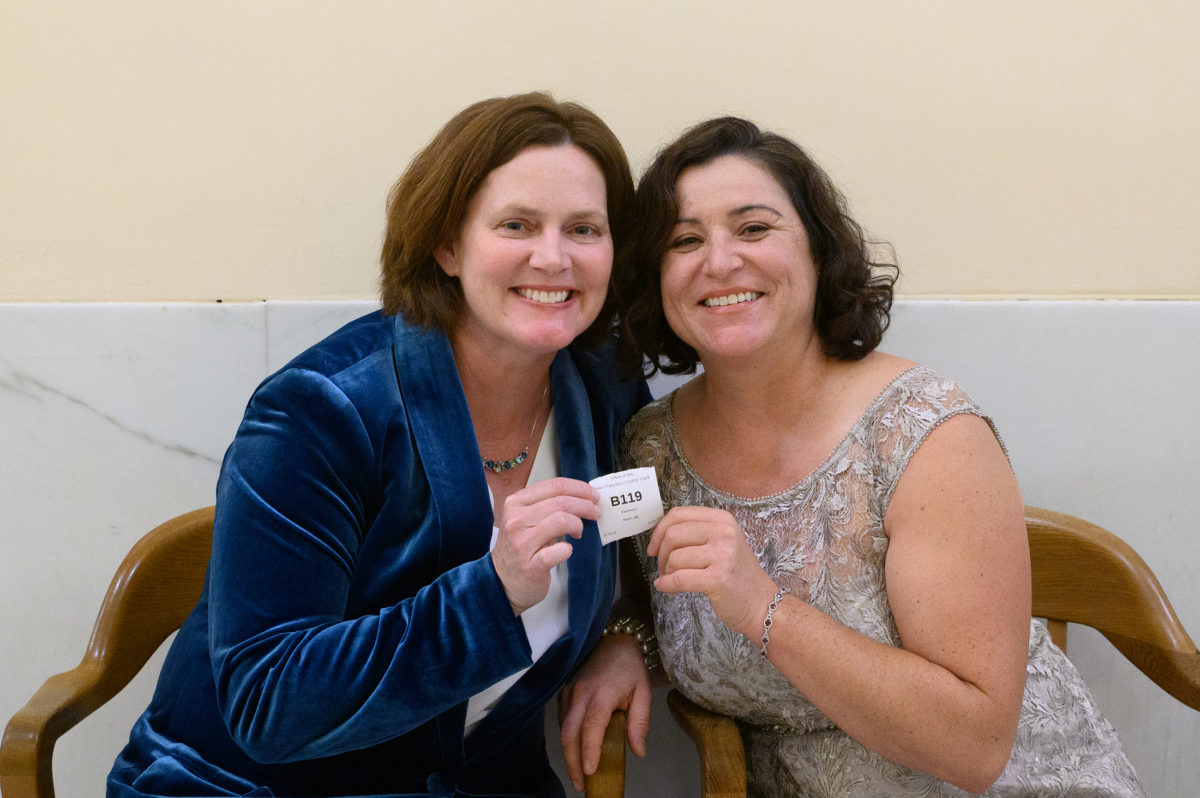 Diana and Jessica Check-in For Their San Francisco City Hall Civil Ceremony
Once we arrived at the County Clerk's office we were happy to discover that Norm was going to be their scheduled marriage commissioner. We especially love Norm for same-sex weddings because not only is he part of the LGBTQ community, but he wears a rainbow sash while performing gay wedding ceremonies. I feel like Norm does a good job of making lgbtq Prides feel very welcome and secure before they go through their civil ceremony. Just about anybody who gets married always has a certain amount of nervousness before the ceremony and Norm does a great job of calming those nerves. I will also take this opportunity to mention that virtually all the volunteer marriage Commissioners at San Francisco City Hall are extremely nice and very accommodating to all their couples. However, there's something about Norm that everyone really loves. One other fun thing that Norm does is put the rainbow sash onto the Harvey Milk statue and allow the couple to take their photo with him. Harvey Milk is a hero especially within the gay community and so this adds an extra little special Touch to the wedding ceremony. Diana and Jessica's small group of friends were very happy to watch their ceremony be performed and applauded when the couple did their first kiss.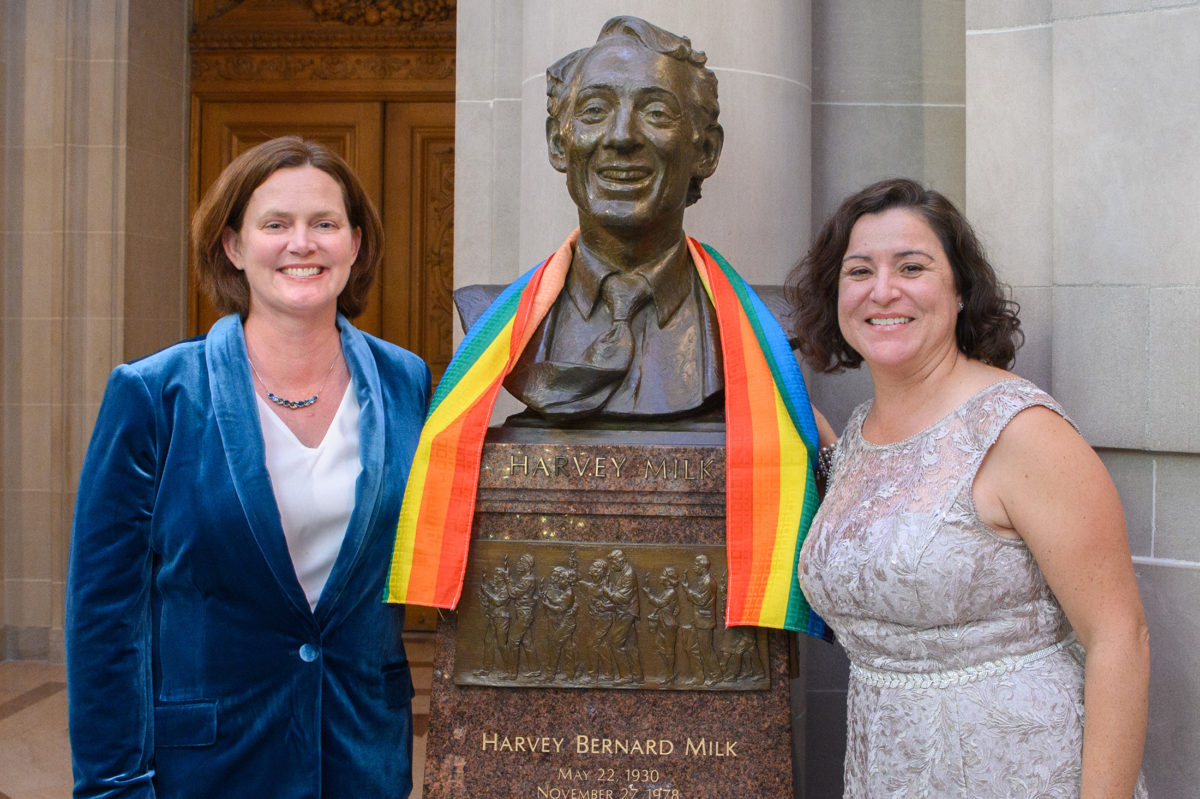 San Francisco City Hall Final Photos and Follow Up
With a ceremony complete it's time to review with the newlyweds and make sure that we captured all the photos and locations that they had their heart set on. We sit down and go over the photo session with them and show them a few of the photos on our cameras. We also take this opportunity to ask if they are happy with what we were able to do to that point. This is an important part of any photo shoot because we are aware that couples often book us because of certain photos they may have seen on our website. This is the opportunity for the newlyweds to let us know if there was anything we missed that they were really hoping for. In the excitement of the day it's easy to forget some important aspect of what the couple was counting on for their final wedding photos. For example some couples want a close-up shot of their rings while other couples want to make sure they get some outdoor photos in the park across the street. Whatever their special requests are this is the time that we go through it with them. It doesn't matter whether their time is up with us and they have exceeded their coverage. The important thing is that we satisfy our newlyweds and provide them everything that they were expecting when they booked us. Inevitably, when we have this discussion the brides will always tell us that they really want the picture under the city hall sign in front of the building. We reassure them that we do that with every one of our couples, but always save it for last since we have to go back through security again.
Some sort of Celebration picture as the couple walks out of the building is always appropriate at this time and makes for a nice ending to their perfect wedding day. In some cases we also include photos of their guests in front of the sign if they are still in attendance at this point. The last thing we do with our couple is remind them how long it will take to receive the final edited photos and offer them some 24-hour previews if they so desire. All of our couples who request previews will usually receive about seven or eight edited photos emailed to them within 24 hours. These photos will be lower resolution then the final photos will be to save space when emailing.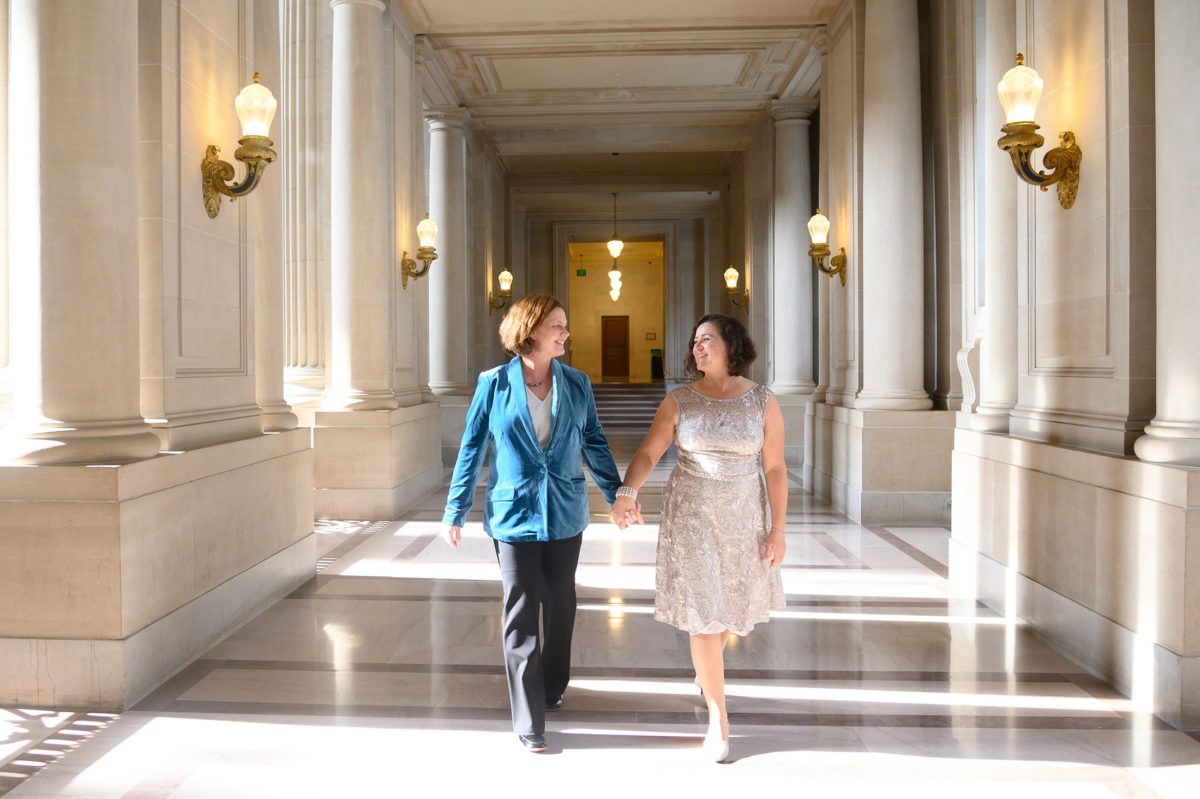 Final Thoughts on LGBTQ Wedding Photography at SF City Hall
SF City Hall wedding photography by Michael has been photographing LGBTQ weddings since they first became legal in California. We were covering these weddings during the early days of the new law being passed when it was still somewhat controversial among certain people. It was never controversial for us and we fully embraced the chance to do same-sex weddings as soon at they became legal. One of the things that struck us in the early days of covering gay and lesbian marriages was the high number of older couples celebrating their weddings. Many of these couples had been together for decades and we're finally allowed to enjoy all the same legal benefits that other married couples had always experienced. These early weddings were some of our favorites just because of the excitement and in many cases the relief of finally being able to have a legal marriage in California.