Our 1st Booked City Hall Wedding
I posted this photo because this was our first ever booked wedding at San Francisco City Hall. We had photographed couple weddings for friends in 2010, but this was the first couple to find us on the Internet and book us. We have stayed in touch with them through Facebook over the years and they have very nicely referred 2 weddings to us. Definitely one of our favorite couples ever and so much fun to work with. They have since started a family and are doing great. Just seeing this image again brings back great memories of them and all of the other happy couples we have helped get married at San Francisco City Hall. It's been a great 12 years and we hope to keep going for many more. The brief interruption by the pandemic was an unwanted break, but necessary for health and safety of all. We all came back as of June of 2021 and we have photographed close to 100 more weddings since then!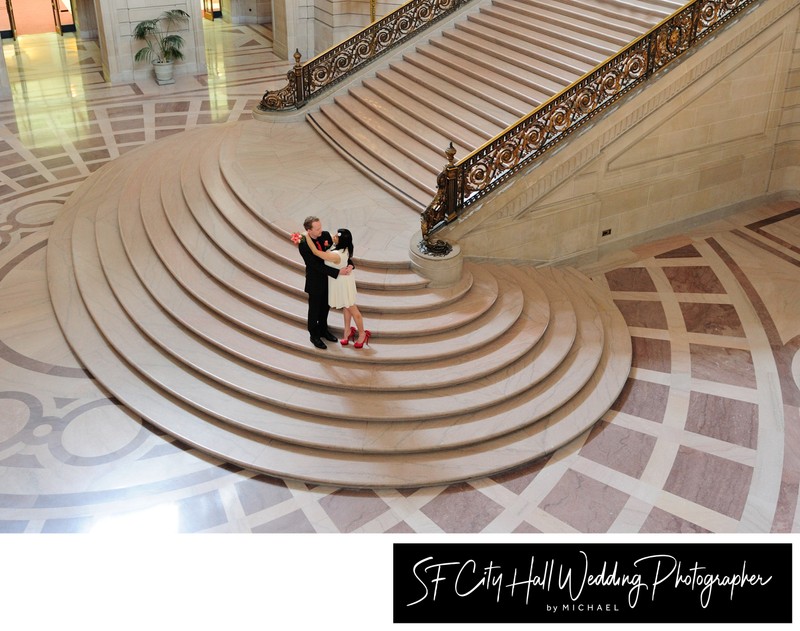 Lasting Memories and Relationships with Our Couples
One of the truly great things about photographing so many San Francisco city hall weddings is the relationships we have built over years with many of our couples. We have stayed in touch with many of them and enjoy seeing how their lives have progressed. We also always appreciate the referrals we continue to receive. Facebook and Instagram have made this process much easier and we will "friend" many of our couples with the hope of future work together or just to stay in touch. Recently, we had a couple come back to the Bay Area from Los Angeles just to look us up for drinks and some catching up. It was fun talking about their city hall memories and what went right and what went wrong! Just a couple of issues out of our control that mostly had to do with problems with the building and large events scheduled. As long as these types of things don't prevent the wedding from occurring they end up adding to the memories of the day. These types of occurrences give the couple something to laugh about in the future. Things that go slightly wrong on a wedding day can add unique memories and gives the wedding something different to remember by.
The photo above is another unique angle of photographing the Grand Staircase. From this angle you can really see the shape of the structure and also the amazing patterned marble floor. That is why looking down at the floor provides such impact.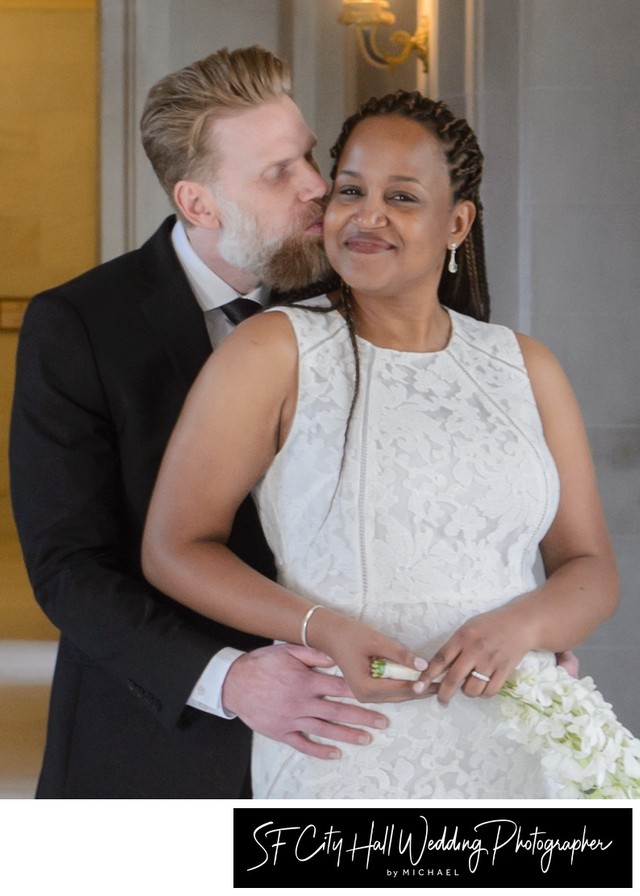 a San Francisco City Hall Groom sneaks a little kiss in during our photo session throughout the building. These candid moments can often be the best city hall wedding pictures of the day! We didn't ask the groom to do that, he just did it!