San Francisco's Legion of Honor
We love the Legion of Honor in San Francisco for its perfect light and great neutral backgrounds. It seems that this famed San Francisco historical landmark was designed with Wedding Photographers in mind. The backgrounds are not too distracting but with contain gorgeous architecture. In this particular photo above, the bride's floral bouquet provides a perfect amount of color. Thus, adding some impact to the image. This very adventuresome couple did all kinds of additional photography posing with very little input from us. Natural posing is often the best! We experienced this with them at both San Francisco city hall and of course the Legion of Honor. We encourage our couples to improvise on our suggested poses at venues like this. Many brides and grooms want to follow our lead too carefully and don't realize that it is great for them to also do some of their own thing for the camera. We can avoid stiff posing by making sure the couple understands that they don't have to follow every little instruction to the tee. Our photo shoots always seem to come out better when the couple gets more involved in the photography. This couple booked us for our Golden Gate Package which provided them with 1 additional San Francisco location after their City Hall nuptials. As usual, they received the full city hall photography tour on all 4 floors of this historic building. Then we all left and headed out to the Palace of the Legion of Honor for a full set of outdoor portraits of the bride and groom.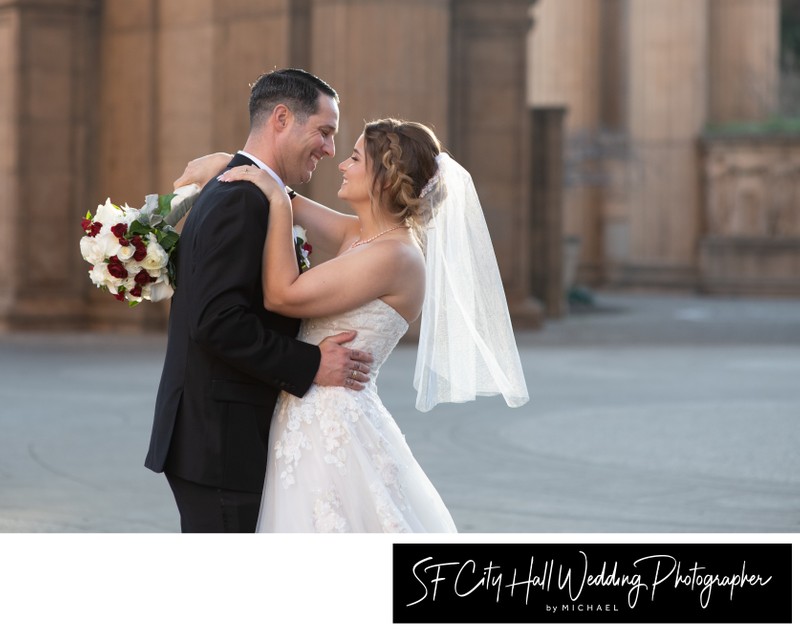 The Palace of Fine Arts in San Francisco
The photo above was taken at our other favorite outdoor San Francisco location, the Palace of Fine Arts. Of course, this destination is a favorite of many including international tourists and newlyweds looking for great wedding pictures. This couple wanted to spend considerable time at POFA and so we took them on the grand photographic tour. We photographed them in the obvious place which is the front of the building with the pond. After that, we took them to the back of the building where we took pictures among large columns and old time architecture. In this particular photo, I like the way the bride's veil stands out because to the slight amount of backlight present. It really adds a little drama to the photo. You may also notice how having the groom bend the bride back slightly slims her down and makes her waist line look fantastic. These are the subtle things that a professional San Francisco city hall wedding photographer can do to enhance the overall photo. If the bride's back were straight, she would still appear slim, but this small move really enhances her figure.