Mayor's Balcony Wedding Images
We photographed this image at San Francisco city hall during a special outside event that was going on at the time. The event staff had decorated the building with colored lights to add drama to the dinner they were planning for the annual Google Party in San Francisco. We thought it was a great opportunity to use the lights in our photo as a colorful background. We took our bride and groom to the Mayor's Balcony because we felt that this gave us the best look at the colored lights at they adorned the Rotunda area. Then using a 16mm Nikon wide angle lens, we created the image above. The image is distorted a bit and normally we would correct that, but for this picture we thought it sort of added to the effect. We used an off-camera umbrella light pointed at the veil to give it some detail and glow. By keeping the shutter speed a bit higher then I normally would, it allowed the background lights to show through to a greater extent. We always try to highlight the incredible architecture at SF City Hall. We realize that many of our brides and grooms come here for that reason. Sometimes, you get an added bonus of enhanced colors and lighting.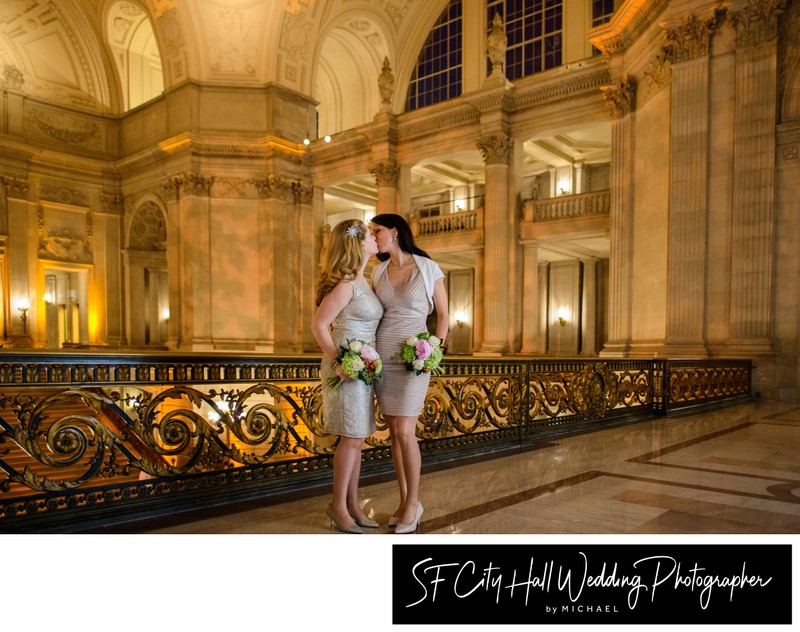 Christmas lights reflecting off of the walls makes for a fun and unexpected background
Embracing Potential Complications at SF City Hall
I thought I would take this opportunity to talk about issues related to San Francisco city hall events and happenings. Over the past 12 years as being one of the more popular and busy San Francisco city hall wedding photographers, we have encountered many difficulties due to events or other unexpected issues. To be honest, in the very beginning of our tenure here, we handled these types of things with higher stress levels and a feeling of frustration. It took us a year or 2 to understand that in most cases, unexpected events at San Francisco city hall can lead to opportunities not challenges. The photo above is an example of just that. The colored lights did, in fact, change the make up of our normal neutral colored backgrounds in the building. However, rather than getting upset about it, we have learned to use it to our advantage. We had to do some tricky lighting set ups to make sure the couple was well lit, but the background dark enough to show the patterns. Also, notice that the top of the picture the giant picture window. It is actually black since it was night time.
Another recent example was a sudden and unexpected protest march that basically stormed into the building. Yes, it was a little distressing, but this occurrence ended up creating one of our more memorable San Francisco city hall wedding images. The couple actually joined in the march and we took pictures of them doing so. It ended up being one of their favorite images. Lastly, we recently photographed a city hall wedding during an insurance company's annual event. The colors of this particular company were purple and coincidentally matched the bride's chosen wedding colors. When we saw the City Hall event staff setting up a big purple carpet on the Grand Staircase, we made sure to take a picture of our couple by the stairs. In addition, the room was set up with purple lights on the walls so we used this as a background. It can be fun to improvise and this is what you are paying your wedding photographers to do for you.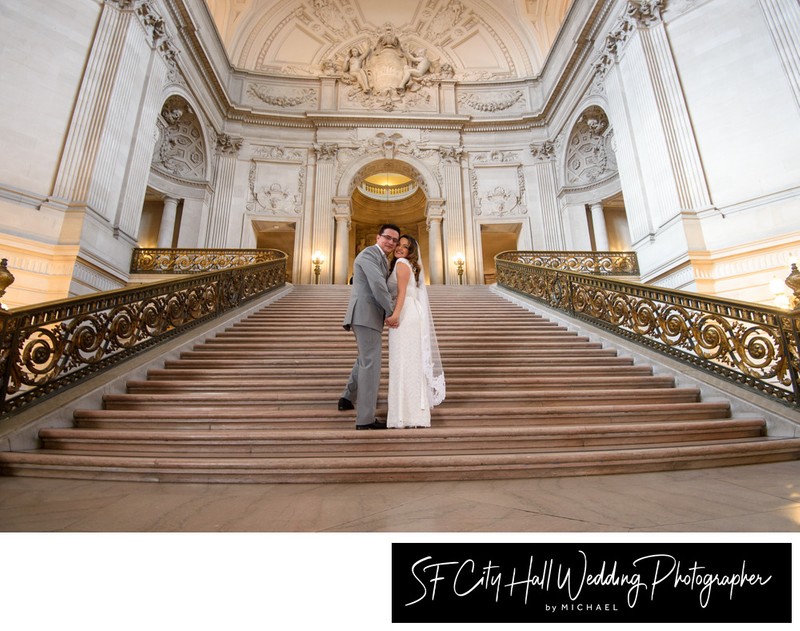 Not my usual angle for taking pictures on the Grand Staircase, but it works well here with natural framing