Golden Gate Bridge Wedding
We took this couple to Crissy Field because they wanted a nice photo in front of the Golden Gate Bridge. It was a picture perfect day with ideal weather and very clear. We like this angle to the bridge if it not too late in the afternoon because you still get some sun on the bridge. Over the years we have discovered that the Golden Gate Bridge looks much better if there is sun on it. If happens to be foggy outside or if the sun is positioned incorrectly, the color can look drab. The golden California sun did it's job here and really enhanced this image. We also were lucky to have an athletic couple who could actually jump pretty high for our picture.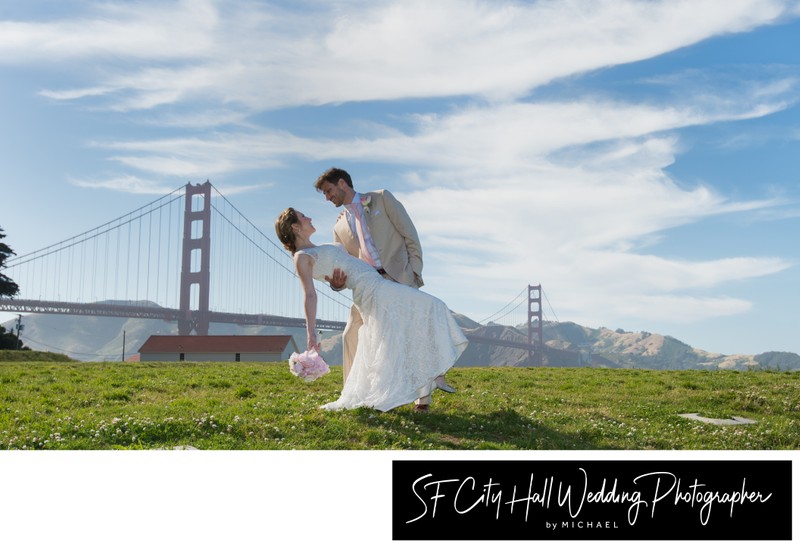 Another look at the beautiful Golden Gate Bridge with our Couple
City Hall Newlyweds Jumping
For this photo we put them up on a little mound by the water and took a series of wonderful shots of them posing in front of the bridge. We ended the shoot with a jumping shot. I got down low so I could get the angle seen here. I was hoping that they would get enough height to be above the bridge. I also must admit, that this image does have some Photoshop work, but not for the jumping part of it. There is a building that can sometime come into play from this angle, so I removed it. The result was perfect and made for a fun wedding picture! A wonderful ending to our San Francisco City hall photoshoot. Great job by this city hall bride and groom!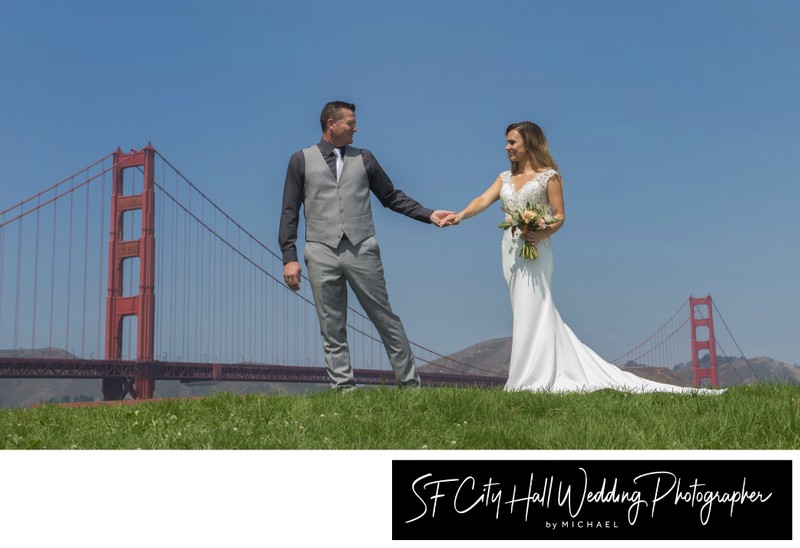 Taking a walk up on the hill above Crissy Field in San Francisco