Silhouette San Francisco City Hall Image
This is a beautiful depiction of our SF City Hall couple in front of the 3rd Floor window. The lighting was perfect to make this into a lovely silhouette, but still see enough of the couple to show you some texture. We need the perfect lighting conditions to make this shot work the way it does here. We love it when it is possible and always take advantage to get some romantic photos like this. The 3rd floor window at San Francisco City Hall is perfect for this type of shot because the light coming through is subtle, but still vibrant. Depending upon the weather outside, you can get a more subtle look or wedding photography that is a bit more dramatic. One way or the other, we think that photos like this round our a San Francisco city hall wedding perfectly. We also love it because it has such a natural look to it.
San Francisco Weather is Variable at Best
One of the fun things about photographing weddings and events at city hall and San Francisco in general is that you never know what kind of weather you are going to get. Fog in the summer and beautiful blue skies in the winter can be typical here in San Francisco. All of these factors affect the lighting conditions in the building, but not adversely. It is just different and requires adjustments. We are often asked by our brides and grooms the best time of the day for lighting in San Francisco City Hall. We tell them it really depends upon so many factors that it is difficult to really say. In reality, we feel that every different type of lighting condition within the building creates it's own kind of special feel and look. Each one has it's own drama so it provides our clients with a nice variety of images with little predictability. This ensures that not all of our newlyweds end up with the same pictures. Every one of our wedding shoots is unique and we try very hard to give a new look to all of our clients.
Variety of SF City Hall Poses and Backgrounds
This website is all about San Francisco city hall wedding photography and so we feel it is important to display a variety of poses and lighting conditions. For this type of shot, the north light provides soft light and a warm glow. If we took this same picture on the south side, the result would be completely different. All of this being said, it really does alter the way we approach each wedding and ultimately your final photos. The point is that we will always make the best of the weather conditions and time of the day to create a perfect wedding album for the happy couple. These factors are why it is so important to hire a professional San Francisco city hall wedding photographer with lots of experience shooting here. We will never tell you that the lighting was bad or we could not get great shots. There are no excuses, only great opportunities!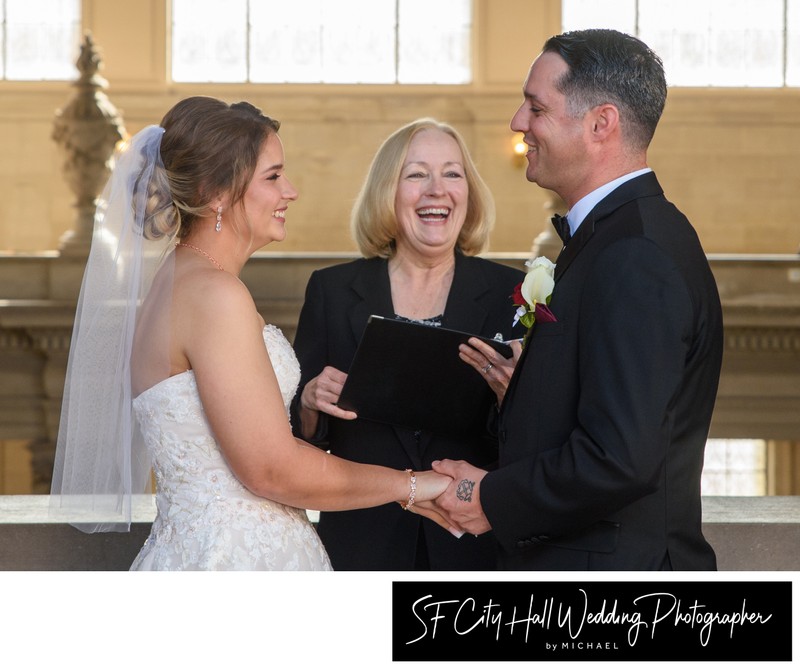 SF City Hall Couples Help our Photography
We book all types of engaged couples for our San Francisco city hall wedding photography. No two are the same. Some couples ask us to tell them every move to make during the city hall photo tour while others will add their own touches. We welcome both types of styles and types of couples. We definitely know what to do and how to pose you for best effect, but we also welcome those couples who improvise during the shoot. This personalizes the photo session and gives you the opportunity it add your touch. We never want all of our city hall shoots to look the same, so anything our clients can bring to the table is great with us. I was thinking of this in particular today as we worked with a couple who kept adding fun little nuances to each pose we suggested. We encouraged them and ever thanked them for their input! It really personalizes the shoot and makes it more real for the couple. As you can see below, the crinkled smile of the bride says it all! This is not something we could have made to happen. The couple did that themselves!