If you are a regular reader of my blog posts or have checked out my San Francisco city hall wedding photography site you probably have seen many reasons listed to have your wedding at San Francisco City Hall. Many other San Francisco wedding websites also discuss some of these factors. I realized, however, that a lot of this information was spread throughout many websites including mine. I wanted to provide one place that gave a concise summary of why to have your wedding at this beautiful venue. So with that in mind, here is a list of all the great reasons to have your wedding at San Francisco City Hall.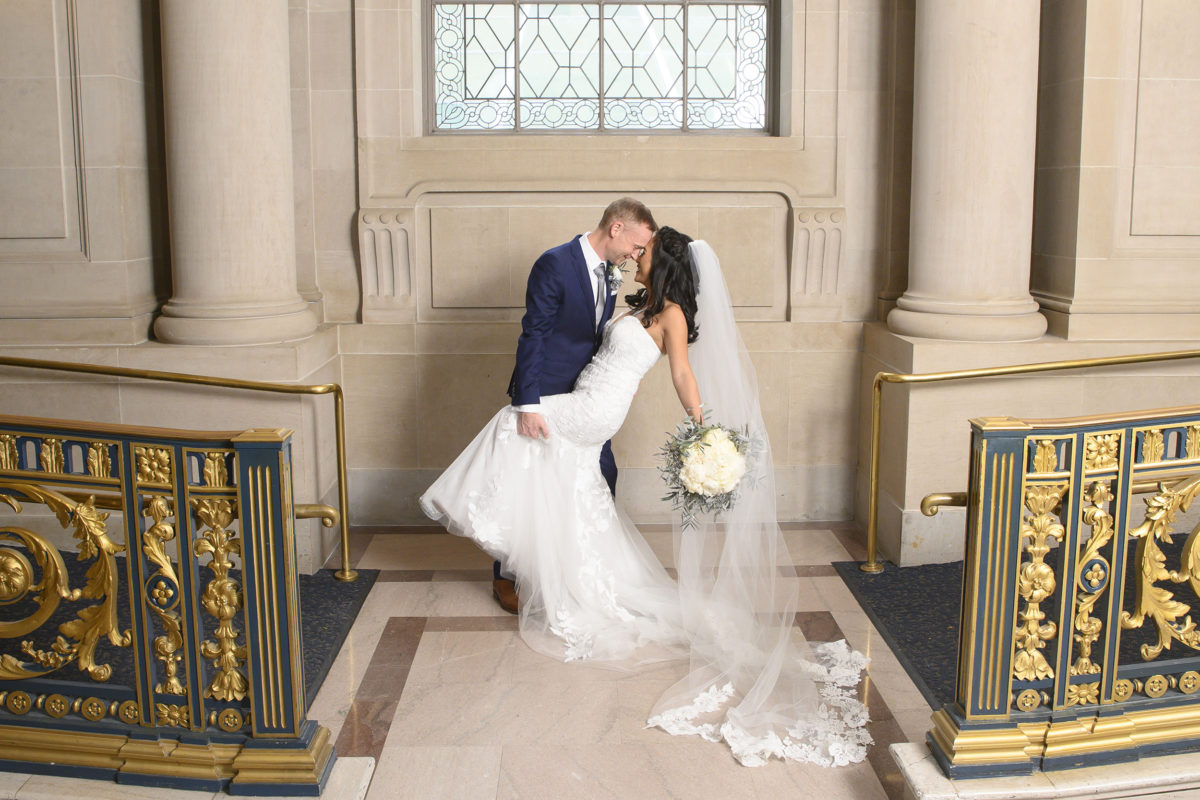 Convenience – San Francisco City Hall is an extremely convenient place to have your wedding. It is centrally located in San Francisco and there is a nice accessible parking lot nearby. In addition, you can set up all your reservations online up to 90 days ahead of time. This includes your marriage license and the actual ceremony date and time. Most people who get married have to go to two different locations for their marriage license and the actual wedding itself. Not only does San Francisco City Hall allow you to do both at the same place, you can actually do both on the same day! Many other California County Clerk offices allow walk-ins only and do not have an online reservation system. This includes New York City Hall which is also quite photogenic, but requires its brides and grooms to walk in and wait for their number to be called. It's also important to point out that the County Clerk at San Francisco City Hall is very well organized and for the most part makes the whole marriage process very easy and quick.
Historic Beauty – Couples who decide to have a civil ceremony rather than a large, formal wedding really don't give anything up by getting married at San Francisco City Hall. The beauty here is unrivaled when compared to other expensive San Francisco wedding venues. Once you have completed your civil ceremony, you have access to wander through all four floors of this amazing building. The Grand Staircase is an incredible feat of French architecture. If this was the only focal point of beauty at San Francisco it would almost be enough, but there is so much more. The Mayor's Balcony offers incredible views of the staircase, the Rotunda, and the Beautiful City Hall Dome. Wander up to the fourth floor and enjoy one of the most incredibly large picture windows that you have probably ever seen. When I bring my couples up there for wedding pictures I often hear a gasp in amazement as they look at the natural light coming in from all directions. You don't have to be a professional San Francisco City Hall wedding photographer to realize what an amazing picture-taking spot the fourth floor North Gallery is. The outside of the building is also quite amazing with its Beau-Arts French styling and architecture. Just walk across the street to Civic Park and you can capture some great photos of the front of the building.
Affordability – There are so many reasons that make San Francisco City Hall an affordable place to get married. Some are more obvious and many others come into play during your wedding planning. The amazing thing to me is that for $100 you can basically have access to the whole building for as long as you want. This includes time for wedding pictures and time for your guests to enjoy the incredible surroundings. The $100 fee covers your civil ceremony in San Francisco City Hall, but there's no limit to how long you can stay. Even if you opt for a reserved wedding, it's still an amazing deal. Reserved weddings cost $1,000 and take place on the Mayor's Balcony or the 4th floor North Gallery. You get to reserve either one of those locations for 1 hour. However, nothing is stopping you from enjoying the rest of the building once your 1 hour is up. If you've hired a San Francisco City Hall wedding photographer, they can escort you around to various places to take pictures for as long as you want. I see no comparable San Francisco wedding venue that gives you so much for the money. Yes, there are other people in the building and it can sometimes get a little crowded in various areas like the Grand Staircase. But what I love about San Francisco City Hall is there is always some place you can go for privacy and great wedding photography. I have even suggested to some of my city hall brides and grooms to invite their guests to do a docent tour of the building. It doesn't take that long and it's a very interesting tour. None of this cost anything extra. The affordability factor extends to your wedding photographer as well. Because of the nature of City Hall photography, you can get some of the best wedding photographers in San Francisco for under 1,000. As mentioned at the beginning of this section, there also many indirect money saving factors with a city hall wedding. The cost of an officiant, reception expenses and many other related factors make a San Francisco city hall wedding extremely affordable.
Wedding Photography Friendly – This attribute cannot be overstated. As a San Francisco Bay Area wedding photographer for over 20 years I have been to many of the best venues in Northern California to shoot weddings. Many of these quite expensive wedding locations can seem to be great places for wedding photography, but they often are not. For example, many people like to have their wedding at some of the beautiful Napa, Sonoma, or Livermore wineries. To the average person these venues may seem to be great places to get your wedding pictures taken. Unfortunately this often not the case because Vineyards usually don't have trees or shade. So you're often faced with taking the newlyweds out in 90° Heat to take pictures out in the vineyard with no shade and with the sun harshly beating down on the couple. Golf courses can sometimes have the same problems. They may briefly let you out on the course for photos, but unless it's an older golf course there won't be a lot of shade. Also not a very good place for wedding pictures unless you like green grass everywhere. My disappointment after taking pictures at many of these types of popular wedding venues is what led me to love San Francisco City Hall wedding photography. There are amazing wedding photo opportunities both inside and out and it doesn't matter what time of the year it is. I can certainly understand why most brides and grooms don't think the photography part through when they are choosing a Bay Area wedding venue. Understandably, you're looking for a place that's great for your guests and great for the ceremony itself. Choosing City Hall is a great place for wedding pictures is a no-brainer.
Available all year round – wedding season in Northern California starts around early May and goes through mid-october. These are the months that you can almost guarantee there will be no rain or inclement weather for your outdoor wedding ceremony. Even if you are getting married in a church, there's a good chance that your wedding reception will be outdoors somewhere. There is no wedding season at San Francisco City Hall. People get married here 52 weeks per year. There is no worry about rain, fog or wind. These factors can all be issues for a typical San Francisco wedding especially during the off-season. For a San Francisco City Hall wedding none of these things matter. As one of the leading San Francisco City Hall wedding photographers, I shoot as many weddings in December as I do in June. Speaking of December, one of the feature attractions of having your wedding at City Hall during the holiday season is the Giant Christmas tree. Many of our brides and grooms love to have their wedding photos taken in front of the tree or with the tree in the distant background. There are also a lot of weddings in February due to Valentine's Day, but this is also off season for the rest of the northern California area. The fact that City Hall is available all year round also makes it great for those couples who need a quick wedding due to legal reasons or maternity. No matter what time of the year you can usually schedule a wedding in 30 to 60 days.
Intangible factors – If you are one of those kinds of people who want to keep their wedding on the small side, having your wedding at City Hall gives you a great excuse. Civil ceremonies are limited to 6 guests and reserved weddings are usually under 60. Anybody who's planned a wedding knows that the guest list can be painfully difficult to cut down to a decent size. With City Hall weddings you don't have much choice and you can tell your guests that. Quite a few of our brides and grooms will do a ceremony with six to eight guests but then invite more friends and relatives to a dinner party somewhere else in San Francisco later. Most of your friends and relatives will understand this and not be upset that they were not included in the ceremony. Another intangible Factor that many people really appreciate about a San Francisco City Hall wedding is the fact that the ceremony is over in 4 minutes. Many brides and grooms don't relish the thought of standing up before a large crowd for 50 minutes exchanging vows and hearing speeches. Civil ceremonies take care of all this and are over before you know it!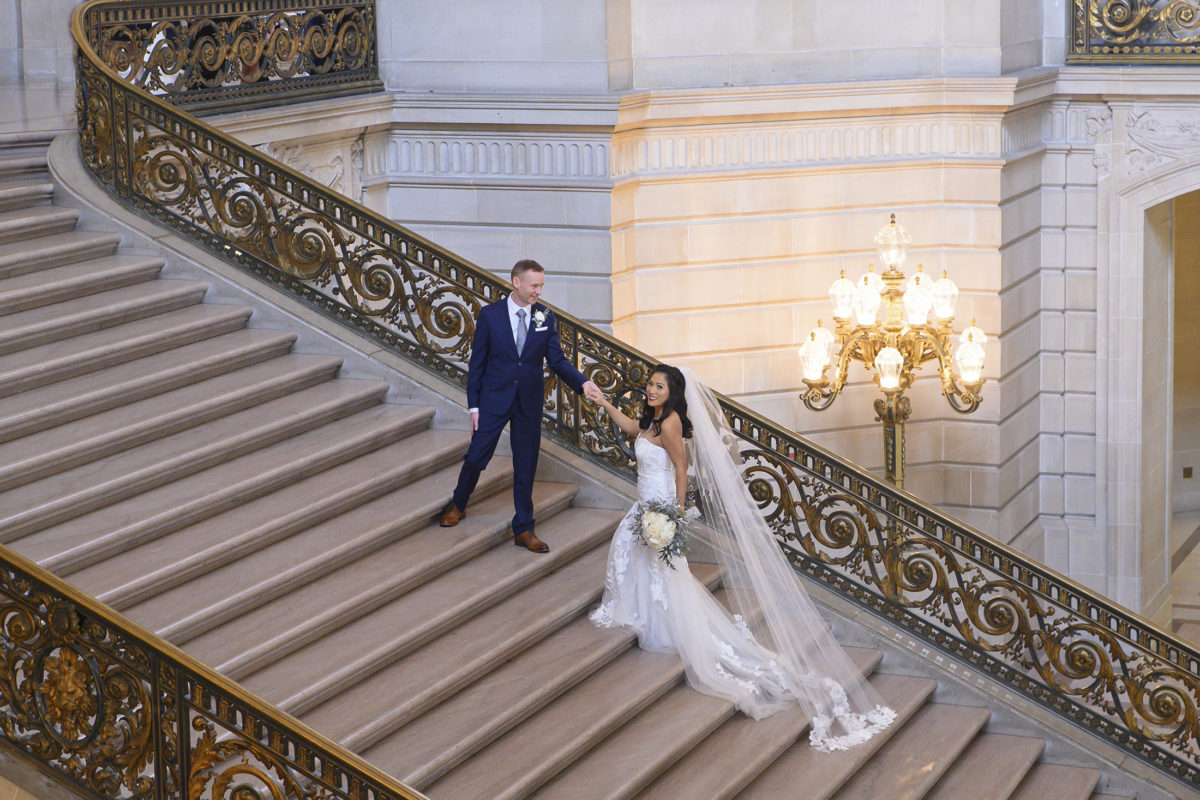 Summary
San Francisco City Hall weddings are convenient, affordable, and provide a beautiful place to get married for anyone. Sometimes engaged couples think of having a civil ceremony instead of a big wedding as being kind of a compromise. As far as I'm concerned you give up nothing by choosing to have your wedding at this historic building. Anyone who has spent any time at SF City Hall knows that this place is no compromise.