Repeating Lines in Wedding Photography
When photographing our couples on the various floors of San Francisco City Hall, we are always looking for backgrounds that will enhance the image without causing distraction. We like to use classic backgrounds of repeating lines to add symmetry and drama to any image. Another positive attribute of this image is the natural window light illuminating the bride and groom. North Window light is always the best!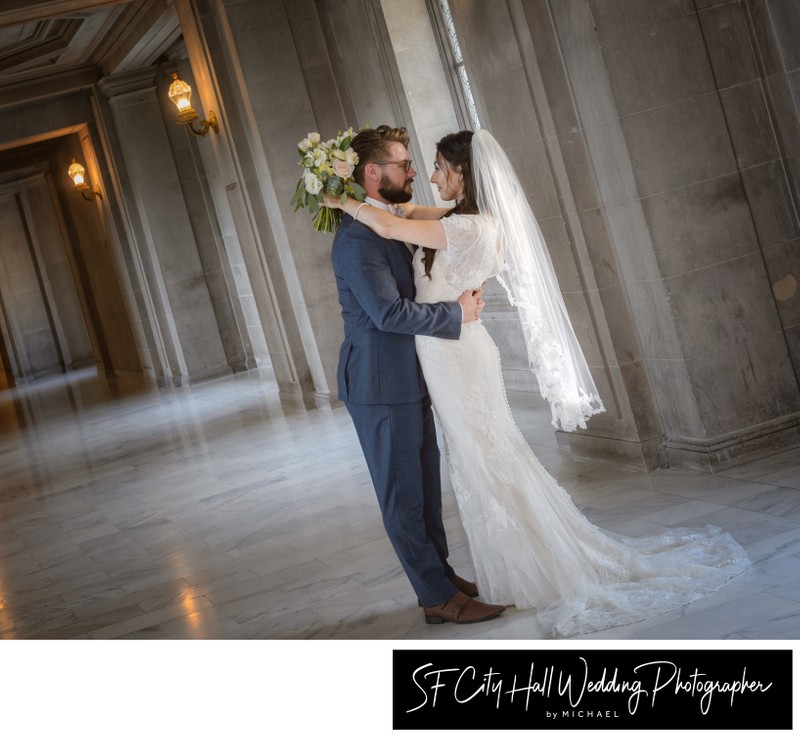 Turning Day into Night through Lighting
The image above appears to be taken in the late evening with a dim lighting and glowing lamps in the background. In reality, this wedding photo was taken at mid day with plenty of available light. We wanted to make a more dramatic image for this particular background because I love the look of the old fashioned lamps. To highlight them and the couple, I deliberately brought the lighting level down for my camera settings. This had the effect of making it look like an early evening shot, which it really isn't. Using this technique we were able to make the lights glow and bring your attention to them. At the same time, the bride and groom are still in the foreground and so the main focus remains on them. As discussed, the north light coming through the window illuminates them nicely. When you look at our city hall wedding portfolio, you will notice the the majority of the photos are taken inside of the building. We love to show off the architecture and beauty of this amazing venue. However, at certain times of the year, the outside can look pretty special also. The photo above was taken in the square by the trees at SF City Hall. These trees in the background seem to grow slow and only look good about 4 months of the year. This photo was taken at the height of the Pandemic so there was nobody around. It gives the photo a more surreal look to it. The trees make a very nice backdrop for outside city hall wedding pictures when they are full. We have even used the dormant row of tree trunks to make a nice repeating lines backdrop that ends up ending with the city hall building in the background. We also are very willing and able to take a few pictures of the building from across the street with our wide angle lens to show off that part of the building. Often times this particular view will have a high number of cars and maybe pedestrians which is mostly unavoidable.