I was inspired to write this blog post because this year's city hall wedding season has seen an unprecedented number of rainy days. Especially when compared to the 3 year drought we may finally be coming out of. In the recent past, when couples asked me about contingency plans for rain, I almost had to laugh. It never rains in California! Of course that isn't really true and brides and grooms have a valid reason to be concerned about how rain might affect their day. The truth is, when it comes to San Francisco city hall weddings, rain is mostly a non-issue. In fact, it can have many positives. Some of these positives will be discussed in the section below.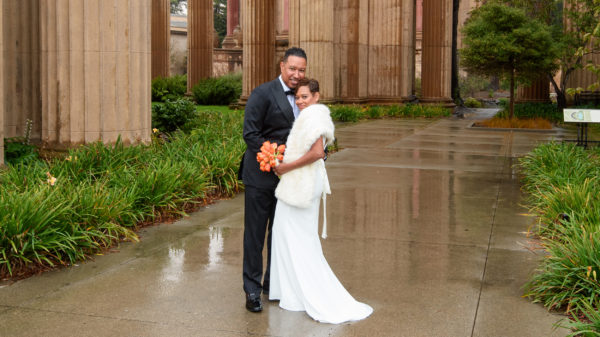 A Quick City Hall Wedding Story
Before I get into some of the many positives about rainy days for city hall weddings, I wanted to recount a recent conversation I had with a bride-to-be before her marriage. She had looked at the rain forecast and noticed that there was 100% chance of rain on her wedding day. This bride wanted to know how I was going to handle this and what my contingency plans were for wedding photography on a rainy day.
When I received her email, I immediately looked for her wedding contract, assuming that there must be some outdoor locations she had opted for in her Photography Package. I was surprised to see that the package this bride and groom had selected was for San Francisco city hall wedding photography only. No other San Francisco destinations or outdoor pictures were planned or booked. After discussing things with her in detail and reassuring her that there was nothing to worry about, it occurred to me that rain can be a negative in people's minds. It doesn't really matter what the logistics of the situation are and the fact that they had planned an indoor city hall wedding. There was still this concern that somehow rain was going to ruin things.
I totally understand this sentiment. Every bride wants the perfect wedding day and San Francisco city hall marriages are no different. Despite the fact that she was fully aware that her actual ceremony and all of the wedding photography was going to take place indoors, she was still upset by the prospects of rain. I think I did good job of making her feel better about the situation and the wedding went off without a hitch as planned! This incident gave me further reason to write about rainy day weddings at San Francisco city hall and to point out the many positives that actually exist.
Great Things About Rain on Your SF City Hall Wedding Day
Rain Can Enhance Your Outdoor Pictures – Have you ever noticed how Car Commercials often feature pictures of the Automobile on a wet road? It doesn't matter that there are totally blue skies above, the roads in that area just happen to be wet. There a couple of reasons for this that include the fact that putting water down makes the pavement reflective which can really create a great look. Another reason is that it just makes the photo look more dramatic because of the wet road. San Francisco wedding pictures in the rain can have this same impact. We can capture some amazing reflections from the pavement in places like The Palace of Fine Arts or right out in front of San Francisco city hall! Rainy weather also brings clouds, which can also enhance your backgrounds. A blue sky is great, but it can make for a boring backdrop to a wedding picture. Clouds add texture and interest to any photograph.
Possibility of a Rainbow – Many of our rain showers in San Francisco are brief and then the sun comes through. This can create a possible scenario for a rainbow in your picture. They say that rain on your wedding day can be good luck. Add a rainbow to that and you have a all the makings of a beautiful marriage. Maybe you will find that pot of gold!
Umbrellas add a Nice Romantic Touch – We love using umbrellas in our San Francisco city hall photo sessions. At least the outdoor part! In fact, we enjoy it so much that we have a couple of nice umbrellas that are very photogenic. They add a nice focal point to a wedding picture and when the couple huddle underneath one, it provides a sense of security and closeness. Umbrellas can also create the opportunity for some fun images. Perhaps hiding a kiss behind the umbrella or holding it out to one side almost like a movie scene (i.e. Singing in the Rain).
Your Indoor City Hall Pictures Will NOT be Affected Negatively – This is one of the concerns we most often hear from our brides and grooms. The truth is, the darker conditions caused by an outdoor rainstorm can add drama to certain pictures. Since we use supplemental off-camera professional lighting in all of our San Francisco city hall wedding photography, there is no danger of your photos being too dark (unless we are going for an effect as mentioned above). Our powerful light is reflected off the neutral walls at city hall and provide plenty of light, but in a very soft way.
Your Wedding Photos Will be Unique – If you have chosen one of our San Francisco city hall wedding packages that include an outdoor location, your photos will not look like anyone else's. Your City Hall wedding photographer will be more creative and come up with some great rainy day shots. This may involve shooting under awnings, trees or even close to building in various places throughout San Francisco. If it is really raining hard and windy, we can take you to the Legion of Honor which provides shelter from both the wind and the rain. There are other options we can explore, if needed for a truly stormy day.
Attitude is Everything During a Wedding Photo Shoot
Another reason I wanted to create this post is to give something to send to my couples that are concerned about the weather prior to their wedding. The positivity of the San Francisco city hall wedding photographer and the couple will make a great impression on how the shoot will go. It is always important to focus on the positive aspects of anything that might happen during a City Hall wedding. Us city hall photographers are accustomed to various challenges while shooting at this venue. Crowds, special events, fire drills and other unexpected happenings can all potentially detract for your wedding day of you let it. We like to take the positive approach and turn any challenge into an opportunity. An opportunity to give your wedding pictures a really different look that will add to your memories for years to come!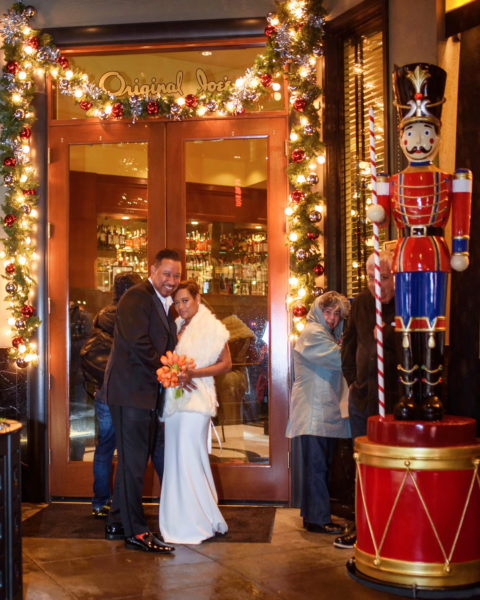 Fun Rainy day wedding image of the couple sheltering from the rain with others