Asian Bride - SF City Hall Window Light
As we walked through San Francisco City Hall with our just-married couple, I noticed some gorgeous light streaming in through one of the North Windows. I saw how it lit up her veil at that one moment. I knew we had to stop and get a shot of the bride in that location. So we positioned her in front of one of City Hall's beautiful pillars, but made sure that the light was still touching her. It made for this soft shot of our Asian Bride all done in natural light. I purposely allowed the area under her bouquet to remain dark because I liked the effect. Natural light can really be wonderful if it is directional and soft. One example of unflattering natural light is when the source comes in from the top. We call this overhead lighting and unfortunately, it can create "raccoon eyes" and pronounced chin shadows. It is also really non-flattering to anyone. Definitely not what you want for a beautiful bride at San Francisco city hall. I mention this fact about natural light because everyone loves to talk about how it is the best type of light. It isn't always, but certainly in this case it was! Like any lighting source, it just depends on where and how it lights the subject.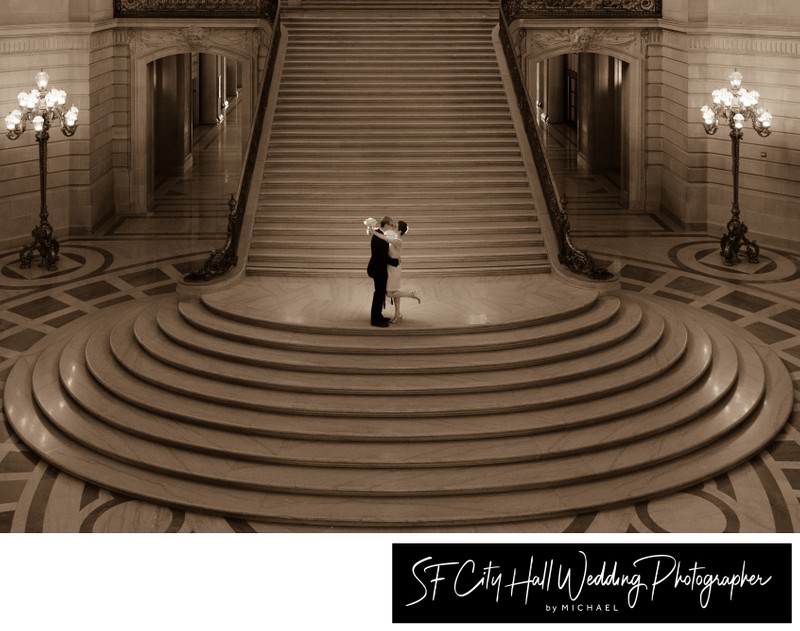 Remote Lighting Technique on City Hall's Grand Staircase
The photo above was created with a back light behind this LGBTQ couple that is hidden from view. The professional lighting is triggered remotely using a radio slave from the main camera. The effect is subtle and yet effective. Sometimes, you don't want to overdo professional lighting techniques. It is good enough if it enhances the image without dominating it. The other attribute of this photo is that it was enhanced by converting it to Sepia tone. I never know how a San Francisco city hall wedding photo will look with sepia tone until I actually try it. With this photo, I knew right away that it would make it better. I also love that this photo was done in the late evening because it definitely creates a mood. The building takes on a wonderful glow at this time in the evening. I have had clients ask me to duplicate this look using editing techniques and Photoshop, but it really isn't fully possible. You can especially notice this complimentary lighting by looking at the stairs themselves. They take on a dramatic glow that sets this image apart as a city hall wedding photo.
Best Window Light at San Francisco City Hall
Some of the best window light at San Francisco City Hall can be found on the Second Floor on the south side. At certain times of the day, the light come streaming directly into the building and a professional city hall wedding photographer can use it for the best possible back lighting. As you can see in the Bridal photo above, the light coming from the window gives her veil nice glow. We posed the bride in such a way to enhance this look and came up with the photo above. We always utilize the windows in the building to great advantage. In the photo below, you can see the bride looking up into the light and it creates a really dramatic effect. Check out how the light on her face mirrors the light on her beautiful wedding gown. The floral bouquet puts the finishing touch on this city hall wedding image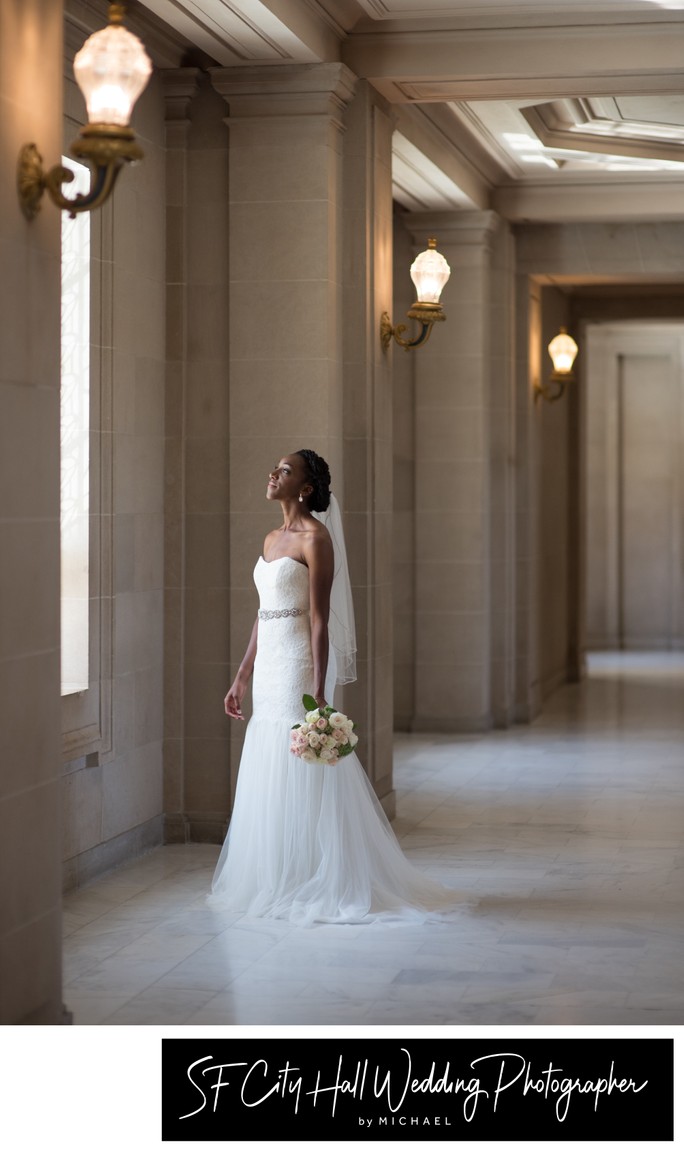 Another example of using window light at SF City Hall