Window Light Wedding Photography
In the current Fall/Winter season, certain windows will allow the low sun to stream into San Francisco city hall. This allows for the type of wedding photo seen above where we positioned the couple in the direct light. Ordinarily, as a wedding photographer, you would assume that it is better to avoid harsh light such as this. However, in this instance it adds another dimension to the photo. It provides a sense of drama to the photo and has a natural look. It is natural from the standpoint that there IS a window there and the sun is streaming in. Why not show it in a few of the city hall wedding pictures. Obviously, we always make sure to provide our city hall brides and grooms plenty of evenly lit images, but it can be fun to be a little creative with some of the shots as well. I would not want to provide our newlyweds with a whole series of images like this one, but it is a great idea to give them a few samples.
Painting with Light at San Francisco City Hall
Professional wedding photography is all about painting with light. If you look at a photo like this and it makes an impact, then you have a successful capture. In this particular image, the south window at San Francisco city hall had brilliant light streaming through and we saw it as a great opportunity to provide a creative image for our newlyweds. I used my off-camera flash to soften things down a bit and fill in the harsh shadows. If I had turned up the flash to maximum power, the lighting effect would have been lost. So I set it just enough to provide some fill light. If I did not do that, some of the shadow details would not be present. SF City Hall provides us with many opportunities like this to get creative and make our clients happy. It takes some experience to know how to work with this type of light at City Hall.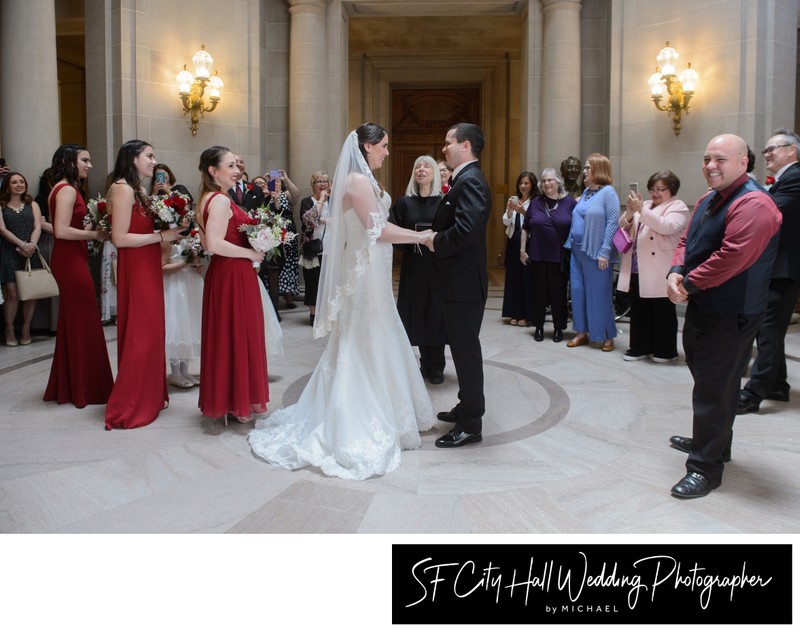 San Francisco Wedding Images
This is not the typical image taken on San Francisco city hall's 2nd floor. Most images will show the beautiful architecture and light. For the main photo, we thought it would be interesting to blur the background a little bit and shoot down the railing. The background and lighting on the the bride and groom make the photo special. I also love the pose which was mostly done by the couple. Sometimes those types of poses can turn out the best. We always give our newlyweds the chance to improvise a little bit when we do our San Francisco city hall photography tour. The most effective way of posing is to provide the bride and groom some starting points and then let them make some adjustments on their own that fit their personalities.
The photo above represent a rare incident where there are many people in the City Hall Rotunda. As of May 2019, the County Clerk began to enforce the 6 guest rule. With this rule now in effect, you would not frequently see images such as the photo above. As you can see, not only are there many guests, but they even have a wedding party present with matching dresses. The one thing I have learned after many years photographing weddings at SF City Hall is that the enforcement of this rule is inconsistent. It actually varies from officiant to officiant. So for this reason, we no longer provide advice to our couples regarding the guest limit. Anything is possible.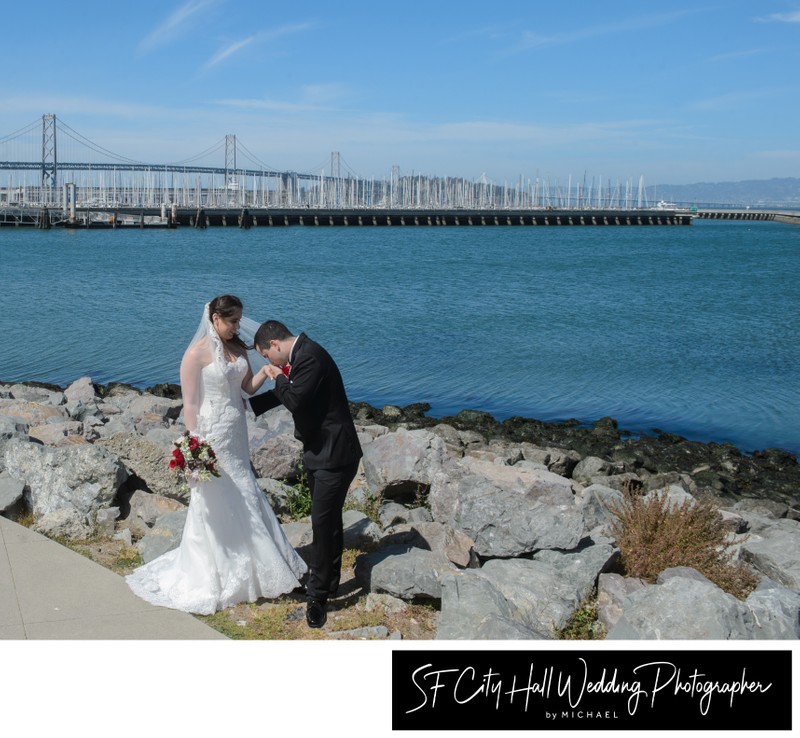 Beautiful SF City Hall bride inspects her wedding gown train