Wide Angle Wedding Photography at SF City Hall
We often use wide angle or fish-eye lenses to capture images at San Francisco City Hall. We do this because it helps us to feature the incredible architecture that can be seen throughout the building. When you go really wide, these images can sometimes be a little distorted, but you still get the effect of seeing just how magnificent the architecture is. Successful wedding photography isn't always about perfectly recording an accurate sense of the scene in front of you. There is also the challenge of showing the bride and groom in an artistic, creative setting. We always strive to mix it up a little so we don't display too much of any single effect. In this particular photo, we used a 16 MM fish eye lens that almost shows the entirety of San Francisco City Hall in one individual image. One of the attributes of this particular picture is the appearance of the great Dome of City Hall. Note from the photo that there are some golden colors and pink hues which add so much beauty to the photo. I believe these different colors come out of the marble depending upon the light angle and conditions. It makes wedding pictures never look the same here.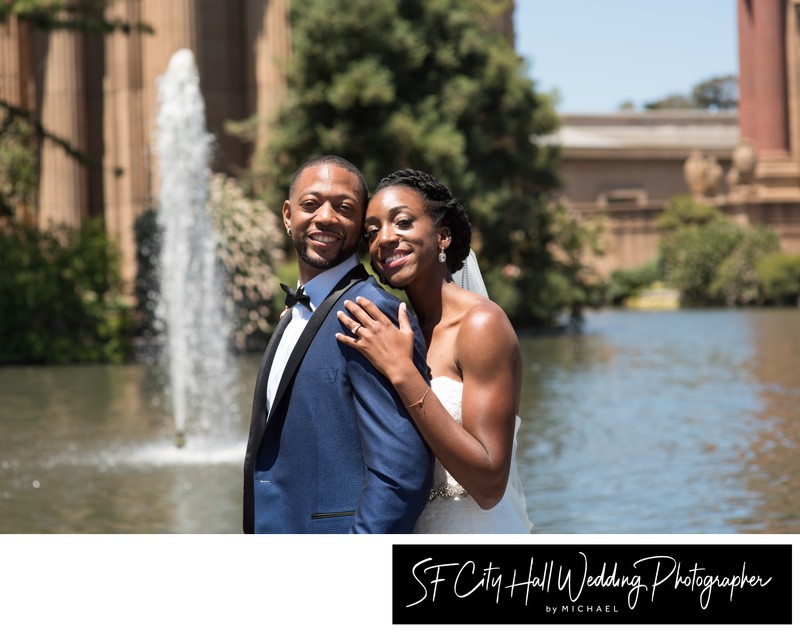 San Francisco City Hall Offers so Much
This building offers so much to wedding photographers at San Francisco city hall that it can sometimes be mind boggling. The challenge is to be able to capture all that is in front of you in a artistic way, but at the same time remembering that this is a wedding that you are photographing. In other words, you need to make sure that the bride and groom are featured prominently in most of the photos. It can be tempting to focus too much on the architecture so one has to be careful. We use different types of camera lenses throughout each of our San Francisco city hall wedding photography tours to give our clients many different perspectives and looks. Using, for example, a 135mm Portrait lens will tend to compress the background and focus more on the couple with less emphasis on the background. See the photo below for an illustration of this. Providing our client with the type of variety helps give them plenty of images to choose from with completely different looks. Obviously, the photo above is the opposite of this with a very open background.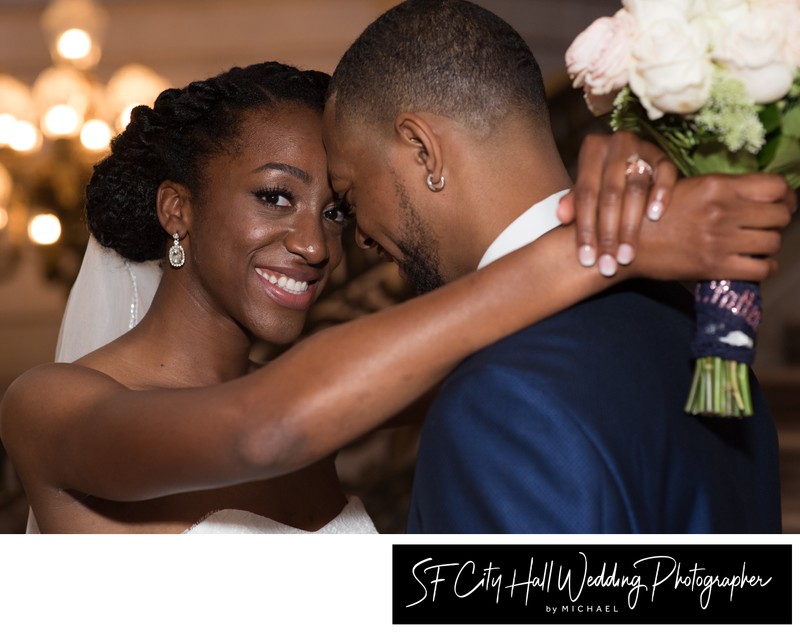 Some Lens Distortion is OK
Despite the over-the-top distortion that is present in the main image above, I feel that it is an excellent depiction. It provides the viewer with an overall view of a significant portion of this building. We took this from the Rotunda area at the top of the Grand Staircase. We are pointing our camera at the happy newlyweds with the Mayor's Balcony in the background. The other amazing thing about this wedding photo is the absence of other people in the background. It is pretty rare to show this much of the San Francisco city hall building and not see at least a couple of people. We try not to use Photoshop to take people out of your city hall photos because we want our clients to have true sense of what their own wedding images will look like. The picture above contains no Photoshop work whatsoever. The other bride and groom you see depicted on this page were a wonderful couple that we were honored to work with. We started their coverage at San Francisco city hall and then went to the Palace of Fine Arts as you can see in the pictures.