San Francisco City Hall Dance Moves
I loved the attire that this bride and groom wore for their city hall nuptials. It seemed to say, lets dance! So as their San Francisco city hall wedding photographers, we thought it would fun to have them do some dance moves and we captured the action. Images like this provide the viewer with a sense of movement, which is key to creating a compelling professional city hall wedding photography image. We call this "dynamic" posing, which means that the images captured are usually taken with the newlyweds moving in some way. Normally we are the ones who make the suggestions to get it started.
The important thing with a photo like this is to make sure that the couple enjoys dancing and wants to do it. You will be able to tell if they are having fun or just going through the motions. I would not want to force a couple into doing a dance move pose if they were uncomfortable with it. Sometimes we will start the conversation out with this question: Do you both like to dance? If the answer comes back with an emphatic "yes!" then we will definitely move forward with the posing. However, if the couple seems hesitant or uneasy, then we may not push it or might go into some static dance poses instead. In this instance the newlyweds really loved dancing and it certainly showed in the final result. The other issue worth discussing in this case is how the bride and groom react to the finished product. My feeling is that if they love dancing, then they will really enjoy this type of image. However, if they were pushed into doing it and it didn't feel natural to them, they will see the photo and be reminded of their mutual discomfort.
Keeping Wedding Photography Poses Natural
The most highly-rated city hall wedding photographers take all of these kinds of things into consideration before suggesting a pose for the bride and groom. No matter how strongly a photographer feels abut a pose, it will not work if the bride and groom are not into it. One other challenge when it comes to dance posing is try to time the picture at the right moment. You certainly don't want every photo to show the back of the bride's head as she spins around. We handle this challenge by asking the couple do dance in slow motion sometimes. The great thing about this is that it will often make the couple laugh as they try, but do it in a natural way. More great photo opportunities arise as the couple interacts! Natural (not forced) laughing can make the best wedding images for the couple to enjoy and remember. It gives them something to look back on when they view their San Francisco city hall wedding album or pictures in the future.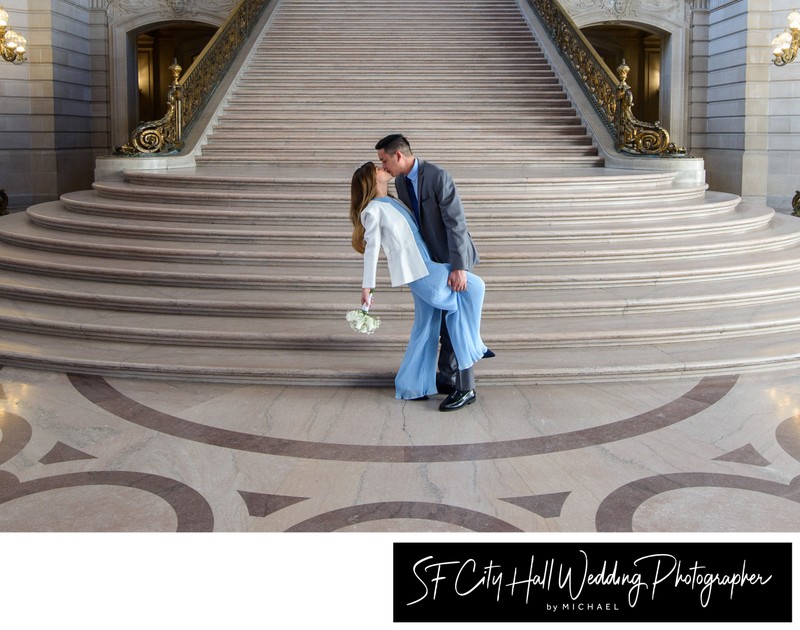 Dance dip with a kiss on the bottom of the Grand Staircase at San Francisco City Hall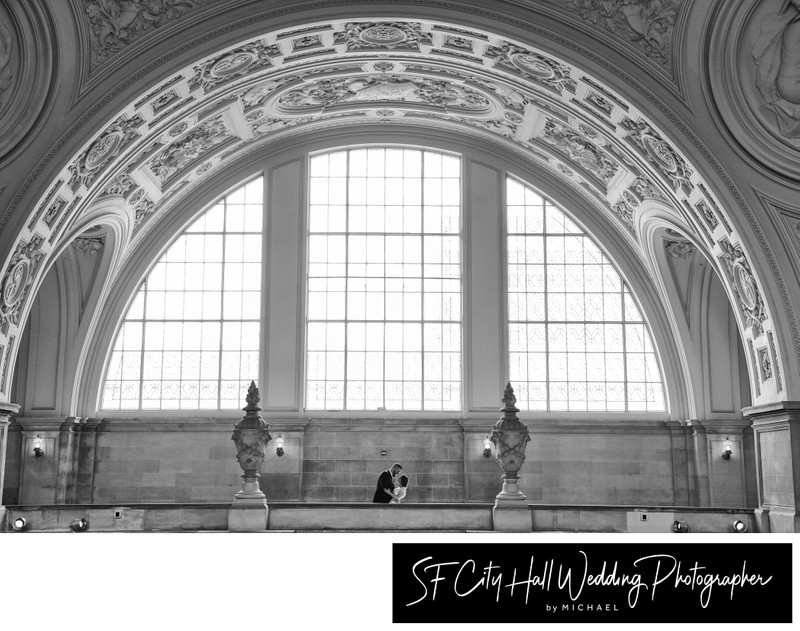 Black and White Architecture Photography
We always try to focus on the building interior architecture when doing wedding photography at city hall, but we find that trying some in black and white works particularly well. I think it is because the architecture stands out even more when there are no colors distracting. This shot above was actually one of our first weddings at San Francisco city hall and dates back over 12 years ago. Yes, you can barely see the couple but the point to this image is the architecture. I remember the bride and groom letting me know how important the building's architecture was to them so I knew we had to feature it prevalently in our images. One way we tried to make the couple stand out a little is to have them both tilted. As you can see in the picture we simple asked the groom to bend the bride back slightly. It provides a sense of movement which can be very key in great professional wedding photography as we mentioned in the above discussion regarding dynamic posing.